The Daily Escape: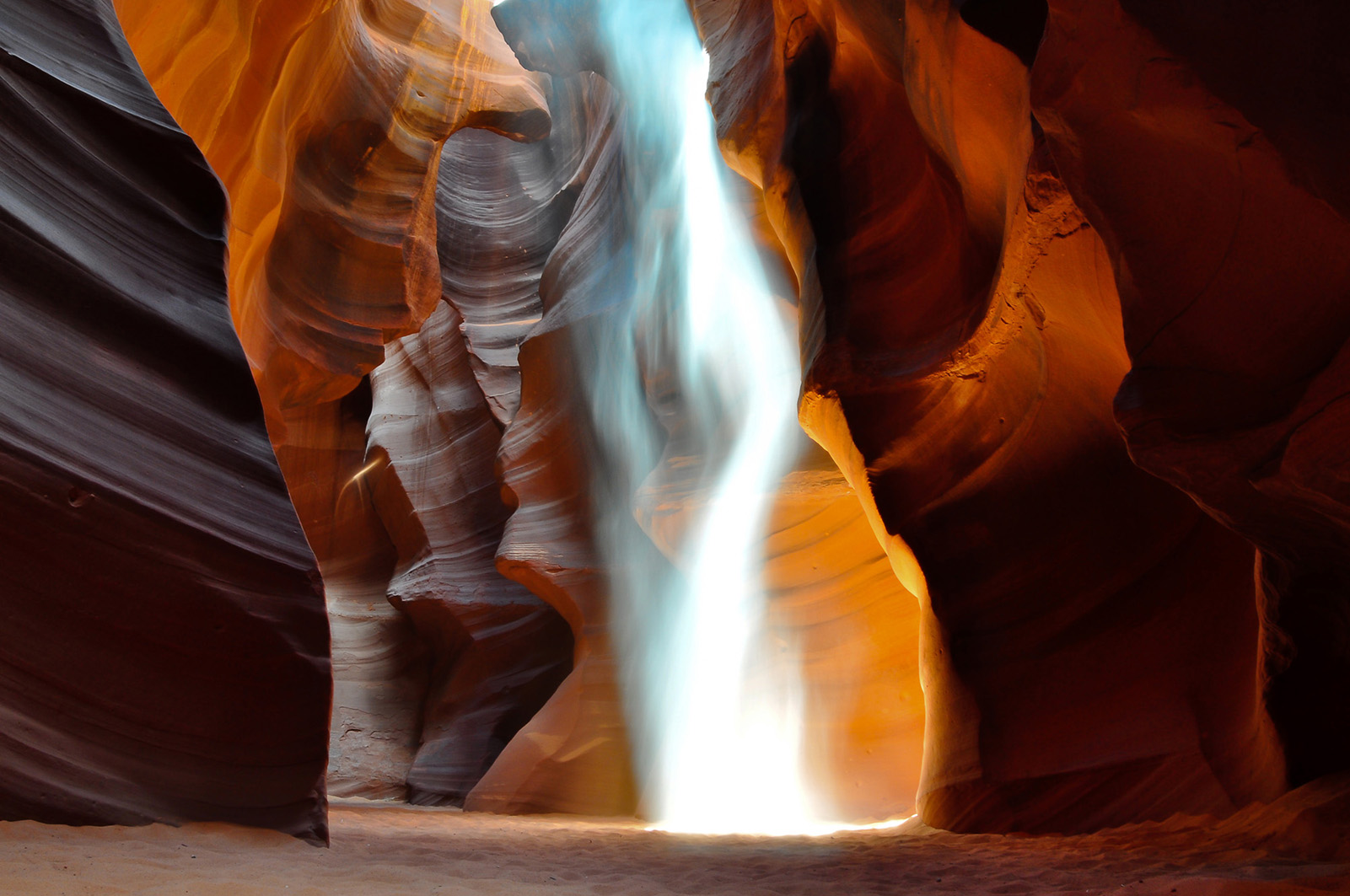 (Slot canyon with dust devil – photo by Angiolo Manetti)
Yesterday, the Dutch voted in an election pitting mainstream parties against Geert Wilders, a hard-right, anti-Islam nationalist whose popularity is seen as a threat to politics-as-usual across Europe, and possibly, as an existential threat to the EU.
Wilders, who wants to "de-Islamicize" the Netherlands and pull out of the EU, has little chance of governing, as all of the mainstream parties have already said they won't work with him. Given Holland's complicated form of proportional representation, up to 15 parties could win seats in parliament, and none are expected to win even 20% of the vote. OTOH, polls show that four in 10 of the Netherlands' 13 million eligible voters were undecided a day before voting, and there is just 5 percentage points separating the top four parties, so Wilders could surprise everyone.
As Wrongo writes this, the Dutch election results are not known, but PBS NewsHour coverage on Tuesday surfaced a thought about taxing robots. PBS correspondent Malcolm Brabant was interviewing workers in Rotterdam:
Niek Stam claims to be the country's most militant labor union organizer. He says the working class feel insecure about their prospects because of relentless automation and a constant drive to be competitive. The union is campaigning for robots to be taxed.
Brabant then interviewed a worker:
Robots do not buy cars. Neither do they shop for groceries, which leads to a fundamental question: Who's going to buy all these products when up to 40% of present jobs vanish?
This isn't an entirely new idea. Silvia Merler, blogging at Bruegel, says:
In a recent interview, Bill Gates discussed the option of a tax on robots. He argued that if today human workers' income is taxed, and then a robot comes in to do the same thing, it seems logical to think that we would tax the robot at a similar level. While the form of such taxation is not entirely clear, Gates suggested that some of it could come from the profits that are generated by the labor-saving efficiency…and some could come directly in some type of a robot tax.
The main argument against taxing robots is made by corporations and some economists (Larry Summers), who argue that it impedes innovation. Stagnating productivity in rich countries, combined with falling business investment, suggests that adoption of new technology is currently too slow rather than too fast, and taxing new technology could exacerbate the slowdown.
It can be argued that robots are property, and property is already taxed by local governments via the property tax. It might be possible to create an additional value-added tax for robots, since an income tax wouldn't work, as most robots are not capable of producing income by themselves.
Noah Smith at Bloomberg argues that the problem with Gates' basic proposal is that it is very hard to tell the difference between new technology that complements human work, and new technology that replaces them. Shorter Noah Smith: Taxation is so hard!
Why are Western economies stagnant? Why has wage growth lagged GDP growth? Automation is certainly a key factor, but rather than point the finger at the corporations who continually benefit from government tax policies, let's just assign blame to an object, a strawbot, if you will. That way, we won't look too carefully at the real problem: The continuing concentration of economic and political power in the hands of fewer and fewer corporations.
Automation isn't the issue, tax laws that allow economic treason by corporations in their home countries are the issue.
Why is nationalism on the march across the globe? Because fed-up workers see it as possibly the only answer to the neoliberal order that is destroying the middle class in Western democracies.
Let's find a way to tax robots. Something has to offset Trump's tax breaks for the rich.
Now, a musical moment. Did you know that "pre-St. Patrick's Day" was a thing? Apparently, some dedicated celebrators prepare for the day itself by raising hell for up to a week beforehand. With that in mind, here is some pre-St. Pat's Irish music, with Ed Sheeran singing "Nancy Mulligan" a love song about his grandparent's marriage during WWII, against the wishes of her parents, and despite their Catholic/Protestant differences:
Those who read the Wrongologist in email can view the video here.



Category:
Abandonment of Middle Class
,
Anger in Politics
,
Automation
,
Brexit
,
Consumer Spending
,
Corporate Welfare
,
Corporatism
,
Daily Escape
,
Distrust of Government
,
Employment
,
Multinational Corporations
,
Playlist
,
Politics
,
Religion
,
Tax Policy
,
Technology
,
Transformational Ideas
,
Unions