Wrongo's investment in popcorn futures is looking better all the time. The circus surrounding whether Trump's people had, or didn't have a secret relationship with Russia has a life of its own. Now that Trump has accused Obama of wiretapping his campaign, it is time to sit back and watch what's gonna happen next.
As the WSJ's Peggy Noonan said in 2000, it would be irresponsible not to speculate: While the story is moving fast, and new players pop up almost daily, Trump's inopportune tweet opens the door for Republicans to investigate Obama, and that's exactly what the Trump administration has done: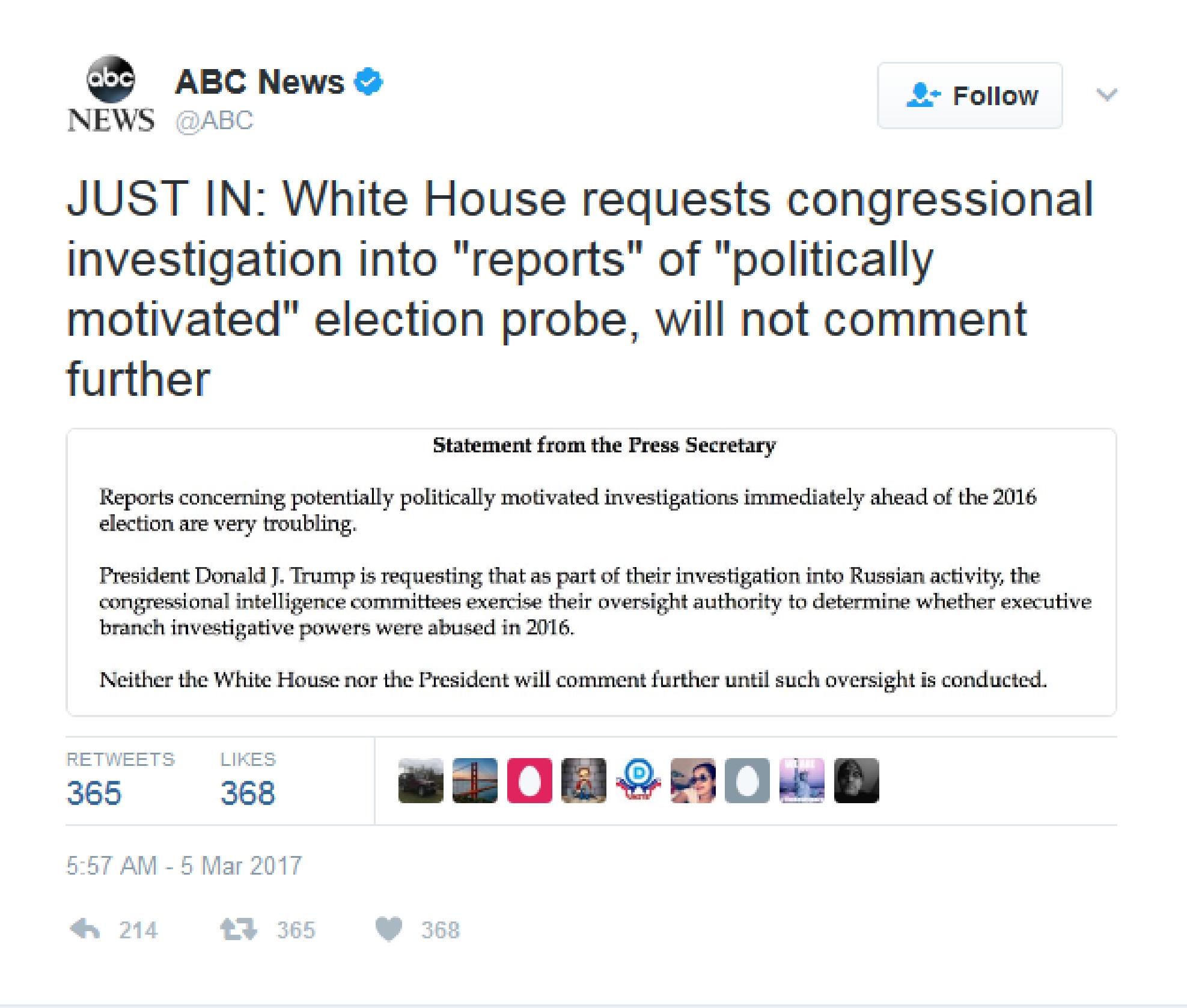 Republicans are of course happy to enable Trump's fantasy, vowing to investigate this "latest Obama scandal:
A Republican member of the Senate Intelligence Committee says he believes President Donald Trump's unsubstantiated allegations that his predecessor ordered wiretaps of Trump Tower will become part of the committee's investigation into Russian interference in the 2016 presidential election.

Arkansas Sen. Tom Cotton says, "We're going to follow the facts wherever they lead us. And I'm sure that this matter will be a part of that inquiry."
This is more likely than not to lead to more damaging revelations about Trump's associates' ties to Russia. Then, in mock sorrow, the GOP will have to go after Trump, or else look like they ignored evidence in order to get a few Right Wing policies enacted.
Wrongo's guess is that the GOP will start preparing the Proletariat for Trump's departure, and the investiture of President-in-Waiting, Michael Pence. Sadly, Trump doesn't see two moves ahead:
The reaction of a normal person when they learn of that should be: "There must be something going on"
The reaction of any normal target would be: "I'd better start covering-up (or come clean)"
But not Trump: "They wiretapped me! That's an illegal crime, and I will investigate/prosecute!"
When the Overlord learned that the FBI was using a FISA warrant to look at Trump Tower emails and phones, he didn't see an arm of the US government legitimately investigating a possible crime. He didn't think "if they find anything, I could be in trouble".
No, he doubled down, saying, "Obama attacked me, with wiretaps! That's illegal!" Even though it's not even remotely illegal, as any 21st Century Republican knows full well, because they wrote the legislation that made it legal.
In the meantime, Jeff Sessions is in damage control mode. He was the butt of the joke on Saturday Night Live this weekend. Republicans who support Sessions need to wake up and remember that it is never the action, it is always the cover-up that kills members of the political class. Here is Lynyrd Skynyrd doing their monster hit "Sweet Home Alabama", the redneck national anthem, in honor of native son, Jeff Sessions:
Those who read the Wrongologist in email can view the video here.
Key Lyric:
Now Watergate does not bother me
Does your conscience bother you?
Tell the truth