The Daily Escape: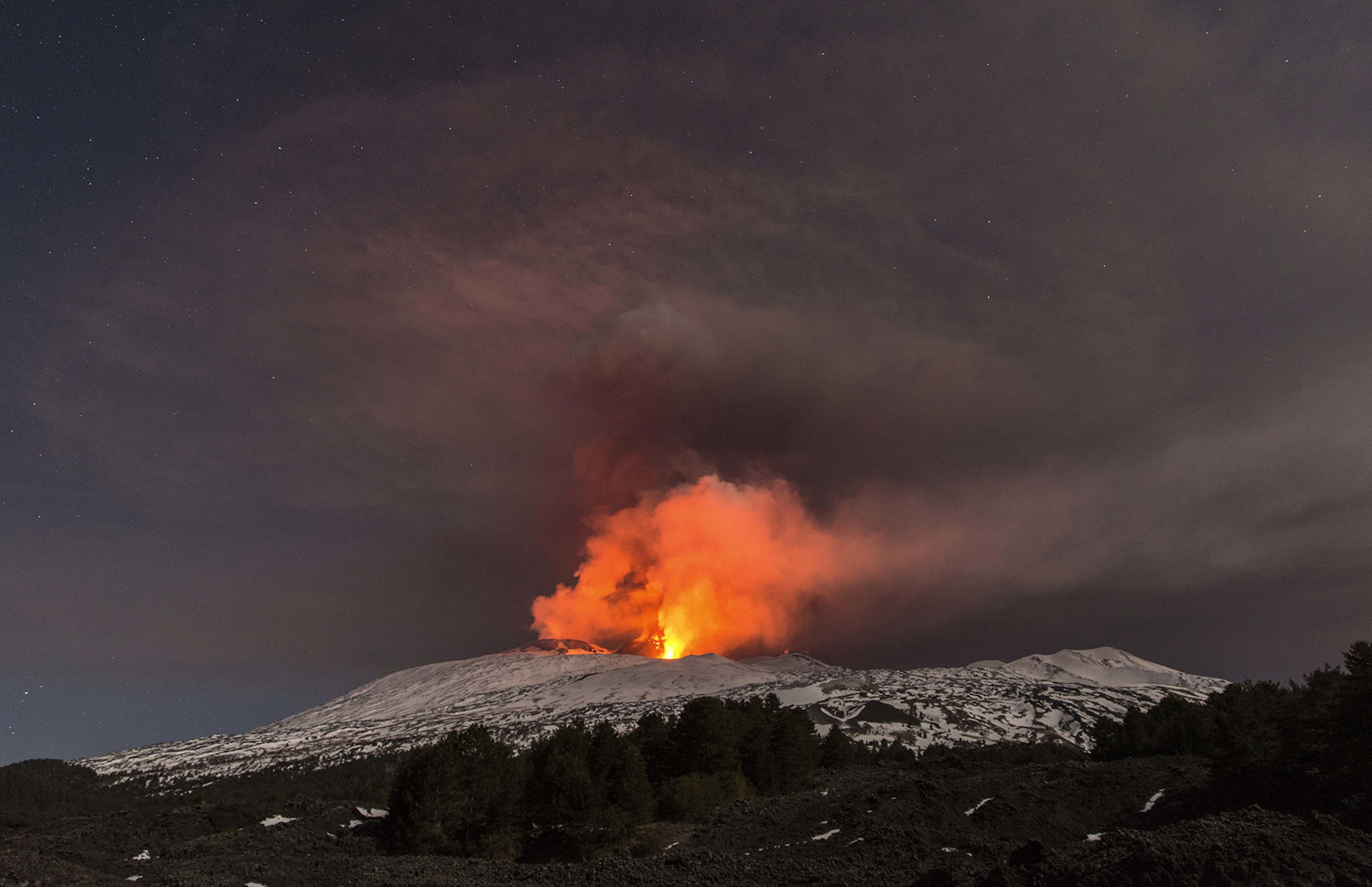 Mount Etna eruption, March 2017 – photo by Salvatore Allegra
Ready, Fire, Aim! Aren't you glad we didn't elect Hillary, the neo con warmonger? From Booman:
Our Bush Era PTSD has been reactivated in a big way. While I offered a limited and cautious and conditional defense of President Trump's decision to authorize the strikes against Syria, I was at pains to note that it's very important that the administration provide convincing evidence that the Assad regime is responsible for the sarin attack that served as the predicate for the missile launch.
Russia and Syria have denied that they are behind the Syrian Chemical Weapons (CW) attack. We know there was an attack, and that some kind of chemical was used. The media are saying it was sarin gas.
They also, nearly unanimously, say it is the fault of the Syrian government of Bashar al-Assad. Earlier in the week, both US Foreign Secretary Rex Tillerson and US UN envoy Nikki Haley said removing Assad was no longer a priority in US Middle-East policy.
Now, Assad has to go.
Most news outlets and pundits support Donald Trump's spanking of the Assad government, but what is Trump's strategy? Enforcing norms against the use of chemical weapons (CW) is a good thing. But it's hard to see how Thursday's all-out reversal of our level of engagement in the Syrian civil war is justified by the use of CW, particularly since it has been used several times before in Syria, and since it brings with it many other risks/issues, like a potential military confrontation with Russia and Iran.
After Thursday's Tomahawk missile attack, we are now simultaneously confronting the two strongest factions in the Syrian civil war, Assad's army and ISIS. While Trump and the MSM are going bananas about the horrors of CW, no one was going bananas last week, or in all the prior weeks, about the daily death count of Syrian children who were collateral damage in the country's civil war.
The attack took place in the midst of President Trump's Mar-a-Lago summit with Chinese President Xi Jinping This was where one of the hottest topics was what to do about North Korea's continuing long-range missile tests and its work on completing a deliverable nuclear warhead.
Clearly there were implicit messages for both North Korea and China in the Syrian attack. This has something to do with Syria, and a lot to do with the Chinese. Military types would tell us that Trump firing 59 cruise missiles to take out an airfield is overkill.
But, it will not be lost on Xi that 50+cruise missiles could also devastate any of those new atoll airfields cropping up in the South China Sea. Donald Trump just proved to Xi that he is a man with 4,000+ nuclear weapons at this disposal and a military that follows orders. It looks to Wrongo like Xi and Putin now have a giant incentive to become better allies, and invite Iran to the party.
Once again, Wrongo thinks that the best option for the US would be to concentrate on humanitarian efforts and helping refugees. And to work with Russia and Syria's other allies to end the threat from ISIS in the greater Middle East.
Unfortunately, that also admits there is a limitation on the US's ability to control events solely based on its military strength. Despite its flaws, if there's no reason to believe any strategy will improve results, then the best course is inaction. That was Obama's approach.
It's just not true that we "Must Do Something". People think that if we Do Something, then nothing bad that subsequently happens is really our fault, because AT LEAST WE DID SOMETHING. Whereas if we do nothing, then every bad thing that subsequently happens is our fault.
Thanks, Obama.
We really don't have to do anything. The problem is that by following the do-nothing strategy, America doesn't get to be the biggest, baddest ass on the Middle East Street.
Yes, if we do nothing, lots of people will die, but that doesn't exactly distinguish it from what will happen anyway. Our inaction won't transfer blame for those deaths onto us, any more than an action to take out Assad will shift it from us.
Who knew running the world's superpower was so complicated? Certainly, not someone who said "I alone can fix it".
With all of this Bush-era Déjà Vu, we really need some soothing today. Here is the first movement (Allegro) from Ludwig van Beethoven's Sonata No.5 in F Major, "Spring" Op. 24, for violin/piano, played by Ilya Itin and Igor Graupman from a live performance at the Miami International Piano Festival.
Those who read the Wrongologist in email can view the video here.