The Daily Escape: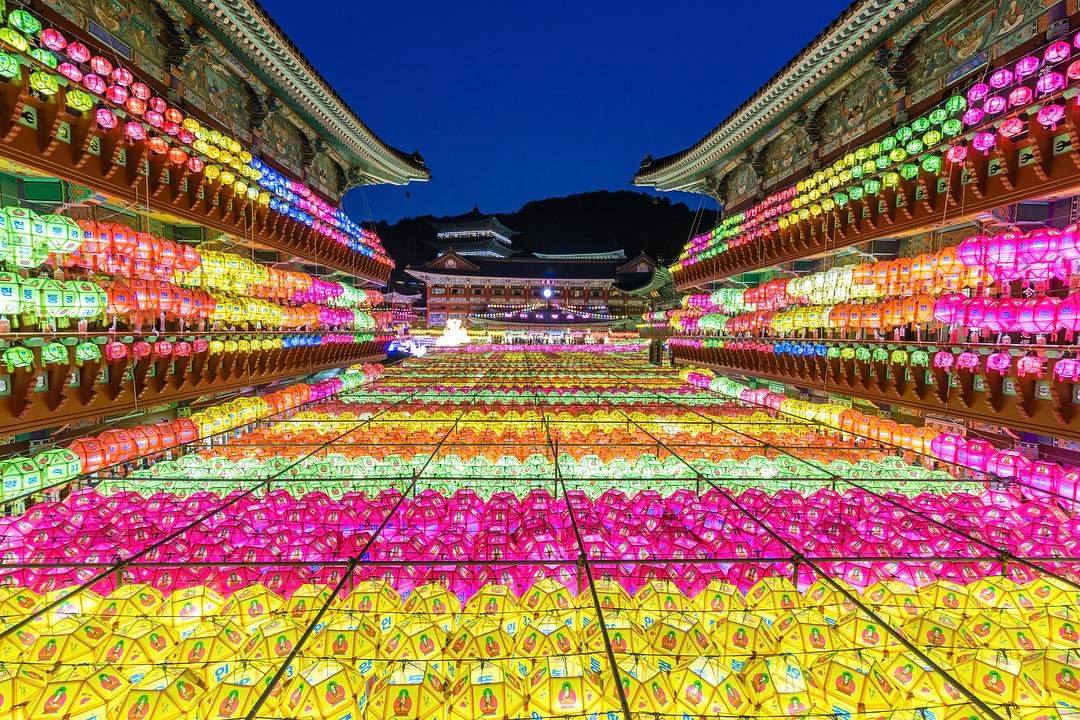 Lanterns lit last week for Buddha's Birthday, Samgwangsa Temple, Busan, South Korea – photo by Jason Teale
Yesterday, Wrongo mentioned that Russia might prove helpful to Donald Trump in his efforts to deal with a nuclear-capable North Korea (NK). Today, Stratfor has a column about Russia's relationship with NK. Rather than quote extensively from a long article, Wrongo has condensed from it, particularly about the history of Russia/North Korean relations.
History gives perspective: The Soviet Union and the US were the actors that split North and South Korea at the end of WWII. In the 1950s, both Koreas became a proxy battleground, pitting the communist North against the US-aligned South. After China and North Korea agreed to an Armistice with the UN and South Korea in 1953, the Soviets helped to build up the military and security forces in NK, ensuring its stability. Some Soviet-era military equipment is still in use today.
The Soviets were a key NK economic partner throughout the Cold War. They accounted for nearly half of NK's foreign trade in the 1970s and 1980s. After the collapse of the Soviet Union, trade dropped off. China now accounts for 90% of NK's imports, but about a third of that is Russian-sourced.
Putin saw the strategic value of good relations with NK, including how Russia could manipulate its influence in the region to pressure NK, or to put pressure the US and South Korea. Russia has criticized NK's nuclear weapons tests and ballistic missile programs, and participated in the six-party nuclear disarmament talks along with China, the US, Japan and North Korea and South Korea.
In 2014, Russia joined in levying sanctions against NK, halting supplies of ships, helicopters and minerals in response to its continued nuclear tests. But, neither China nor Russia has cut their economic or military ties with NK. And both governments have opposed expanded sanctions or regime change.
Russia and NK have improved ties since the breakdown in Russia's relations with the West over Crimea and Ukraine. In 2014, Moscow officially settled NK's Soviet-era debt of $11 billion, forgiving most of it. NK granted Russian business executives long-term multiple-entry visas for the first time. In addition, Russia has provided millions of dollars' worth of food aid to NK in recent years, including nearly half of the country's grain imports.
One way that the two countries have expanded their cooperation is through the employment of temporary NK workers in Russia. Nearly 50,000 North Koreans were granted Russian work permits in 2015. In April, Russia's parliament passed a bill allowing NK workers to travel visa-free to Vladivostok. Russia estimates that North Korea receives $170 million in remittances from its workers in Russia.
No doubt, Russia sees its relationship with NK as small potatoes. But Russia is not small potatoes for NK. While it will not replace China as NK's primary partner, Russia has the capacity to play spoiler to the US plans to control NK's nuclear ambitions. Today, Russia has its hands full with Syria, Crimea and Ukraine. But, its influence on the North Koreans can give it leverage, in the event that America's Orange Negotiator needs help making a deal on the Korean peninsula.
Putin could add weight to China's effort to lean on NK, forcing NK to come to the table. In return, His Orangeness might be persuaded to go easy on Putin's goals in Ukraine or Syria, in addition to whatever he will owe China, if the pressure succeeded.
Russia can't solve our problem with NK, but it might be able to move the dial enough either to play the spoiler, or to be an ally in any American efforts to defuse the Korean problem.
Here is a martial song from North Korea: "Leader, Just Give Us Your Order!" Don't you just wonder what that order will be?
Those who read the Wrongologist in email can view the video here.
Warning! Don't scroll through the comments, it weakens the mind. A recent one says:
"Comrade Kim Jong Un, just give us the order to wipe out all imperialists and to reunificate Korea!"
Reunificate!