The Daily Escape: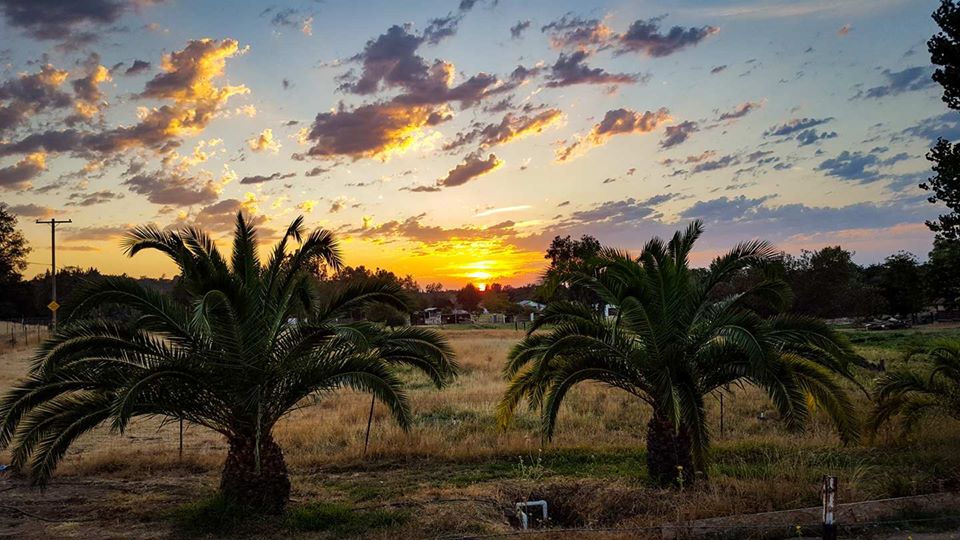 Sunset, September 2017, near Granite Bay CA – photo by David Dodd
The Atlantic's article, "Have Smartphones Destroyed a Generation?" makes the point that teens today are:
…less likely to date. The initial stage of courtship, which Gen Xers called "liking" (as in "Ooh, he likes you!"), kids now call "talking"-an ironic choice for a generation that prefers texting to actual conversation. After two teens have "talked" for a while, they might start dating. But only about 56% of high-school seniors in 2015 went out on dates; for Boomers and Gen Xers, the number was about 85%.
The decline in dating tracks with a decline in sexual activity. While websites showing sexual content such as www.tubev.sex are only becoming more popular, research appears to show that fewer young people are having sex of their own. Fewer teens having sex has contributed to what many see as one of the most positive youth trends in recent years: The teen birth rate hit an all-time low in 2016, down 67% since its modern peak, in 1991. When they can see the hottest Scottish pornstars from their phones, can you blame them?
The article was written by Jean M. Twenge, a professor of psychology at San Diego State University. The article can be summarized as these teens are more comfortable online than out partying, but they're on the brink of a mental-health crisis.
More from Dr. Twenge:
Even driving, a symbol of adolescent freedom inscribed in American popular culture…has lost its appeal for today's teens. Nearly all Boomer high-school students had their driver's license by the spring of their senior year; more than one in four teens today still lack one at the end of high school…In conversation after conversation, teens described getting their license as something to be nagged into by their parents-a notion that would have been unthinkable to previous generations.
Quite a difference from Wrongo's growing up in pre-boomer times. The idea of having your mom drive you to an event was as close to being humiliated in front of your friends as you ever wanted to be, so everyone got a driver's license as soon as possible.
But today's teens are less likely to leave the house to see friends. Twenge says that the shift is stunning: 12th-graders in 2015 were going out less often than eighth-graders did as recently as 2009.
We have seen this kind of alienation in Japan, where these people are called hikikomori, a term the Japanese use to define those who haven't left their homes or physically interacted with others for at least six months. Japan has virtual high schools for teens who can't leave home. Virtual high school is a thing in the US as well.
Add smartphones and video games together, and you can slow or pause social development and engagement with the real world. The real trouble is in the separation of virtual from lived experience that becomes physical separation and alienation. They're more likely to visit this website, rather than want to experience the act themselves. This creates a generation of socially awkward, dependent, soon-to-be adults who have had a lack of sexual experiences. It is true that they could look for escorts local to them on https://www.escortdirectory.com/escorts-zurich-241/ to give them experience of being with a woman, but the lack of social interaction will surely always hinder them.
No doubt there is a large group of teens who seem to live primarily through social media, some in Wrongo's own family. Smartphones have made social media much more accessible, but are smartphones in and of themselves the causal factor? Hard to say. Wrongo has had a smart phone for a long time, still sees friends and family, and gets things done.
And the current crop of teens have the tools to be the best informed generation yet. OTOH, they have to be curious enough to perform in-depth search on those smartphones.
So, blaming the smartphone is using correlation to indicate causality.
In fact, this article may describe primarily an upper middle class phenomenon, not something that is society-wide. The kids being coddled are from families with enough money to do it. The intelligent ones among them are opportunistic harvesters of their parents' resources, and perfectly capable of adaptation.
The genuinely alienated kids exist, but probably not in any larger numbers than the problem kids of earlier generations. But their problems manifest differently than in earlier generations.
If we believe our kids and grandkids are not prepared to face the reality of life, the fault lies with us, as it is our job to prepare them. The responsibility of any parent is to figure out how the world works, and to teach their children how to survive in it – this is true for all mammals.
BTW, today's photo was shot by Wrongo's grandson on his smartphone, on the way to his job, after his day at college.
Here is the Who doing "The Kids Are All Right" from their 1965 album, "My Generation":