The Daily Escape: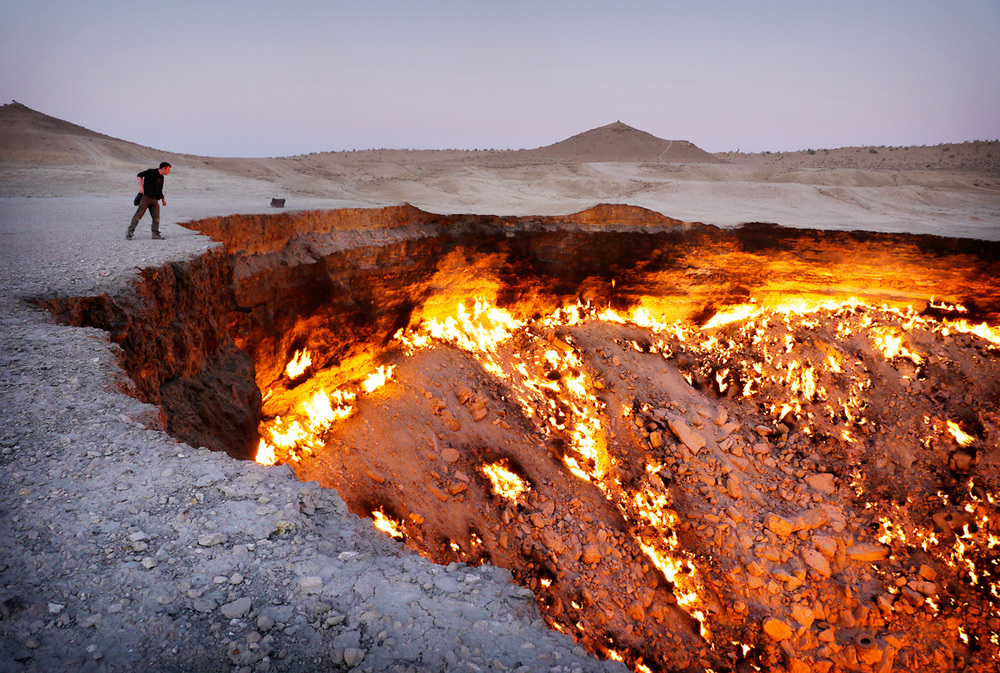 Gas crater in Turkmenistan. It has been burning since the 1970s when Soviet engineers accidentally collapsed it while exploring for gas. The escaping methane was lit to avoid poisoning nearby villages. It has been burning ever since. Photo by Amos Chapple
Afghanistan has been burning for about as long as that gas crater. We are now ramping up our commitment to the Afghans by shifting military resources from Iraq and Syria back to Afghanistan.
On one hand, our presence makes it very difficult for the Taliban to win. They don't have an air force, or anti-aircraft weapons. The Afghan Army is better trained than before, and they greatly outnumber their opposition.
On the other hand, the Afghan government can't win; 40% (or more) of the country's rural districts are under the Taliban's control. They are active in other parts of the country. Government corruption remains rampant, and there's a constitutional crisis in Kabul that's been going on for three and a half years.
But let's talk about the countries that are arrayed against Afghanistan. Iran, Pakistan, and Russia, all of which share common borders with Afghanistan, and all of which would be quite happy to see the US fail in its 16-year long war, are working with the Taliban.  According to Carlotta Gall in the NYT:
Iran…is providing local Taliban insurgents with weapons, money and training. It has offered Taliban commanders sanctuary and fuel for their trucks. It has padded Taliban ranks by recruiting among Afghan Sunni refugees in Iran, according to Afghan and Western officials.
Ms. Gall quotes Javed Kohistani, a military analyst based in Kabul:
Having American forces fight long and costly wars that unseated Iran's primary enemies has served Tehran's interests just fine. But by now, the Americans and their allies have outlasted their usefulness, and Iran is pursuing a strategy of death by a thousand cuts to drain them and cost them a lot.
So, Iran is thinking strategically. They have outmaneuvered us in Iraq, and in Syria. And they are siding with the Taliban against us in our biggest bet in the Middle East.
They are not alone. Russia now supports the Taliban. They are backing them in regions where the US is carrying out airstrikes. Their initiative reflects Moscow's concerns that Afghanistan might become a new staging ground for Central Asian jihadis pushed out of Syria and Iraq after the defeat of ISIS. Moscow thinks that scenario could threaten its own security.
Also, Russia is trying to build an international consensus around direct engagement by major countries with the Taliban. This from the WaPo:
Russian policymakers support engagement with Taliban factions that support a diplomatic settlement in Afghanistan, while eschewing factions that seek to destabilize the war-torn country. Moscow's selective engagement strategy toward the Taliban contrasts markedly with Washington's historical resistance to engagement with the Afghan militant group.
Russians are inserting themselves in Afghanistan following their very successful intervention in Syria. Russia's approach could increase its status as a counterweight to US influence in the Middle East.
Finally, Pakistan has long been recognized as a safe harbor for the Taliban. We have long believed that there is no way we can seal the border between Pakistan and Afghanistan, so Taliban troops are free to leave the battle and return to relative safety in Pakistan. Our strategic concern has been to balance the possibility of Pakistan's nuclear weapons falling into terrorist hands, against the chance that our desire to crack down on their safe havens for the Taliban will alienate them.
The Taliban is undefeated mostly because Pakistan gives it support and sanctuary. The Trump administration has told Pakistan that it will no longer tolerate them providing the Taliban with a safe haven, but whether it changes anything on the ground remains to be seen.
We have an array of strong competitors who share borders with Afghanistan, all of whom want us to lose. And Afghanistan is a bad hand for nation-building: Over 50% of the population is under 19, and 39% are impoverished.
That's a lot of young, impressionable kids with nothing to lose, and every reason to earn a living through illicit means, or by joining an insurgency. And Afghanistan's population is growing faster than its economy. When the US invaded in 2001, the population was approximately 21 million people; today it is 35 million.
For anyone hoping to disrupt the Taliban's ability to recruit, this is very bad news. The Taliban's opium trade accounts for 400,000 jobs alone. That's more jobs than those that are employed by the Afghan National Army.
Again, we should insist that Trump and the Congress answer these questions:
Why are we there? What end state are we trying to bring about?