The Daily Escape: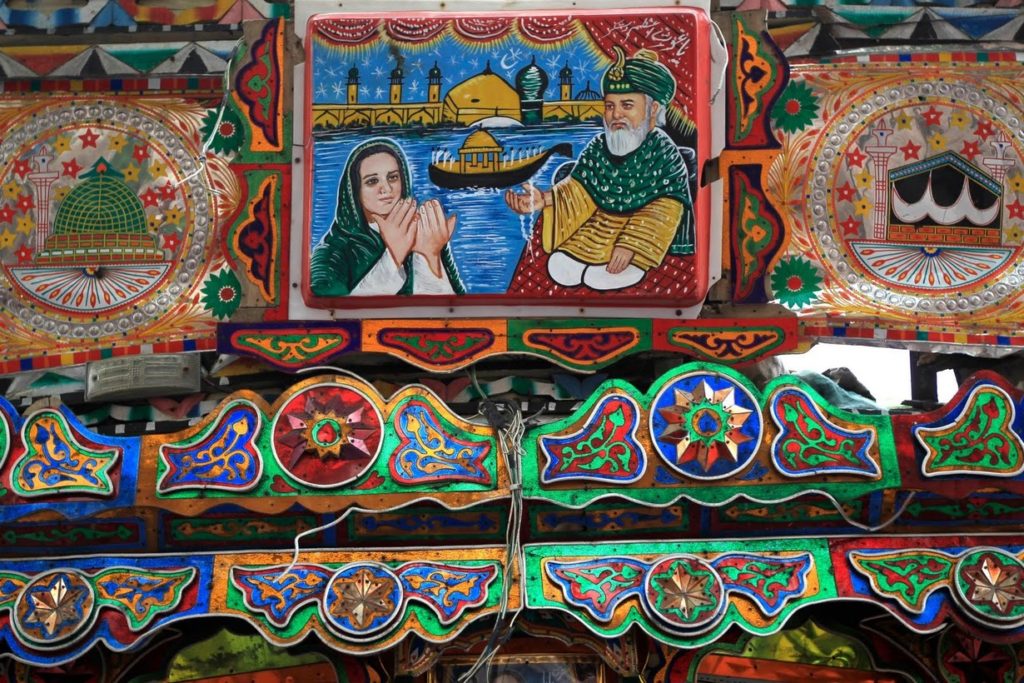 Detail of art painted on a truck, Pakistan – 2017 photo by Caren Firouz. South Asian "truck art" has become a phenomenon, inspiring gallery exhibitions.
Will new tariffs help our economy? The view of a typical Trump supporter:
Some of us are happy about these tariffs because it starts a long overdue conversation about trade: Everyone knows that the press, congress, economists, and the multinationals love existing policy, and that most of them couldn't care less about trade imbalances. If this is the only avenue our democracy has to change trade policy, then we're all for it.
Yet, the conventional wisdom is that Trump's tariffs on steel and aluminum will do more harm than good. There are several concerns. To the extent we need steel and aluminum to use in our domestic production, it will cost more, and prices will have to go up, assuming that the manufacturers are unwilling to lower their profit margins. Ultimately, those increased costs hit the American taxpayer.
Another concern is retaliation. Our trade partners can block our exports, or charge retaliatory import tariffs of their own. Just 12% of US GDP are exports, so we're less exposed to that threat than other economies that have a larger percentage of their economies dependent on exporting. However, jobs can be easily lost if China, Brazil, or the Euro Zone block some of our exports.
Trump's rationale for new tariffs is two-fold. First there is a national security risk caused by diminished capacity in sensitive industries. Second, good jobs will come back to America if we produce more stuff.
Let's deal with national security first. No doubt we have surrendered some of our strengths in sensitive products and technologies. But, it's not a critical issue for steel or aluminum. We can get them from many countries that are currently our allies.
Artificial intelligence, advanced semiconductors, and software are an entirely different matter. There are legitimate national security-based rationales for restriction in those areas.
But, we are in trouble with some of the exotic steels that the Defense Department uses in weapon systems. For example, the Belgian firm Fabrique Nationale is the prime contractor for a lot of the high end small arms. Some of these specialty steels are only manufactured in annual production lots. Trump's tariff won't shift the production of those exotic steels to domestic sources.
So even in the few cases in which a tariff might serve a national security purpose, the Trump tariff will fail.
And while the Chinese dump steel below cost on global markets, most others (Canada, Brazil) do not, and we buy a lot more from them than we do from China. And there is no scenario whereby Canadian steel exports are a "national security" risk, Trump's primary rationale. And the Trumpets seemingly can't see the difference between primary aluminum (China exports nearly none) and semi-manufactured aluminum products, such as bars, plates, and wire rod, which they export a lot.
But, don't foreign governments subsidize their steel industry? China does. However, that means that China is essentially giving us cheap steel. The question for Trump is: Will we gain enough jobs in our domestic steel industry to outweigh the losses to us in higher prices across all industries?
Maybe, but it hasn't worked that way in the past.
Tariffs help lazy and/or incompetent businesses. Imposing new tariffs will just put off the day when the toxic combination of bad management, lack of investment, poor infrastructure, and bad government causes these protected industries to implode.
If you are a manufacturing company that is internationally competitive and well run, how would you like it if your steel and aluminum suddenly became 25% more expensive? All to protect some other lazy SOB who hasn't invested in his plant in 20 years?
The correct response should be to find out why your product isn't competitive, and then fix it. Much of American industry has done that, by automating, by moving abroad for cheaper labor, or to be closer to raw materials.
Ultimately, Trump's tariffs will just postpone the day when our uncompetitive sectors must modernize, or go under.
And that result is always a net loss of jobs.
The best think tank idea is to establish tariffs (or quotas) based on the amount industries pay their labor in foreign countries vs. what US employers pay. If the foreign country's prices are lower, than a tariff would kick in. This would help us with US firms who manufacture overseas. They would have the choice of paying higher wages to US laborers, or paying a tariff on their imports to the US.
Trump's message is: If you want unfettered access to the US market, make it here. If the US consumer pays more, that is a price he's willing to take to have the manufacturing base.
This is a debate worth having.