The Daily Escape: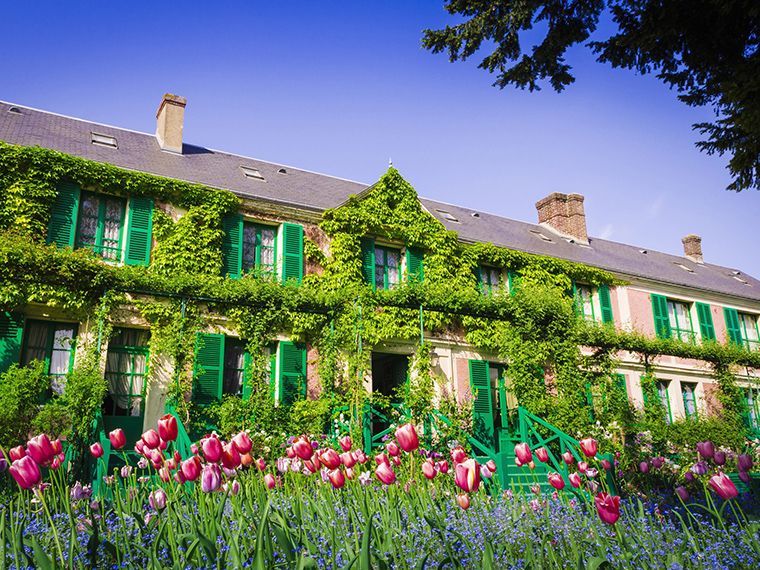 Claude Monet's home, Giverny, France via @archpics
So much to think about as the week ends: It is one year since Trump pulled the US out of the Paris Climate Accord. The nuclear summit with North Korea is back on. Trump now has a trade war going on against Europe, China, Canada and Mexico.
It is difficult to see how the US emerges as a winner in any, or in all of these, when the other side always has the option to say "no". But this weekend, let's ignore Roseanne Barr's tweet about Valerie Jarrett, and talk about Trump pardoning the racist conspiracy theorist Dinesh D'Souza.
On May 19, 2014, D'Souza plead guilty to making illegal campaign contributions to a Republican senatorial candidate. He confessed and admitted his guilt. D'Souza admitted that he violated federal campaign financing laws, and by pleading, he became a convicted felon.
As an admitted criminal he need to pay his debt to society for his transgressions. But D'Souza is a member in good standing of the Party of Personal Responsibility, so he was pardoned by Donald Trump. After all, the rule of law is based on the assumption that Republicans are patriots and Progressives are America-hating zealots. And, D'Souza had surely paid a price for his patriotism … or something. Let's review what D'Souza said in court:
I knew that causing a campaign contribution to be made in the name of another was wrong and something the law forbids…I deeply regret my conduct.
This is the person Trump claims "was treated very unfairly by our government!" It is possible to claim that D'Souza was persecuted because of his politics, but there's absolutely no proof that was the case. D'Souza pled guilty in order to receive the lightest possible sentence for the federal crime he admitted to.
The pardon serves Trump's purposes in one important way: It sends a signal to members of the Trump followers who are under investigation by Robert Muller that they will not be held accountable by the federal government for crimes committed on Trump's behalf while he holds office.
The true problem was captured in a tweet by David Frum about the D'Souza pardon: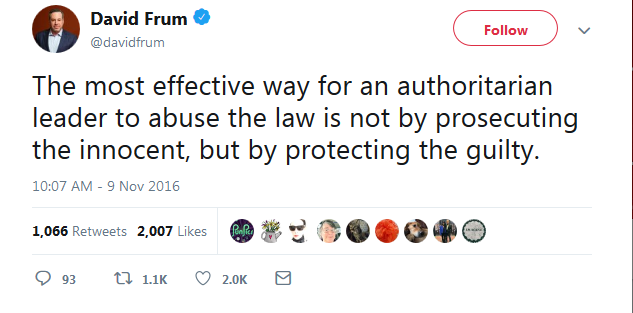 And this is exactly why Trump's contempt for democratic norms and values really matters.
But, enough of politics! It is time to take a few moments to untether from the internet, and get soothed by contemplating the natural world. So, turn off your phone (unless you are reading this on your mobile). Brew up a vente cup of Finca La Maria Geisha Natural from San Diego's Birdrock Coffee ($51.00/8oz). Taste its bright notes of stone fruit and honeysuckle, its plump mouthfeel and flavor-saturated finish.
Now, sit in front of a large window, and listen to Beethoven's String Quartet No. 9 in C major, Op. 59,  No. 3, published in 1808. Here it is performed live by the Jasper String Quartet at the Jerome L. Greene Performance Space in New York for WQXR's Beethoven String Quartet Marathon on November 18, 2012:
Those who read the Wrongologist in email can view the video here.