The Daily Escape: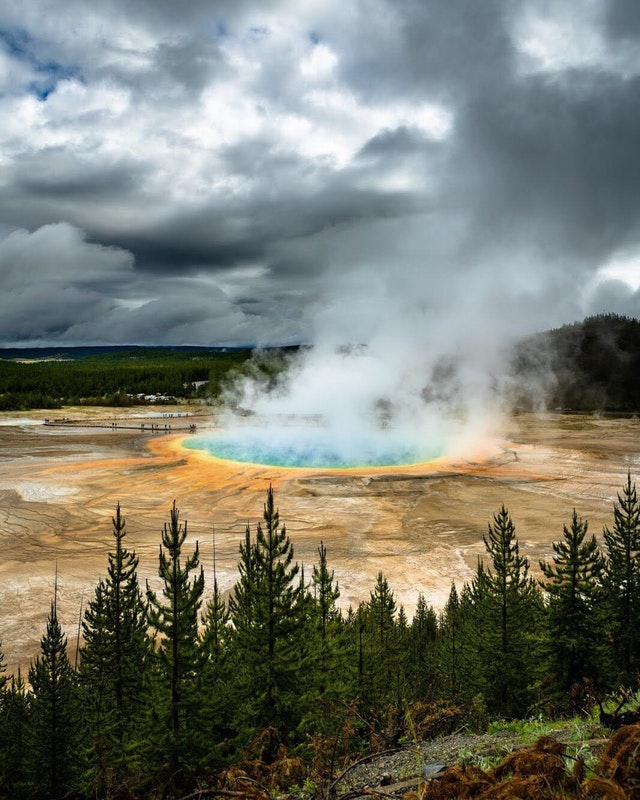 Sauron's hot tub, Grand Prismatic Spring, Yellowstone NP -2018 photo by calibeerking
Our Monday wake-up calls usually involve a single news item that gives Wrongo the chance to generalize from the specific. This weekend had at least two, and neither concerned NATO, Putin, or Trump.
First up, few probably know the name of US Congressman Daniel M. Donovan (R-NY). He is the guy who represents Staten Island and South Brooklyn. He won over the convicted criminal former GOP Congressman Michael Grimm, among others. He's the only Republican House member in NYC. Donovan introduced HR 6054, a bill that would make it illegal to wear a mask at a demonstration. This seems to be the best hot take: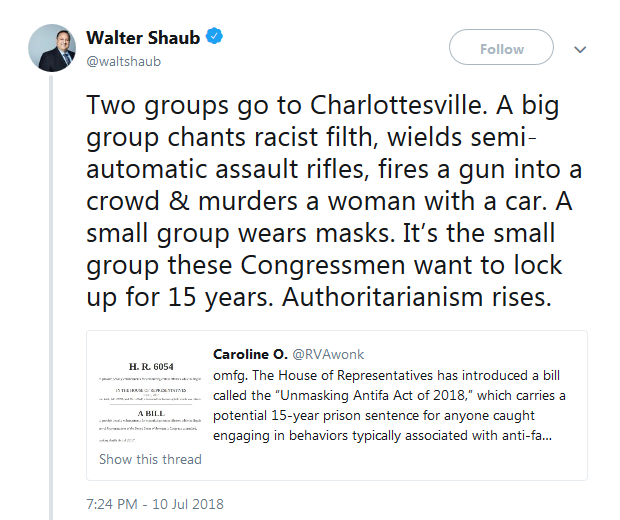 The proposed law would enhance penalties for anyone who interferes with another person's "protected rights" while wearing a disguise. So, the guy replacing convicted felon Michael Grimm offers a piece of nuisance legislation to protect those very fine Nazi people of Charlottesville's "unite the right" rally. The bill is co-sponsored by Rep. Peter King (R-NY), Rep. Ted Budd (R-NC), and Rep. Paul Gosar (R-AZ).
Unmasking laws are not new at the state level. It's been illegal to wear a mask in New York, if you are accompanied by at least one other mask-wearer, since 1845. Later, unmasking laws were used to combat the Ku Klux Klan in Alabama, where it's been illegal to wear a mask (except on certain holidays) since 1949. Georgia also has an anti-masking law targeted at the Klan.
Yet, Wrongo never thought we'd see a time that Congress would attempt to criminalize speech. But here it is: if somehow, this bill became law, some forms of speech will be criminalized.
Watching what's happening in Congress, we may be underestimating the threat posed to our freedom and liberty. If you think this is just a Monday over-reaction, let's move on to item # 2. TPM is reporting: (emphasis by Wrongo)
Conservatives in the House are preparing a document to impeach Deputy Attorney General Rod Rosenstein and could file the document as early as Monday, Politico reported Friday afternoon, citing conservative sources on Capitol Hill.
House Freedom Caucus members Rep. Mark Meadows (R-NC) and Rep. Jim Jordan (R-OH), two of Rosenstein's most vocal critics, are leading the effort. For what its worth, Trey Gowdy said he isn't in favor of impeaching Rosenstein.
Can't happen, you say? Well consider this: With the confirmation of Brian Benczkowski to the DoJ as a possible replacement for current Deputy AG, and Mueller boss Rod Rosenstein, Zandar speculates:
…should Rosenstein be fired, Robert Mueller's boss would almost certainly become Benczkowski, a person with no prosecutorial experience whatsoever, somebody already tainted, if not compromised by Russian money laundering, and somebody who worked for Donald Trump's campaign directly. And no, he hasn't said that he would recuse himself should that become the case.
No one knows how far this will go, but it gives Trump the ability to fire Rosenstein, and replace him with his ally, (and Jeff Session's buddy), the newly-installed Benczkowski.
Now that Trump has his guy in place at the DOJ, some senior House Republicans seem to prefer impeachment of Rosenstein to letting the Mueller probe continue. That should tell you everything that we need to know about how politicized the Republicans have made this inquiry.
Is this just a political gamble by the Freedom Caucus? They seem convinced that the political pendulum won't swing back—that they're permanently in power. Otherwise, why would they be trying incredible shit like this?
They are ignoring the obvious response to evidence that our nation has come under assault, and instead, would rather impeach the person responsible for managing the investigation!
Time to knock some sense into the heads of these Republicans, and that will only happen by pushing them out of controlling the House in November. That requires all of us to wake up, and work hard to get out the vote. It requires a commitment to do more than just send texts, or complain on Facebook.
We have to work extremely hard this fall in our local Congressional districts. We have to elect people who won't think HR 6054 is a super idea.
People who don't think that impeaching the Deputy AG is just fine, because he's…what?
To help you wake up, here are the O'Jays, with their 1972 monster hit, "Back Stabbers":
Sample Lyric:
(They smile in your face)
Smiling faces… smiling faces sometimes tell lies (Back stabbers)
(They smile in your face)
I don't need low down, dirty bastards (Back stabbers)
Those who read the Wrongologist in email can view the video here.