The Daily Escape: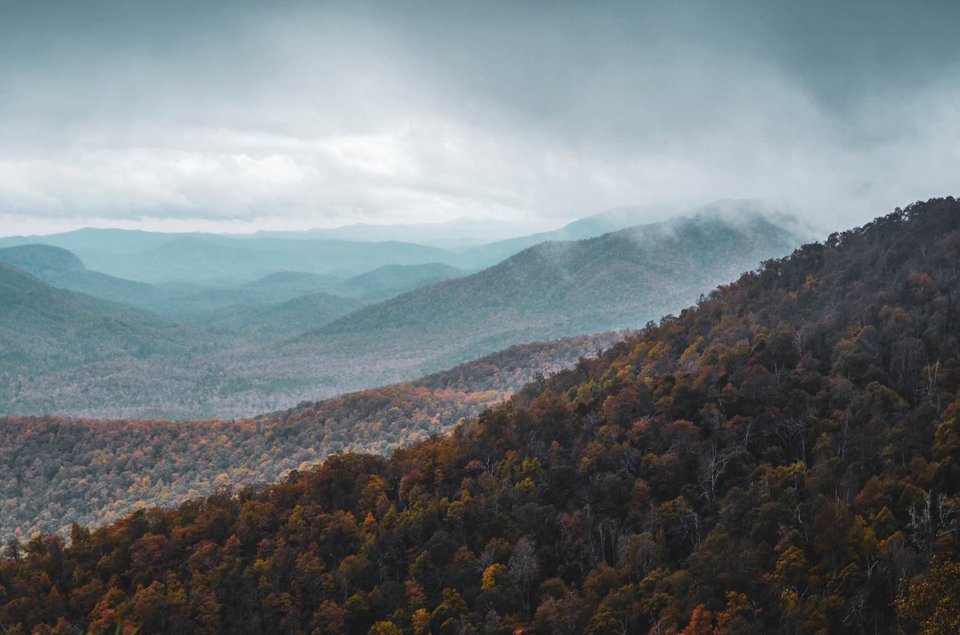 Autumn, Blue Ridge Mountains, near Asheville, NC – 2018 photo by RedWhiteTruee
Wrongo guesses that we'll know Tuesday night whether being an A-hole is a winning strategy for the Donald.
While traveling in Russia, Wrongo finished reading (and recommends) Amor Towle's "A Gentleman in Moscow". If you haven't read it, the story is about a Russian nobleman who is sentenced in 1922 by the Bolsheviks to the equivalent of permanent house arrest in Moscow's Hotel Metropol. He spends 30+ years living there.
Doesn't it seem that we have been locked up for the past two years, waiting on the mid-terms? Let's hope that on Tuesday, the doors will fly open, because we want out. We want a world with fewer lies, with fewer insults, maybe even a return to sanity.
Here's a thought to launch you into the weekend. Despite Friday's news about brisk new jobs creation, and the headline unemployment rate being at a 50-year low, MarketWatch reported that just 28% of Americans are financially healthy:
Some 44% of people said their expenses exceeded their income in the past year and they used credit to make ends meet. Another 42% said they have no retirement savings at all.
That's despite a nine-year-long bull(ish) stock market, and consumer confidence levels nearing record highs. And, there's more:
The median American household currently holds just $11,700 in savings, according to a recent analysis of Federal Reserve and Federal Deposit Insurance Corp. data by personal-finance site Magnify Money. The top 1% of households in the U.S. by income have a median savings of $1.1 million….The bottom 20% by income have no savings accounts and the second lowest 20% income earners have just $26,450 saved.
Meanwhile, the majority of Americans in a recent survey said their finances have not improved since the 2016 elections. Market Watch quotes Mark Hamrick, senior economic analyst at Bankrate:
All of this is a call to action: We need to make savings, both for retirement and for emergencies a higher priority, so that they aren't the source of financial regret later in life.
So, all of you politicians who are running on the great economy ought to study up on a few facts, and find a few solutions.
A good start for the rest of us is showing up to vote on, or before next Tuesday.
But Wrongo senses that you've had enough, that you need to check out of the news feeds, to stop being carpet-bombed by political ads, and contemplate…nothing. To help you get started on your Saturday Soothing, brew up a large, hot steaming cup of Kenya Konyu coffee, with its sweet, tart and savory notes of dried berries and richly bittersweet flowers ($16.25 for 10 oz.). It comes from Branch Street Coffee Roasters in Youngstown, in the swing state of Ohio.
Since it's another rainy Saturday in the Northeast, stay indoors and listen to English composer Sir Michael Tippett's "Concerto for Double String Orchestra". Here, the Adagio, the middle movement of the Concerto, is played by the Academy of St Martin-in-the-Fields, conducted by Sir Neville Marriner:
Those who read the Wrongologist in email can view the video here.