The Daily Escape: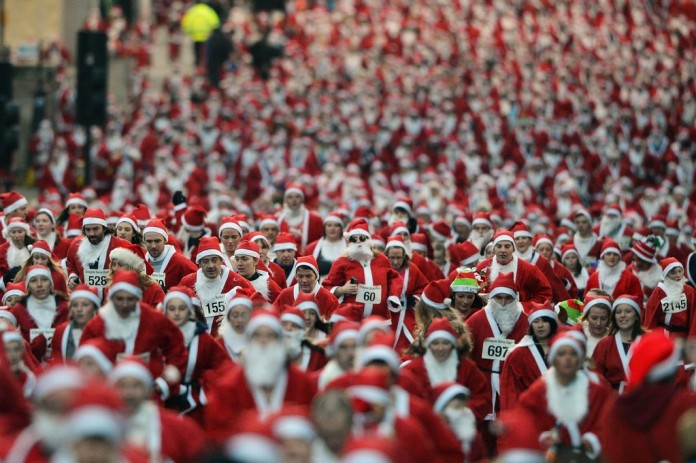 Santa Dash, Glasgow Scotland, 2012 photo via Just Run lah
Hope that you had a relaxing Christmas, one that you will remember, and not because you bought a Lexus. Here at the Mansion of Wrong, the party is still underway. Our last guests will be leaving on January 2nd.
In reading the endless lists of the most important news stories of 2018, Wrongo felt that the major news story was Trump's awesome amount of lying. Back in the dark ages, before GW Bush and Cheney, the idea of a president lying outright to the American people was cause for outrage. The liar's poll numbers would drop immediately and all of the press would call out the transgression.
Now, when Donald Trump actually lies daily, telling whoppers that are stunning to behold, there is little outrage, and certainly none from the Right. This is exacerbated by the main stream media, many of whom report Trump's lies as if they're news stories, often without providing any context that tells the truth of the matter. They have become complicit in Trump's dishonesty, and we all suffer as a result.
It's Orwellian: Lies become truth, truth is devalued. We can't be an informed people when the information we receive is often full of lies and distortions.
This is without question, the biggest story of 2018.
Next column, Wrongo will reprise his 2018 Wrong predictions, looking back on the year that was, scoring his successes and his prognostication failures.
Now, listen to Yo-Yo Ma and Alison Krauss perform "The Wexford Carol", an ancient Irish carol. The great Canadian violinist, Natalie MacMaster joins them. This is from their 2008 album, "Songs of Joy & Peace":
Those who read the Wrongologist in email can view the video here.