The Daily Escape: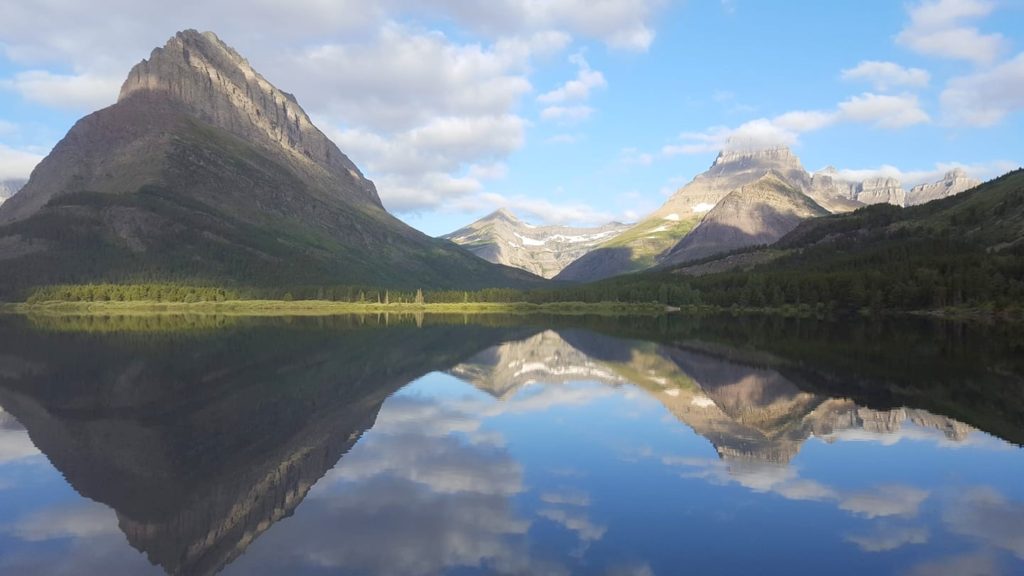 Many Glacier, Glacier NP, MT – 2019 photo by MDodd
Let's clear the air about Iran and their use of terror. Wrongo isn't an apologist for Iran, although he thought that the Nuclear Deal was a positive step forward. We need to look carefully at the data supporting what our government and the US media say about Iran's terrorist activities.
Here's what the US State Department says about Iran and terrorism:
"Iran remains the world's worst state sponsor of terrorism. The regime has spent nearly one billion dollars per year to support terrorist groups that serve as its proxies and expand its malign influence across the globe. Tehran has funded international terrorist groups such as Hizballah, Hamas, and Palestinian Islamic Jihad.

It also has engaged in its own terrorist plotting around the world, particularly in Europe. In January, German authorities investigated 10 suspected Islamic Revolutionary Guard Corps Quds Force operatives. In the summer, authorities in Belgium, France, and Germany thwarted an Iranian plot to bomb a political rally near Paris, France. In October, an Iranian operative was arrested for planning an assassination in Denmark, and in December, Albania expelled two Iranian officials for plotting terrorist attacks.

Furthermore, Tehran continued to allow an AQ facilitation network to operate in Iran, which sends fighters and money to conflict zones in Afghanistan and Syria, and it has extended sanctuary to AQ members residing in the country."
From Larry C. Johnson:
"You notice what is absent? A list of specific attacks that caused actual casualties. Plans and plots are not the same as actions. If Iran's malevolent influence was so powerful, we should be able to point to specific attacks and specific casualties. But you will not find those facts in the U.S. State Department report because they do not exist."
This State Department Annual Terror report details who is really responsible:
The Taliban was responsible for 8,509 deaths and 4,943 injuries, about 25 percent of the total casualties attributed to terrorism globally in 2018
With 647 terrorist attacks, ISIS was the next-most-active terrorist organization, responsible for 3,585 fatalities and 1,761 injuries
Having conducted 535 attacks, al-Shabaab was responsible for 2,062 deaths and 1,278 injuries
Boko Haram was fourth among the top-five terrorist perpetrators, with 220 incidents, 1,311 deaths, and 927 injuries
Not a single group linked to Iran or supported by Iran is identified. Here's a table from the report's statistical annex that identifies the worst offenders: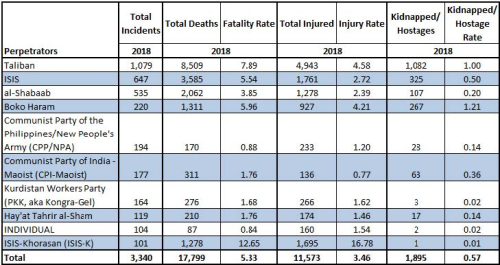 Iran doesn't make the list. The attacks are predominantly from Sunni affiliated groups that have ties to Saudi Arabia, not Iran.
America takes exception to Iran because we have a long and negative history, but with justifiable complaints on both sides. Recently, Iran has thwarted the US's actions in Syria. We should remember that Iran is a Shia Muslim state. When we removed Saddam Hussein and destroyed Iraq's government, the Bush Administration installed Iraqi Shias in leadership. No GW Bush administration policymakers expressed any concern that these Iraqi politicians and military personnel had longstanding relationships with Iran, which naturally increased Iran's influence in Iraq.
Iran also had a longstanding relationship with Syria. Obama decided that by eliminating Syria's Bashir Assad, Iran would be weakened, but that policy backfired. Iran, along with Russia, came to the aid of Syria. Assad is now secure, and America's influence in the ME has been weakened.
Time to wake up America! We need to get educated about which terror groups are committing what terror acts. Back in the 1980s, Iran was very active in using terrorism as a weapon to attack US military and diplomatic targets, but not so much lately. Iran was behind the early development of the IEDs used in Afghanistan and Iraq. Many US soldiers died. That technology is now globally ubiquitous.
The real issue we should be asking our government to resolve is whether we can (or should) halt the expansion of Iran's influence in the Middle East. Administrations since Carter have bet that isolating Iran diplomatically, ratcheting up economic pressure, and using limited military power will somehow energize the Iranian regime's opposition and lead to the overthrow of the Mullahs.
They forget that we've used that exact policy with both Cuba and North Korea. How has that worked out for America?
We shouldn't mourn Gen. Soleimani; he was a bad actor who tried to build shadow Shia militaries in many ME Countries. But Trump and Pompeo need to stop ranting about Iran and terrorism.
The actual issues driving Iran's growing influence in the ME aren't based on acts of terror. Our recent policies and actions towards Iran are now accelerating their cooperation with China and Russia, not diminishing it.
Is that in the long term interest of the US?