The Daily Escape: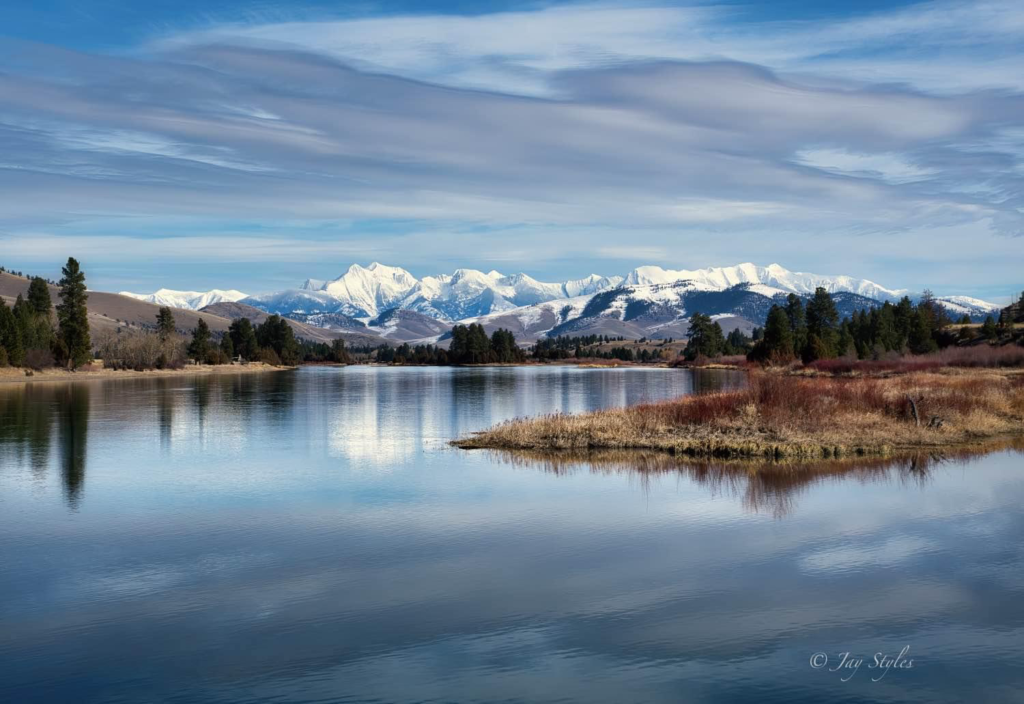 Flathead River with Mission Mountains in background, MT – photo by Jay Styles
Can the Republicans force the economy to open? Bill Barr thinks so.
"Justice Department officials have spoken on conference calls with leaders of conservative groups, who have flagged individual cases as worthy of the department's review. Some cabinet officials have signaled that they back the effort by participating in private calls with conservative allies, according to multiple people involved with the calls."
The COVID-19 outbreak sparked many states and municipalities to order their citizens to stay at home and businesses to close in order to slow the spread of the illness, and to protect the public, but do the states have the authority to do it?
According to the Incidental Economist:
"Terms like isolation and quarantine have legal meaning, and relate to the government's powers to act in the public's interest. Isolation is a targeted approach for individuals already diagnosed with a disease while quarantine restricts the movement of individuals or groups exposed to an illness, some of whom may not be sick.

Both strategies restrict the movement of individuals and are considered a severe deprivation of liberty."
Last Friday, New Mexico Gov. Michelle Grisham (D) quarantined the town of Gallup, at the request of the city's mayor, because the city is a COVID-19 hotspot. Grisham invoked New Mexico's Riot Control Act. The order shuts down all roads to and from Gallup.
We can expect that this will lead to legal battles over whether governors can close individual American cities.
Last week, AG Barr issued a memorandum directing an effort to monitor state and local shutdown policies. Barr wrote: (emphasis by Wrongo)
 "We do not want to unduly interfere with the important efforts of state and local officials to protect the public…But the Constitution is not suspended in times of crisis."
Actually, it has happened many times before.
And now, Barr barges in. Since Wrongo isn't a lawyer, we'll have to leave the arguments to those who are qualified. But it seems that in the past, all the Constitution-breaking has been done by presidents, not governors. What we have is a federal vs. state powers question.
So far, the DOJ has intervened in only one case, a "religious freedom" complaint, a lawsuit by a Baptist church in Greenville, MS.
Conservatives are perfectly willing to be inconsistent. They are champions of "states' rights" until the state in question happens to lean blue. Speaking of inconsistency, remember that it was Trump who when asked why he wasn't going to issue a nationwide 'shelter in place' order, said that it was up to the states.
The Trump administration delegated responsibility to the states with one hand, yet allows the DOJ to threaten governors with legal action. We also have religious conservatives who seem to forget the basis of Christianity, and are willing to put their neighbors at risk. Finally, there is a worrying increase in right-wing civil disobedience (while carrying weapons) that could easily ignite a real civil problem.
Once again, shopping is patriotism. Legitimate fear is unconstitutional. This isn't unprecedented. After 9/11, GW Bush told everyone to go out and shop. Shopping is apparently how Republicans show their love of country.
Taken together, we as a nation have truly lost our way.
Wake up America! Insist that by November, the states have prepared well enough that it is safe to vote in huge numbers to get these birds out of office.
To help you wake up, let's listen to Bruce Springsteen and his wife, Patty Scialfa playing two songs from their home studio, "Land of Hope and Dreams" and "Jersey Girl". This was part of the Jersey 4 Jersey benefit for the New Jersey Pandemic Relief Fund.
This is dedicated to daughter Kelly, a former Jersey girl who can use a pick-me-up. Remember, dreams will not be thwarted!
Those who read the Wrongologist in email can view the video here.