The Daily Escape: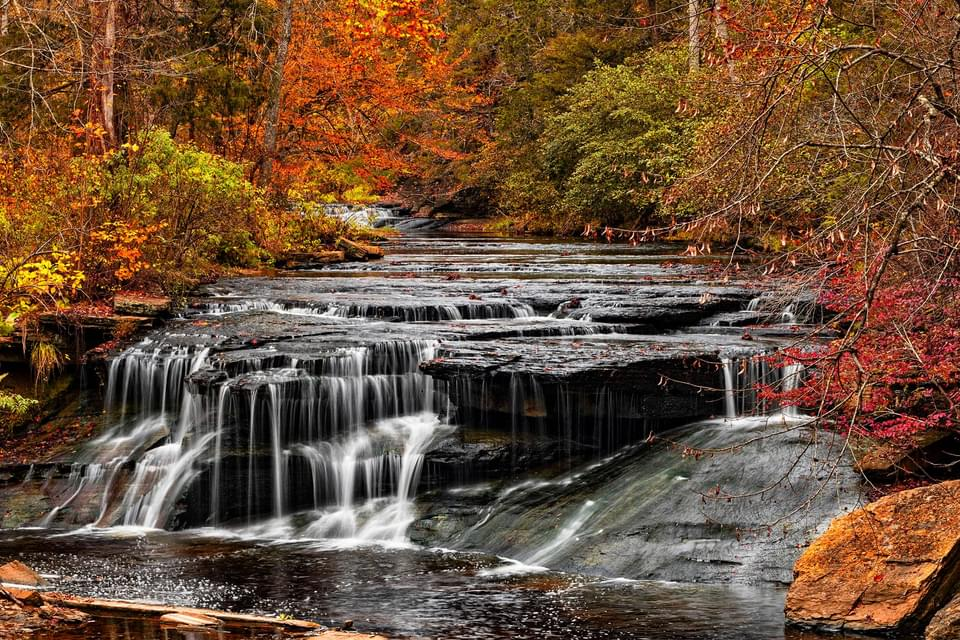 Big Lily Creek, Russell County KY – November 2020 photo by Dean Francisco
On Friday afternoon, the WaPo called Georgia for Biden and North Carolina for Trump. They were the last two states to be called. Overall, Biden is projected to win 306 electoral votes, Trump is projected to win 232, the same tally as in 2016, with Trump on the losing side this time.
So far, Biden has about 5.2 million more popular votes than Trump.
You may remember that in 2016, Trump called his Electoral College win a "landslide". This time, no concession so far. We hear from the Right that "there is no Constitutional requirement for a concession speech, and the press does not certify election results." That's true. And there's no Constitutional requirement for fairness in our society. Maybe there should be one. For better or worse, social norms, including being a graceful loser, are part of what keep our society functioning. If we ignore those norms, society will have problems surviving.
One malfunctioning area of society is our pandemic response. Alarm bells are going off all across the country because of COVID. The situation is approaching the horrific. Back in March/April, when hospitals became short staffed, they were able to hire nurses and other health care workers from parts of the country that hadn't been overwhelmed.
Now, the disease is everywhere. It's so bad that Doctors Without Borders, the independent organization that sends physicians to less developed countries having some sort of health care crisis, has sent COVID-19 teams to the US. How embarrassing.
The following chart on COVID hospitalizations shows you why we need hospital workers. We've hit a new high in America: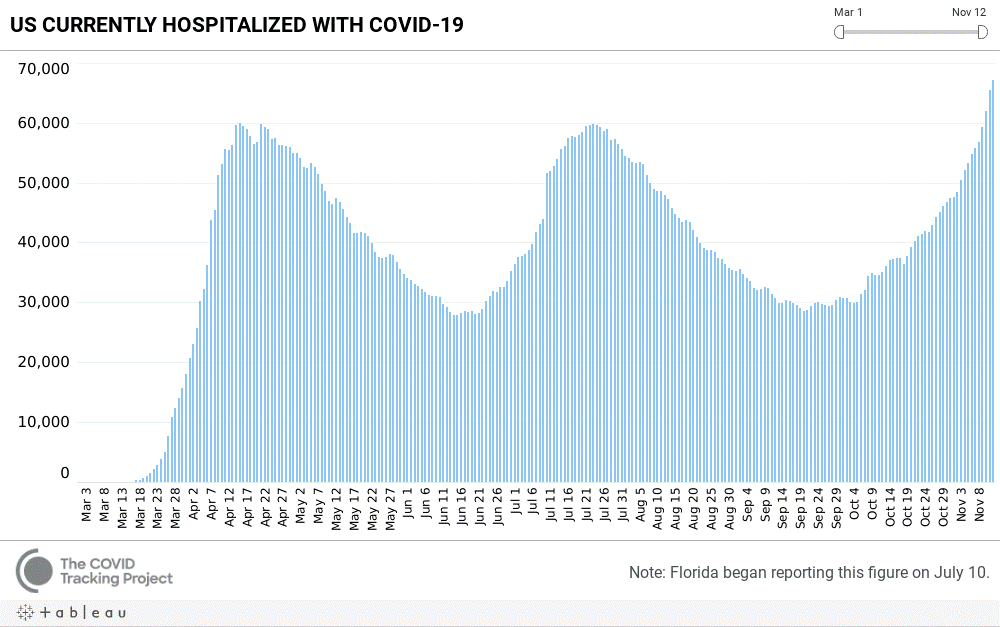 The result is a surging pandemic that has been left to run wild across the country and a "catastrophic" lack of ICU beds in places like El Paso, TX and Minnesota. The WaPo quoted Michael T. Osterholm, director of the University of Minnesota's Center for Infectious Disease Research and Policy:
"This is like one huge coronavirus forest fire, and I don't think it's going to spare much human wood out there unless we change our behavior."
Sixty-seven thousand hospitalized and 1,100 dead per day. We're not in a presidential transition, it's more of a death march to January 20th.
If you live in South Dakota or Iowa, and take a COVID-19 test, the odds are that you will test positive. Positivity rates in both of these two states are above 50%. In South Dakota, its 56.4%; in Iowa, its 51.4%. Here in Connecticut, we're at 4.3%, among the top eleven places with the lowest positivity rates in the US.
FYI, despite what you may hear, higher positivity rates do not correlate with more testing. In fact, South Dakota and Iowa are testing fewer people per 1,000 population than any of the 11 states with low positivity results.
In North Dakota, health-care workers with asymptomatic cases of the coronavirus were authorized by the governor to keep working. North Dakota is one of 15 states without a mask mandate. The ND Nurses Association has called for a mask mandate if they have to work while infected.
There are Maskholes in every state, people who are following their warped sense of "personal freedom", and not wearing a mask to protect others, or themselves. Remember during the campaign when Trump told his followers that the day after the election, the media would stop mentioning COVID-19 because the only reason they were reporting on it was to hurt him?
His management of America's COVID response is just one of many things that will improve after January 20. That brings us to the World According to Trump:
Stop testing – then we won't have new cases…
Stop counting the votes – then I win…
Don't publish my tax returns – then I'm still a billionaire…
Let's cruise into the weekend leaving the Concession and COVID behind, at least for a little while. It's cold and crisp in Connecticut this weekend, and time for our Saturday Soother, that part of the week when we try to refresh our bodies and souls before again strapping on the gladiator equipment for next week.
There's little left to do to prepare the fields of Wrong for winter, so the focus today is indoors. Let's start by brewing up a mug of La Esperanza Colombian Natural X.O. ($16.95/12 oz.) from Durango Coffee in southwestern Colorado. Durango Coffee's motto is "Tough Town, Great Coffee."
Now grab your mug and sit by a window where you can see the last of the leaves swirl down to earth, like Trump's reelection chances, and listen to the "Band of Brothers Theme" from the soundtrack to the Band of Brothers movie. It's played by the London Metropolitan Orchestra, conducted by Michael Kamen: