The Daily Escape: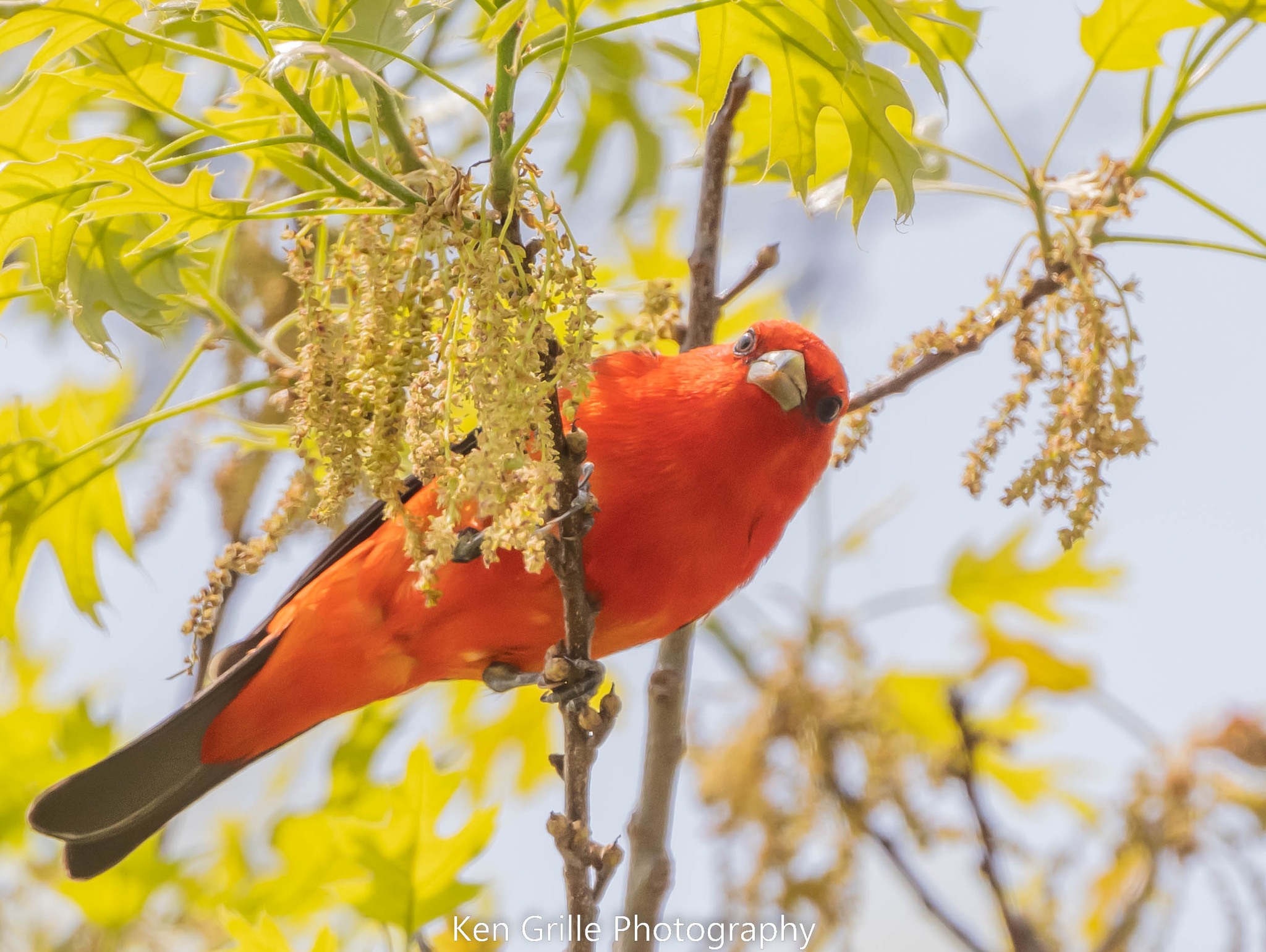 Scarlet Tanager, Manomet Observatory, MA – May 2023 photo by Ken Grille Photography
Today, Wrongo is going to be a grumpy old mossback. It rarely suits his politics or his outlook on life, but the WaPo is reporting that automakers are removing AM radio from their new models:
"Automakers, such as BMW, Volkswagen, Mazda and Tesla, are removing AM radios from new electric vehicles because electric engines can interfere with the sound of AM stations. And Ford, one of the nation's top-three auto sellers, is taking a bigger step, eliminating AM from all of its vehicles, electric or gas-operated."
More:
"Now, although 82 million Americans still listen to AM stations each month, according to the National Association of Broadcasters, the AM audience has been aging for decades. Ford says its data, pulled from internet-connected vehicles, shows that less than 5% of in-car listening is to AM stations."
Wrongo remembers car radios before FM, and long before SiriusXM, listening to Wolfman Jack at night, beaming his show from the US–Mexico border. Or hearing Alan Freed talk about the "submarine races" in NYC. Later, living in London, he would listen to pirate radio instead of the BBC.
At night, rotating the AM dial to bring in stations like KDKA in Pittsburgh or WWVA in Wheeling, West Virginia was an art. It required that you avoid the interference of other stations or the snap and crackle of lightning. While driving in the car, the AM signal could also be corrupted by the hum of overhead power lines.
Now that less-than-ideal experience will soon be only a memory. But as always in America, there's a political argument to be made about AM radio leaving a few high priced cars. More from WaPo:
"The removal of AM radio from cars — where about half of AM listening takes place — has sparked bipartisan protests. Some Democrats are fighting to save stations that often are the only live source of local information during extreme weather, as well as outlets that target immigrant audiences. Some Republicans…claim the elimination of AM radio is aimed at diminishing the reach of conservative talk radio, an AM mainstay….Eight of the country's 10 most popular radio talk shows are conservative."
But the auto makers aren't abolishing AM radio; they're just not offering it in their new cars. AM will persist on the dial in most of America.
As usual, the issue in America is profits. Eliminating AM is all about the numbers. From WaPo:
"Of the $11 billion in advertising revenue that radio pulled in last year, about $2 billion came into AM stations, according to BIA Advisory Services, which conducts research for broadcasters. And some of the country's most lucrative radio stations are still on AM, mostly all-news or news and talk stations in big cities such as New York, Chicago, Atlanta and Los Angeles."
BIA Advisory says that about 40% of AM stations have news, talk or sports formats; 11% are oriented to specific ethnic groups; and another 11% have a religious format. About a third of AM outlets play music, including Mexican and Spanish music. But they also report that the AM audience is getting smaller and older. The in-car streaming technology has grown exponentially, as has the trend away from music and toward podcasts and other spoken-word formats.
WaPo also quotes Pierre Bouvard from Cumulus Media, which owns more than 400 (mostly AM) stations:
"Radio is still the soundtrack of the American worker….It's what people listen to on the way to work. And Ford owners are massive users of AM radio — 1 out of 5 AM listeners are Ford owners, so Ford is missing something here."
But people can stream AM broadcasts into their cars if they must have AM programming.
The demographics of in-car listening aren't fully understood. A new study by Edison Research found that young people often prefer AM and FM broadcast radio because it's free. Edison says that overall, AM and FM radio still account for 60% of all in-car listening. SiriusXM satellite radio makes up 16%, followed by drivers' own music from their phones at 7%, with podcasts and music videos at 4% each.
If this makes a difference to you, several manufacturers including Mitsubishi, Nissan, Subaru, Toyota, Honda, Hyundai, Kia and Jaguar Land Rover, said they have no plans to eliminate AM.
Time to wake up America! Nobody is shutting down AM radio stations! If you need AM in your new car, you'll just have to shop for a car that offers it. Wrongo has nostalgia for the old days of AM radio, but the one AM station he listens to in the car can easily be streamed through Apple Air Play.
Let's not create another faux cultural war issue over whether your new Tesla must have an AM dial. To help you wake up listen to Meatloaf performing "Paradise By The Dashboard Light" with Ellen Foley. It's from his 1977 album "Bat out of Hell":
Props to Mike and Marie S. who did the absolutely best karaoke version of this tune!