The Daily Escape: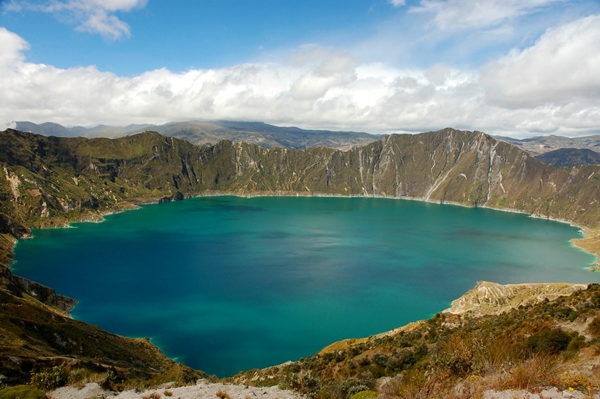 Quilotoa Crater Lake, Ecuador. You get there by bus, and it takes six hours to walk around it. 
The Senate is trying to pass their worst possible health care idea. They have already passed a $700 billion military budget, more than even Trump wanted. And they are trying to pass a $1 trillion tax cut for their buddies. Will any of that help you? No.
They should be focused on improving the lives of working class people, but they can't be bothered with that, because they have no desire to accomplish it. Things are just fine the way they are for Senators.
Wrongo has been remiss by not turning you on to howmuch, a site that creates visualizations about money, and in-depth tools about what things cost in the US. You should spend time checking them out. They created this very interesting chart about where working class people can afford to live in the US: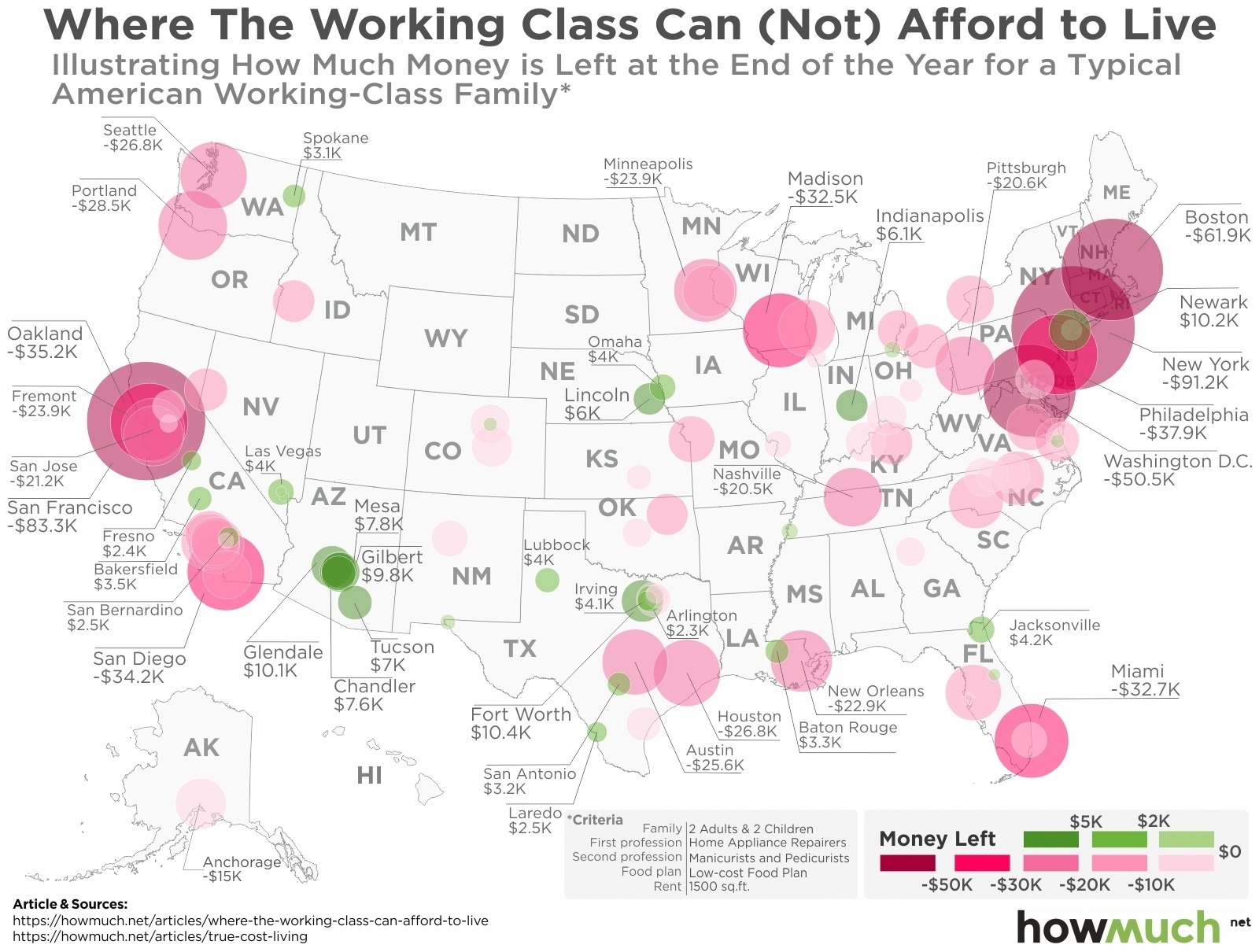 Source: howmuch
Each bubble represents a city. The color corresponds to the amount of money a typical working-class family would have left over at the end of the year after paying for their living costs, such as housing, food and transportation.
The darker the shade of red, the worse off you are. The darker the shade of green, the better off you are. The size of the bubble has meaning — large and dark red means the city is totally unaffordable. Bigger dark green bubbles indicate a city where the working class can get by. So, where are the best places from a financial perspective for a working-class family to live? These are the top five cities with the net surplus remaining after living expenses:
Fort Worth, TX ($10,447)
Newark, NJ (($10,154)
Glendale, AZ ($10,120)
Gilbert, AZ ($9,760)
Mesa, AZ ($7,780)
The worst five cities are:
New York, NY (-$91,184)
San Francisco, CA (-$83,272)
Boston, MA (-$61,900)
Washington, DC (-$50,535)
Philadelphia, PA (-$37,850)
Yes, a typical working-class family would need to make an additional $91K+ per year in NYC just to break even on a reasonable standard of living. And most job creation is taking place in cities, so the challenge for anyone, working class or higher, is how to afford living in one of them. There are exactly zero affordable cities on the West Coast. More from howmuch:
Of the ten most populous cities in the country, the only place where you can enjoy a decent standard of living without taking on debt is San Antonio. Out of the top 50 largest cities, only 12 are considered affordable. Low-wage workers are better off in smaller cities.
Kevin Erdmann, who blogs at Idiosyncratic Whisk, says the problem is that most coastal cities have closed access to housing, while inland cities have open access. Open access cities have relatively liberal housing and zoning codes that allow for new building, including relatively low-cost housing. Houston is the most prominent example. Closed access cities artificially reduce supply of housing, driving prices up. NYC is the most prominent example. From Erdmann:
You can tell what type of city it is just by looking through the newspaper. In open access cities, people complain that poor people are moving in and taking away jobs, pushing down wages. In closed access cities, people complain that rich people are moving in and bidding up rents.
People in red states have experienced high in-migration of low income people, both natives and immigrants. Poor people are leaving the closed access cities.  So, to someone living in a closed access city, it seems racist for people to focus their ire on Mexican immigrants.
And think about what happens if folks in a bad neighborhood manage to do the hard community work to make it somewhat livable. In New York or Los Angeles, the minute that a neighborhood becomes safe, the plots that hold those $100,000 duplexes will be worth $500,000, and the neighborhood will gentrify.
Rinse, lather and repeat, and the cycle starts again.
Can a working-class family live comfortably in your town? If so, can they find work?