The Daily Escape: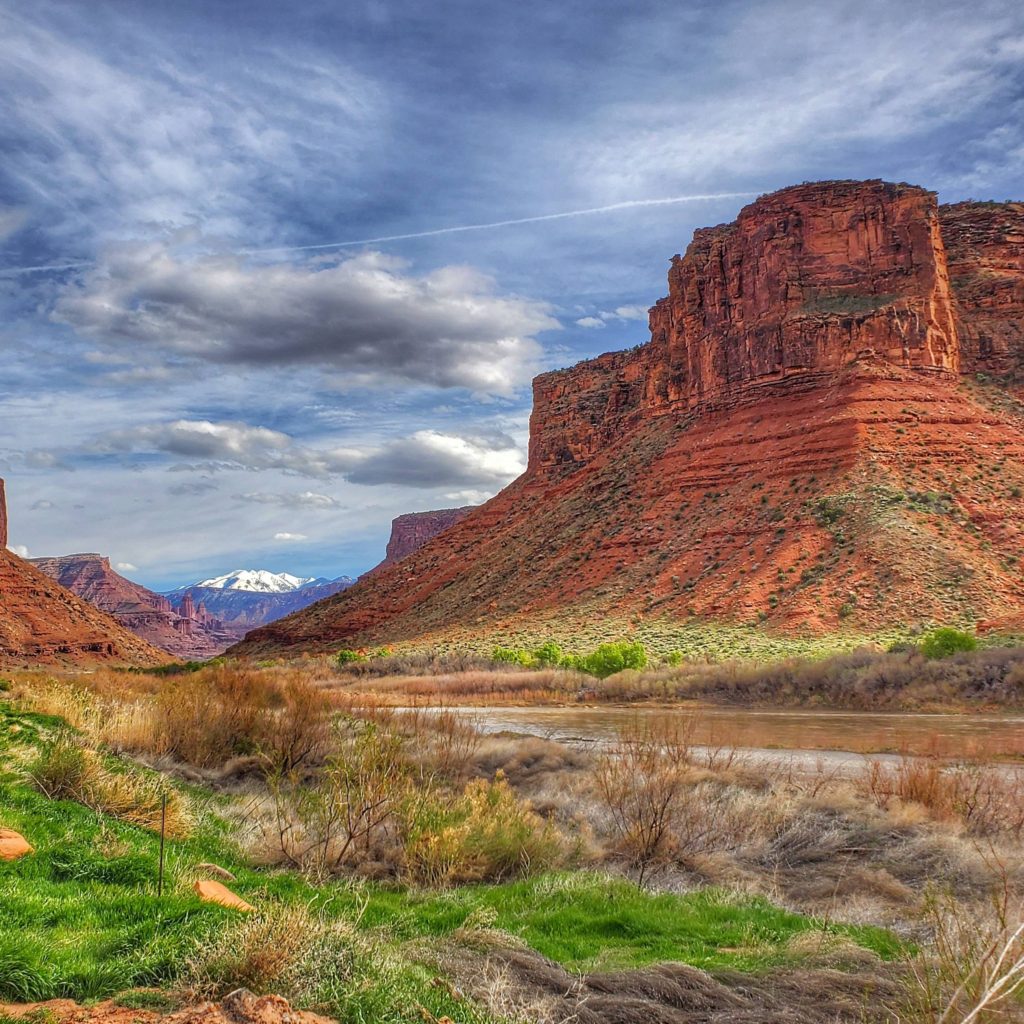 La Sal Mountains in background, Canyonlands NP and Colorado River in foreground, UT – 2019 photo by Larnek
The Boeing 737 MAX story is getting worse. Just when you thought you had the whole story, you find more ugliness underneath. Ralph Nader published an open letter to Dennis A. Muilenburg, CEO of Boeing, and it's quite the takedown, capturing the essence of Boeing's problem:
"Aircraft should be stall-proof, not stall-prone."
The stall-prone MAX was supposedly fixed, but then it failed. Nader has a personal interest in the MAX's problems, since his niece, 24-year-old Samya Stumo, was among the 157 victims of an Ethiopian Airlines flight crash last month. Here's a part of his letter:
"Your narrow-body passenger aircraft – namely, the long series of 737's that began in the nineteen sixties was past its prime. How long could Boeing avoid making the investment needed to produce a "clean-sheet" aircraft and, instead, in the words of Bloomberg Businessweek "push an aging design beyond its limits?" Answer: As long as Boeing could get away with it and keep necessary pilot training and other costs low…as a sales incentive."
Nader draws a connection between Boeing's decision to "push an aging design" and their financial engineering.
"Did you use the $30 billion surplus from 2009 to 2017 to reinvest in R&D, in new narrow-body passenger aircraft? Or did you, instead, essentially burn this surplus with self-serving stock buybacks of $30 billion in that period?"
Nader notes that Boeing is one of the companies that MarketWatch labelled as "Five companies that spent lavishly on stock buybacks while pension funding lagged." Their pension fund is only 79.6% funded. More:
"Incredibly, your buybacks of $9.24 billion in 2017 comprised 109% of annual earnings….in 2018, buybacks of $9 billion constituted 86% of annual earnings….in December 2018, you arranged for your rubberstamp Board of Directors to approve $20 billion more in buybacks."
Nader's focus on stock buybacks shows that Boeing had the capital to invest in developing a new plane. From Bloomberg in 2019:
"For Boeing and Airbus, committing to an all-new aircraft is a once-in-a-decade event. Costs are prohibitive, delays are the norm and payoff can take years to materialize. Boeing could easily spend more than $15 billion on the NMA, according to Ken Herbert, analyst with Canaccord Genuity…."
NMA means the New Middle-of-the-Market Aircraft. Boeing has already spent a total of $30 billion in share repurchases, with another $8 billion to come in 2019. A new aircraft would have cost half of that amount.
The main reason may have been Boeing's earlier problems with the launch of the 787:
"In the summer of 2011, the 787 Dreamliner wasn't yet done after billions invested and years of delays. More than 800 airplanes later…each 787 costs less to build than sell, but it's still running a $23 billion production cost deficit.…"
The 737 MAX was Boeing's answer. It allowed them to continue their share buybacks while paying for the 787 cost overruns. Abandoning the 737 for a new plane would've meant walking away from its financial golden goose. OTOH, someone should be responsible for the 346 deaths Boeing's MAX has caused.
Finally, there are reports that some pilots are giving the MAX a vote of no confidence. The FAA has opened another 737 Max investigation based on reports on the FAA whistleblower hotline:
"A source familiar with the matter says the hotline submissions involve current and former Boeing employees describing issues related to the angle of attack sensor — a vane that measures the plane's angle in the air — and the anti-stall system called MCAS, which is unique to Boeing's newest plane."
"American Airlines pilots have warned that Boeing's draft training proposals for the MAX do not go far enough to address their concerns, according to written comments submitted to the FAA."
Stock buybacks like Boeing's were once illegal because they are a type of stock market manipulation.
But in 1982, then President Reagan wanted to do his banker buddies a favor. So his Securities and Exchange Commission passed rule 10b-18, which created a legal process for share buybacks. That opened the floodgates for companies to start repurchasing their stock en masse.
Is it too much to ask that the Boeing CEO be asked to resign, even if he did kill a lot of people?
After all, wasn't he only trying to maximize shareholder value?