The Daily Escape: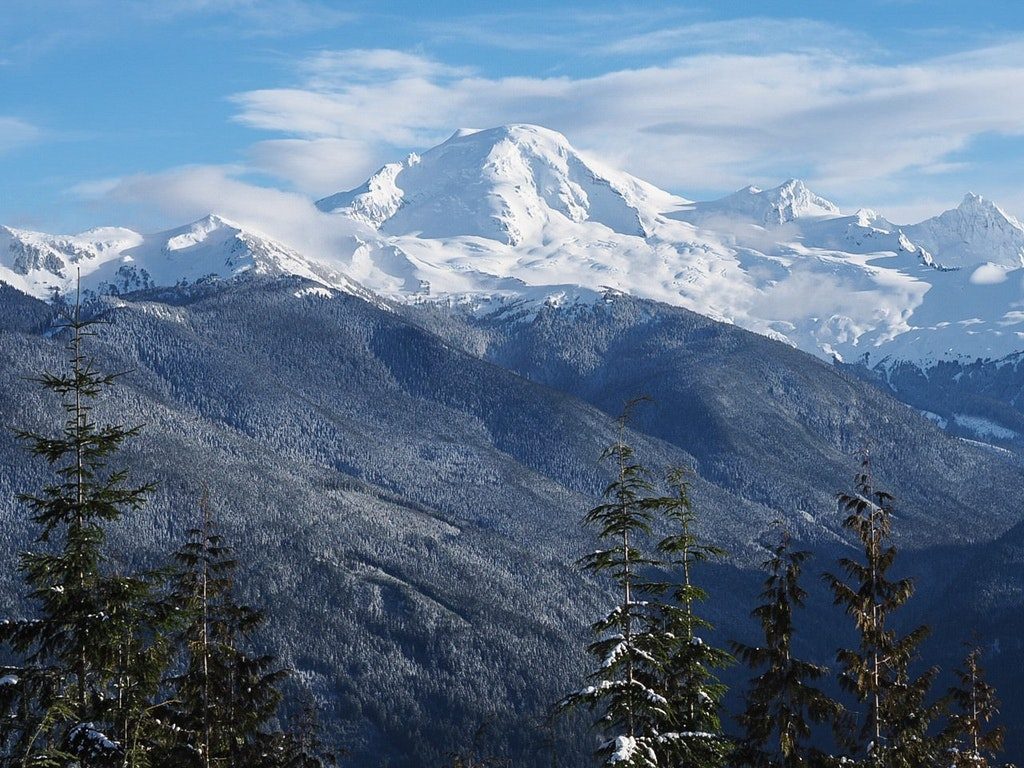 Mt Baker, WA – 2018 photo by np2fast. The two smaller peaks on the right are Colfax and Lincoln.
We are late to the story, but Bloomberg had a report in April, 2017 that electric power consumption in the US has been stalled for the last 10 years. Since the dawn of the electric light bulb, electricity demand grew in a direct relationship to the growth in GDP, but that relationship no longer holds. Here is a chart showing the divergence: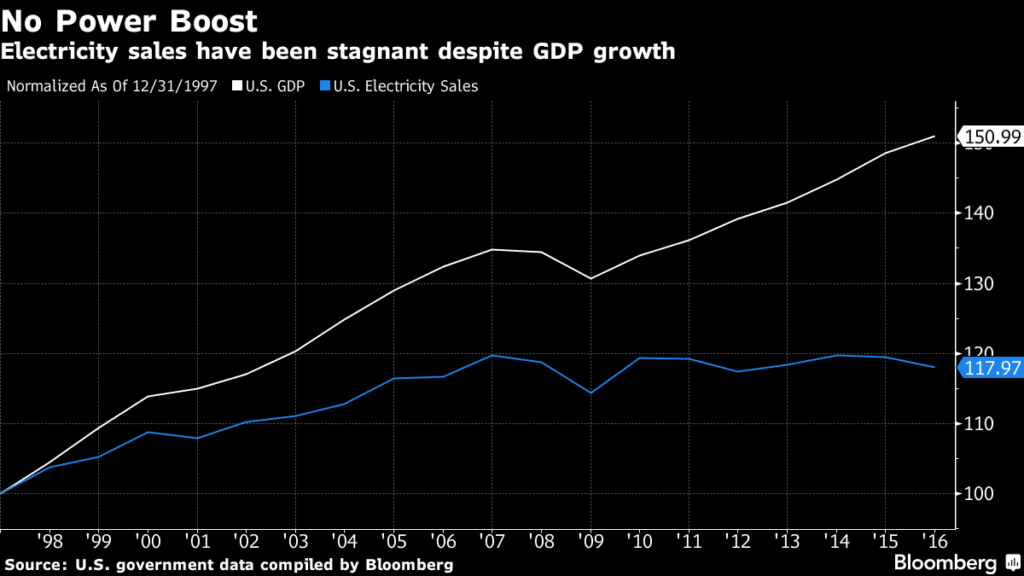 The white line is US GDP, indexed to 1997. GDP in 2016 was 151% of what it was in 1997, while the blue line, representing US electricity sales, is only at 118% of 1997.
Why? It is a combination of greater energy efficiency, offshoring of heavy industry, and both commercial customers and homeowners generating their own power. Demand for power from utilities is flat, and most forecasts expect it to remain that way.
Flat demand for electricity has big implications for the utility industry. They need to forecast demand for electricity about 20 years ahead, because they invest in large and capital-intensive infrastructure like power plants and transmission lines, costing billions of dollars. The utility wants to be sure that facilities they invest in will produce profits for many years to come.
But, investor-owned utilities (IOUs), which provide electricity for more than half of Americans, need to make money for their investors. They can't make money selling electricity; monopoly regulations forbid that. Instead, they make money by earning a rate of return on investments in electric power plants and infrastructure. And with stagnant demand, there's no value in new investment. And a drop in investment means a drop in profit. So, the IOUs are treading water as their revenues decline.
We are in a new normal. There is pressure from falling power prices, due largely to increased usage of natural gas and renewables to produce power. Wholesale power prices are down 70% percent from 2007, but little of those cost savings have been passed on to consumers.
We should see what's going on as a good thing, says David Roberts at Vox:
For both economic and environmental reasons, it is good that US power demand has decoupled from GDP growth. As long as we're getting the energy services we need, we want overall demand to decline. It saves money, reduces pollution, and avoids the need for expensive infrastructure.
More from Roberts:
Only when the utility model fundamentally changes — when utilities begin to see themselves primarily as architects and managers of high-efficiency, low-emissions, multidirectional electricity systems rather than just investors in infrastructure growth — can utilities turn in earnest to the kind of planning they need to be doing.
The electricity sector understands where things are headed: Coal is dying out. Renewables are coming on strong. Distributed energy and sophisticated grid controls are providing increased efficiency. Natural gas may or may not be a long-term answer. Roberts shows how the Trump administration is out of step:
Trump's love of coal, steel, pollution, and other such manly 19th century pursuits is an anachronism and a curio, but it is having little influence on the thinking and plans of electricity-sector professionals.
So, we have a strategic US industry in transition. They are now stiffing their customers, who have nowhere to go. They are not helped by an administration that is focused on an ideological response guaranteed to make the electric power industry's efforts to find a better economic model much, much harder to achieve.