The Daily Escape: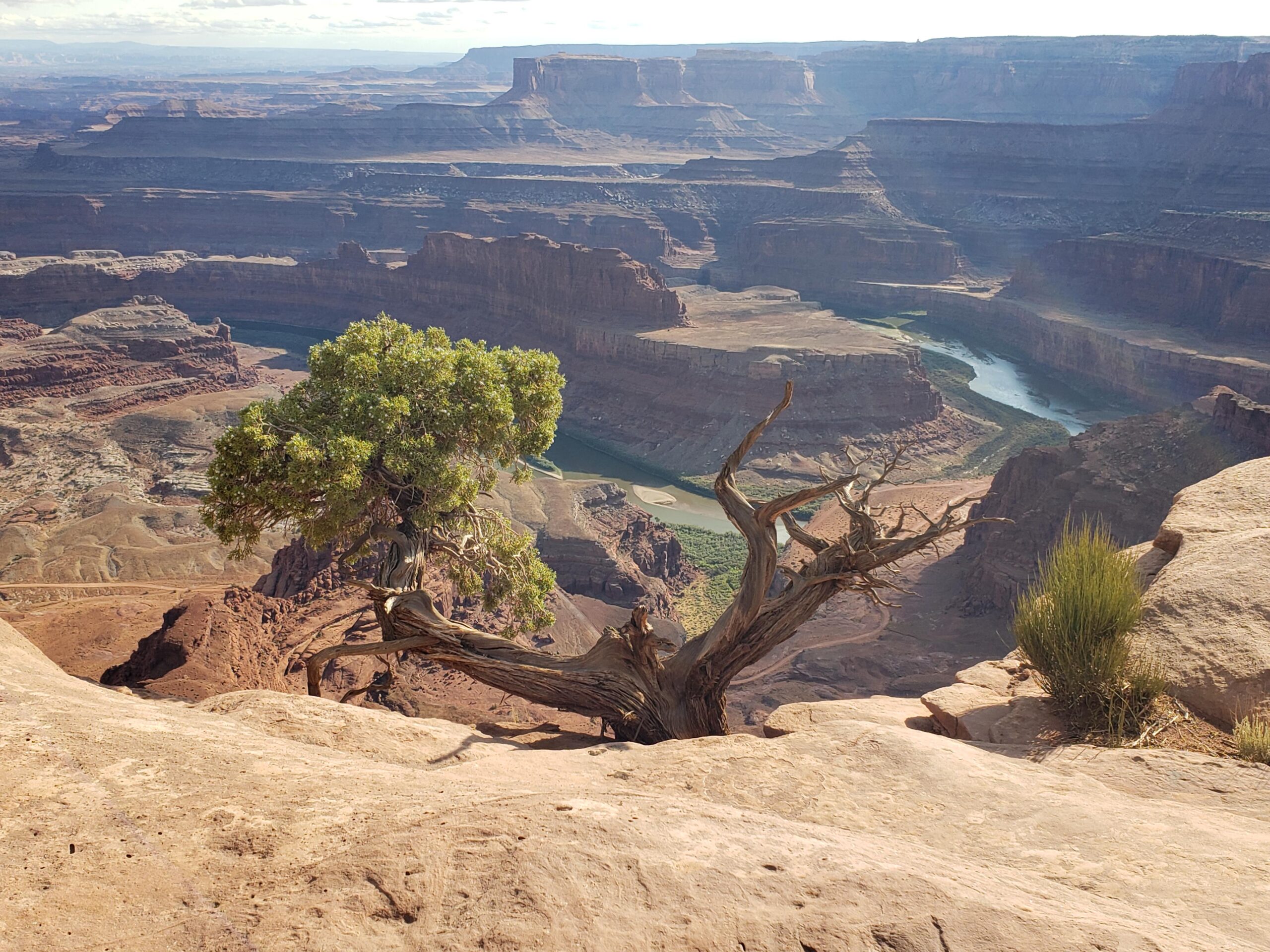 Dead Horse State Park, Moab, UT – 2020 photo by Schmats1
From Pew Research:
"The US Border Patrol apprehended nearly 100,000 migrants at the US-Mexico border in February, the tenth consecutive month of increased apprehensions and a return to levels last seen in mid-2019."
Is this a self-inflicted wound by Biden, another Republican effort to drive a wedge into Biden's political support, or both? Since the next 20 months will be a battle royal for control of the last two years of Biden's term, how Biden handles the immigration issue has huge political consequences.
Sen. Mark Kelly (D-AZ) flipped his seat in November 2020, but he must face voters again in 2022. Immigration could easily be a powerful wedge issue against him, threatening the Democrats' control of the Senate.
Texas elects a governor in 2022, and while Texas isn't really in play, last November we saw Latino voters in Texas edging away from the Democrats, toward the Republicans. Residents of these border states experience unauthorized immigration directly; and it's clear that many Texas Latinos embrace enforcement-minded views on immigration, even while empathizing with the reasons migrants want to come to America.
Republicans assume that they've hit on a strategy to beat Democrats in 2022 by saying that the President's immigration policies have led to a surge of migrants crossing our southern border. But here's a chart from the Pew Research article showing that's not the whole story: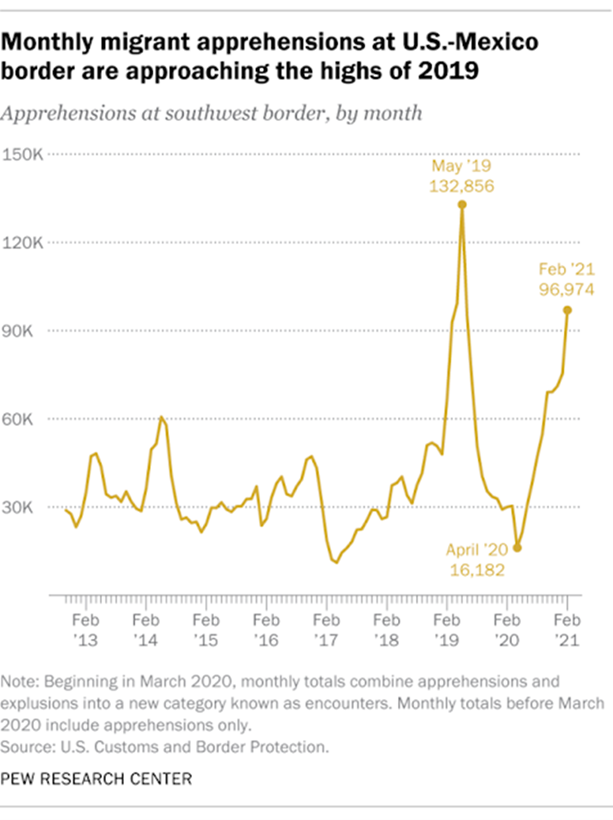 Apprehensions peaked in May 2019, then dropped precipitously through April 2020, and have risen ever since, including under Trump in 2020. Today they are at about 73% of the high point that occurred under Trump, but way above that of prior years.
It's important to remember that migration is seasonal. Border apprehensions have typically peaked in the spring, before declining during the hot summer months that make migration more dangerous. That pattern started to change in 2013, when the mix of new arrivals shifted from being predominantly from Mexico to being from the countries of the Northern Triangle (Guatemala, Honduras, and El Salvador). The migrants also changed to predominantly families and unaccompanied children.
But now, according to Pew Research, those patterns are starting to reverse:
Around 42% of those apprehended at the southwestern border in February were of Mexican origin, up from 13% in May 2019, the most recent peak month for monthly apprehensions.
People from El Salvador, Guatemala and Honduras accounted for 46% of apprehensions in February, down from 78% in May 2019.
The number and share of single adults being apprehended at the border has also increased dramatically.
It isn't clear whether these trends will continue, but it's possible that February's spike in apprehensions could also be a return to the seasonal nature of migration.
Republicans are saying that the current spike in border apprehensions is entirely a result of policy changes by the Biden administration. Here's what Biden has changed according to DHS Secretary Alejandro Mayorkas:
The majority of those apprehended at the southwest border (71%) are single adults who are being expelled under the CDC's authority to manage the public health crisis caused by the COVID-19 pandemic.
Families apprehended at the southwest border make up 20%. They are also currently being expelled.
Unaccompanied children make up 10% of the current spike. They are not expelled but are brought to a Border Patrol facility and processed for transfer to HHS while they await placement with a sponsor. These children go through immigration proceedings if they are able to present a claim for relief under the law.
What this says is that when Republicans and some in the media throw around scary numbers about a surge of more than  100,000 "illegal crossings" in February, what they're not telling you is that approximately 90,000 of those migrants (single adults and families) were apprehended and expelled.
Still, 10,000 kids are a giant task to house, feed, and process. That's why as a group, they are overwhelming current shelter capacity. On Wednesday, Ambassador Roberta Jacobson, the White House coordinator for the southern border, said in Spanish: "The border is not open."
The Biden administration has struggled to find the right message but hasn't abandoned enforcement. It removed almost 1,000 Haitian nationals in February.
Politicians criticizing what's happening with Biden's policy need to show us what specific change Biden implemented that they think is causing the current spike. They need to explain what should be done instead.
But, of course, they won't do that. It is much easier to simply claim that Biden is implementing an "open border" policy, something that is complete nonsense.