The Daily Escape: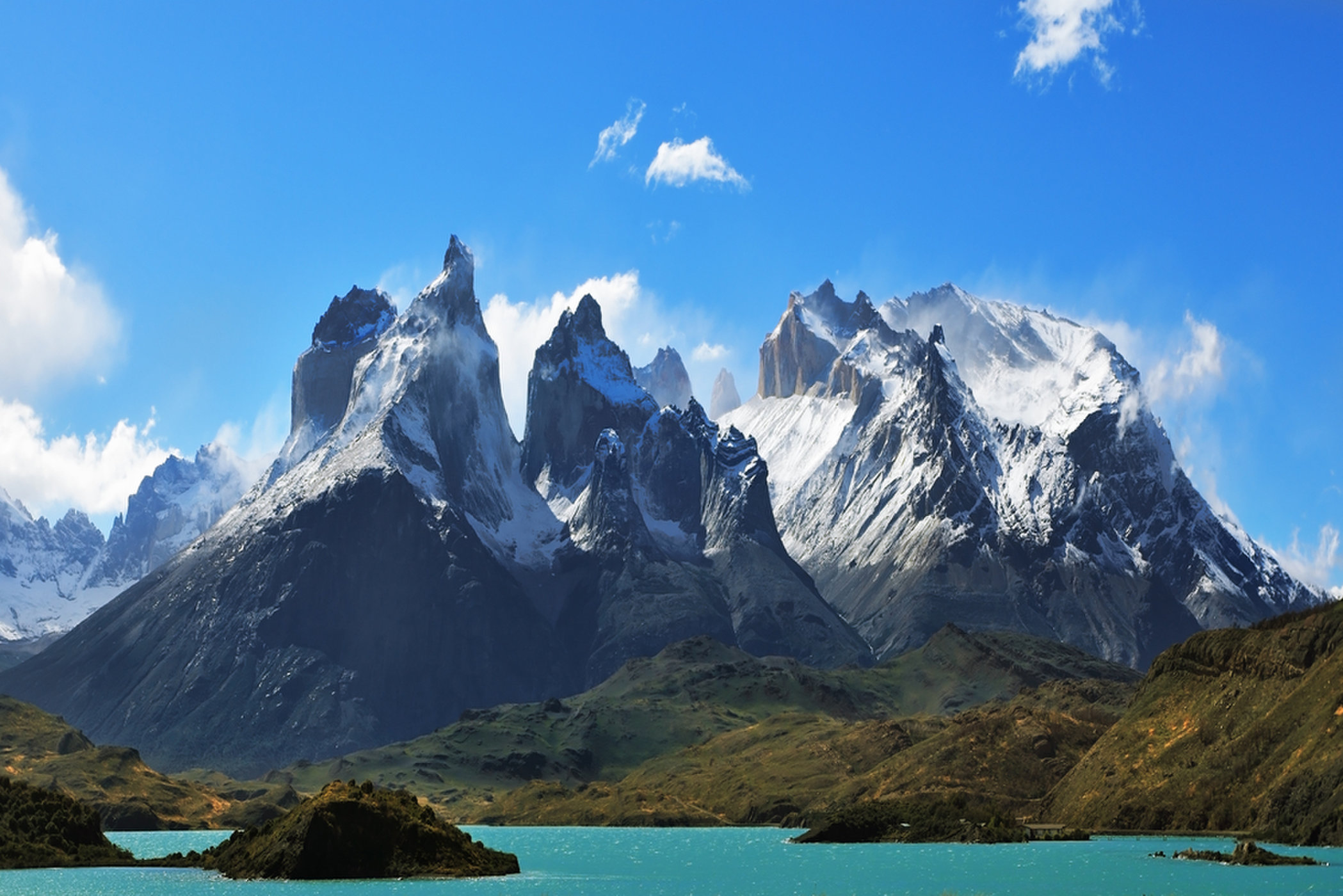 The Cuernos del Paine in Chile – photo via Live Science. The 4,300-mile-long Andes, the longest continuous mountain range in the world, didn't form slowly by one geologic plate sliding under another. They grew in two growth spurts helped by volcanic action. (Hat tip to Ottho H.)
What Trump said about El Paso in the SOTU:
"The border city of El Paso, Texas, used to have extremely high rates of violent crime—one of the highest in the country, and (was) considered one of our nation's most dangerous cities. Now, with a powerful barrier in place, El Paso is one of our safest cities,"
Local politicians weren't happy with Trump's false claims that the city was violent and dangerous before a border wall was built. Trump was repeating bogus information from Texas Attorney General Ken Paxton. And, he had made the same claim at the American Farm Bureau convention in mid-January.
Here is an example of the local outrage. Jon Barela, the chief executive officer of the Borderplex Alliance, which leads economic development efforts in the El Paso region, tweeted: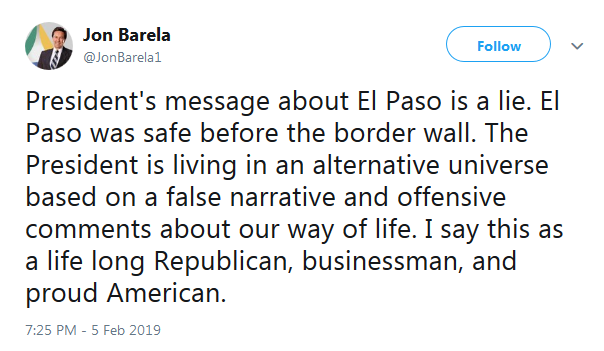 Texas Monthly reports that El Paso has made lists of the nation's safest cities for almost two decades. But what are facts when you have a wall to build on the back of a racist narrative?
Wrongo lived in El Paso for a time when he was in the military (Vietnam era), back before there was talk of a wall, before the Maquiladora factories became a part of NAFTA, when Ciudad Juarez was probably far more dangerous than it is today. But back then, El Paso couldn't be considered dangerous for someone who went to college in Washington DC, and lived on the outskirts of NYC.
One state over in New Mexico, Governor Michelle Lujan Grisham, a Democrat, has ordered the withdrawal of the majority of National Guard troops stationed at the US state's southern border, denouncing as "a charade" President Donald Trump's warnings about migrants swarming the border, saying:
"I reject the federal contention that there exists an overwhelming national security crisis at the southern border, along which are some of the safest communities in the country,"
Are you getting the theme here? Two of the states closest to "the problem" say there isn't a problem.
Kevin Drum at MoJo gathered the El Paso statistics. He shows that Trump cherry-picked the data, looking at 2005-2009. There was a spike from 400 crimes/100,000 people in 2005 to 450 crimes/100,000 people in 2008. Here is a chart showing the same statistics from 1993 to 2013: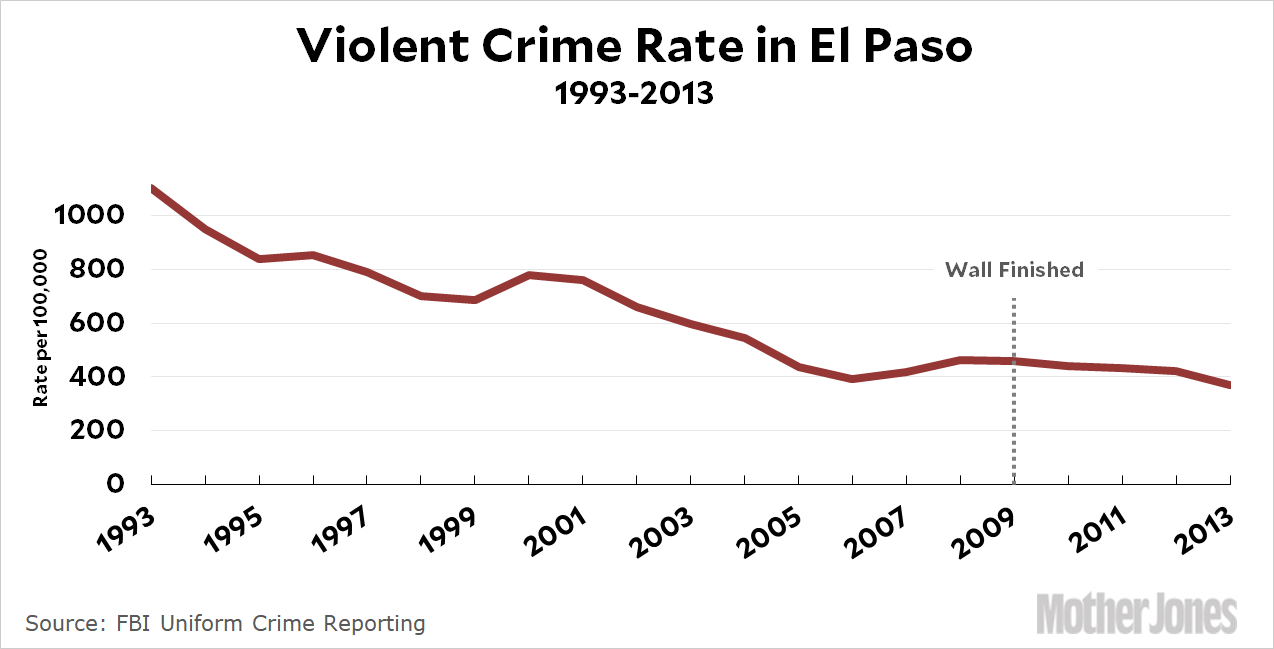 Do you see the big reduction that came with the Wall? The Wall had almost no effect on crime in El Paso. It's also important to remember that crime rates have come down throughout the US since the 1980's.
The most damning fact about crime on the southern border is that it is way down. American Progress reports that:
Border cities are among the nation's safest: Phoenix and other large border (and near-border) cities have some of the nation's lowest crime rates, including San Diego, El Paso, and Austin
Border counties have low violent crime rates: Counties along the southwest border have some of the lowest rates of violent crime per capita in the nation. Their rates have dropped by more than 30% since the 1990s.
There's no evidence of "spillover" of violence from Mexico: El Paso, Texas, has three bridges leading directly into Ciudad Juarez, Mexico, a city which has suffered a significant percentage of the national death toll brought on by the Mexican war on drug cartels, which approaches 23,000 today.
El Paso experienced only 12 murders in 2009, which was actually down from 17 in 2008. San Diego, California saw 41 murders in 2009, down from 55 in 2008, and Tucson, Arizona experienced 35 in 2009 a significant decrease from the 65 murders committed in 2008.
We should remember that Trump is from Queens, an outer borough of New York City. He lived there during the 1970s and 1980s, so he knows first-hand what living in a high crime city feels like. He also knows that the high crime he (and Wrongo) experienced, wasn't caused by immigrants. That was when the Guardian Angels were founded in NYC. Trump lived there the whole time, he probably even took the subway.
His argument is false, and is clearly purely political. He's playing to the fears of those suburbanites too intimidated to visit NYC, even if they live less than 25 miles away. His audience is suburbanites in the Midwest and Northern states.
These same people believe European cities like London and Paris are full of Muslim "no-go" zones. You can show them evidence that those cities are safer than their own suburbs, but that's not the point.
Maybe "safe" really means "white", so any place with too many non-whites is just too dangerous.