The Daily Escape: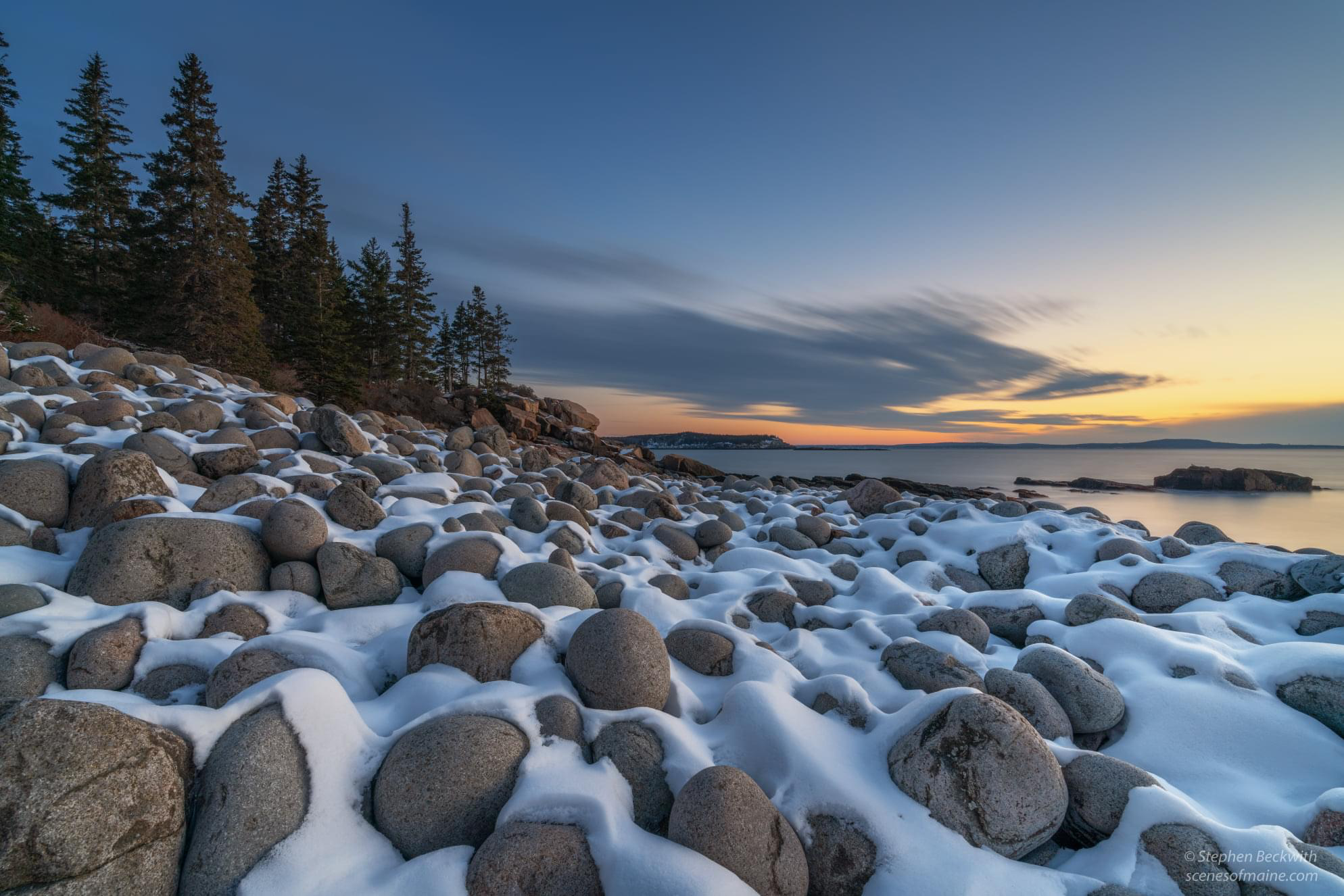 Boulder Beach, Acadia NP February 2021 photo via Scenes of Maine Photography
It's Saturday, so we have a lightning round of news you can use. First, the Daily Beast reports:
"A pickup truck parked at the US Capitol and bearing a Three Percenter militia sticker on the day of the Jan. 6 riot belongs to the husband of freshman Rep. Mary Miller of Illinois, who approvingly quoted Adolf Hitler a day earlier,"
The Three Percenters are a para-military group who wish to overthrow the US government. And before you ask, yes, Rep. Miller is a new Republican Congresscritter, who spoke at a pre-coup "Moms for America" rally in front of the Capitol the day before the riot. She said:
"Hitler was right on one thing: whoever has the youth has the future…"
This is Republicanism today. She later apologized for the remarks. Sure.
Second, a new poll on Covid vaccine skepticism shows that since last fall, it has come way down for Blacks and Hispanics. Skepticism remains high among white Republicans. Nearly 60% of White Republicans will either not take the vaccine or are unsure: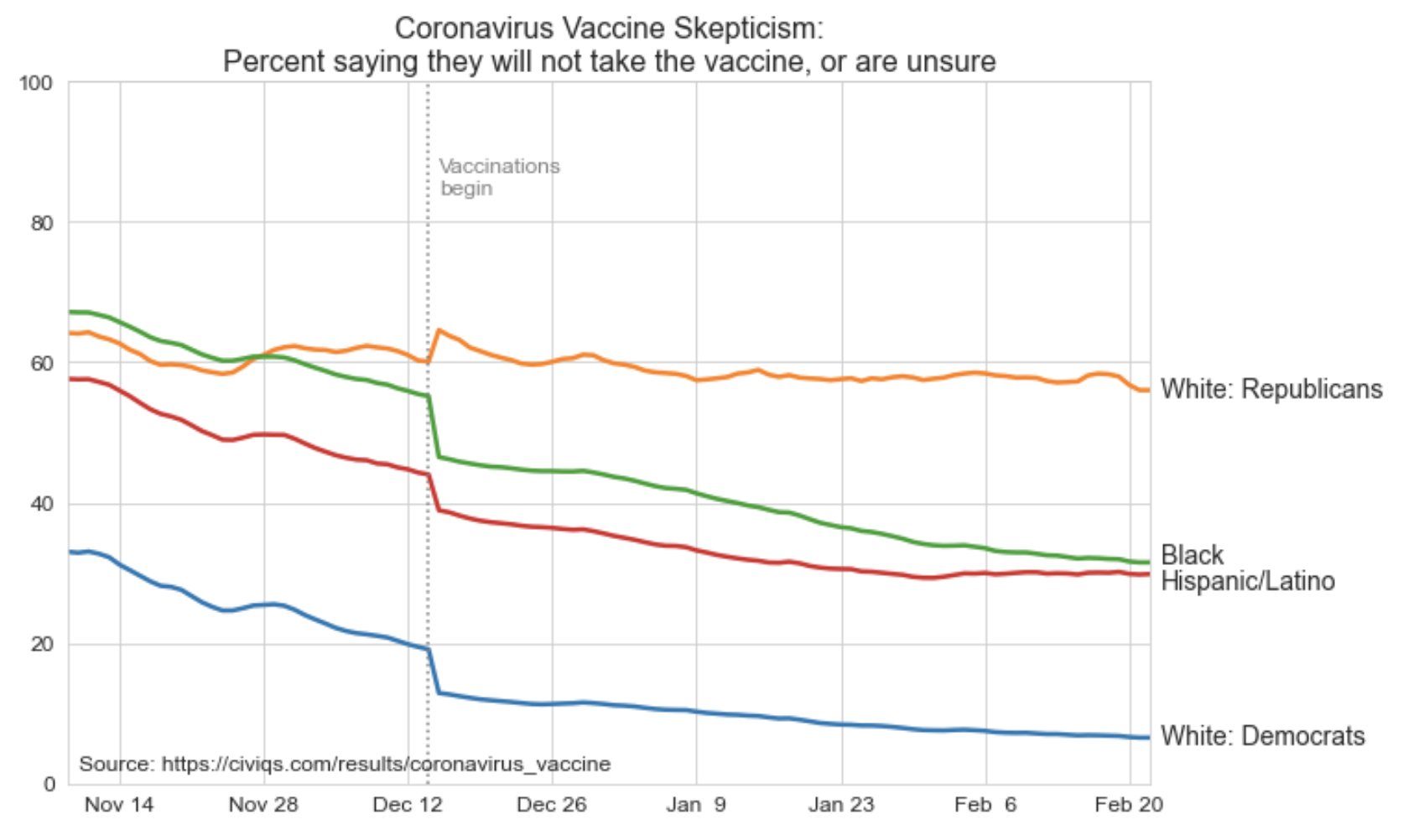 Source: Civiqs
One of the great challenges during the pandemic has been establishing public trust, particularly among racial minorities who have a long history of both exploitation and neglect by the medical establishment and the government.
The good news is that vaccine skepticism is falling substantially over the past few months. It now appears that the only barrier to achieving herd immunity is White Republicans.
Their skepticism about government involvement in health is part of a long trend among Republicans. In the 1960s, Reagan was against Medicare, and called any expansion "socialized medicine". He refused to acknowledge the AIDS crisis. In the 1990s, Newt Gingrich blocked Clinton's health care plan, although he was in favor of a similar program that was adopted by Mitt Romney as Governor of Massachusetts.
The Romney plan was the template for Obamacare, which all Republicans opposed, including Newt Gingrich, who was for it before he was against it.
It isn't just ideological resistance, it's a bone-deep antipathy to any collective attempt to have high quality public health in America. Their antipathy toward health is beyond ideology, it's pathology.
Finally, a few words about just how old and out of touch members of Congress have become. Demo Memo, a site Wrongo highly recommends, posted about the demographics of Congress. The bottom line is that the Baby-Boom generation dominates both the House of Representatives and the Senate.
"According to an analysis of the 117th Congress by Pew Research Center, Boomers account for a 53% percent majority of the House and for an even larger 68% percent of the Senate…"

House: number (and percent) of members of the 117th Congress by generation

Millennials: 31 (7%)

Gen Xers: 144 (33%)

Boomers: 230 (53%)

Silent: 27 (6%)

Senate: number (and percent) of members of the 117th Congress by generation

Millennials: 1 (1%)

Gen Xers: 20 (20%)

Boomers: 68 (68%)

Silent: 11 (11%)
The ages of the 117th Congress range from 25.5 years to 87.7 years. The median age of the House is 58.9. The median age of the Senate is 64.8. That may explain why Sen. John Thune (R-SD), can reminisce about working for $6/hour in a restaurant in 1978, as part of his objection to a $15/hr. wage.
A $6/hr. wage in 1978, adjusted for inflation, would equal $24.07/hr. in 2021. A person making $24.07 an hour, working 40 hours a week and 52 weeks a year would earn over $50,000 a year before taxes. And a person working the same hours and earning the proposed wage of $15/hr. would earn just over $31,200 a year before taxes.
A person working the same hours and earning the current national minimum wage of $7.25/hr. earns just over $15,080 a year, before taxes today.
Time to let go of the DC merry-go-round for a few minutes and enjoy a brief Saturday Soother. It's going to rain in Connecticut today, helping to melt some of the snow remaining on the ground. So, settle back and watch this stunning video from "Playing for Change" who we've featured a few times in the past. Here, Peter Gabriel is singing his song "Biko", that he wrote and performed in 1980.
It's a tribute to the South African anti-apartheid activist Steve Biko, who died while in police custody. More than 25 musicians from seven countries join Gabriel for this global rendition, including Beninese vocalist Angélique Kidjo, Silkroad's Yo-Yo Ma, and bass legend Meshell Ndegeocello:
Lyric:
You can blow out a candle, but you can't blow out a fire. Once the flames begin to catch, the wind will blow it higher.