The Daily Escape: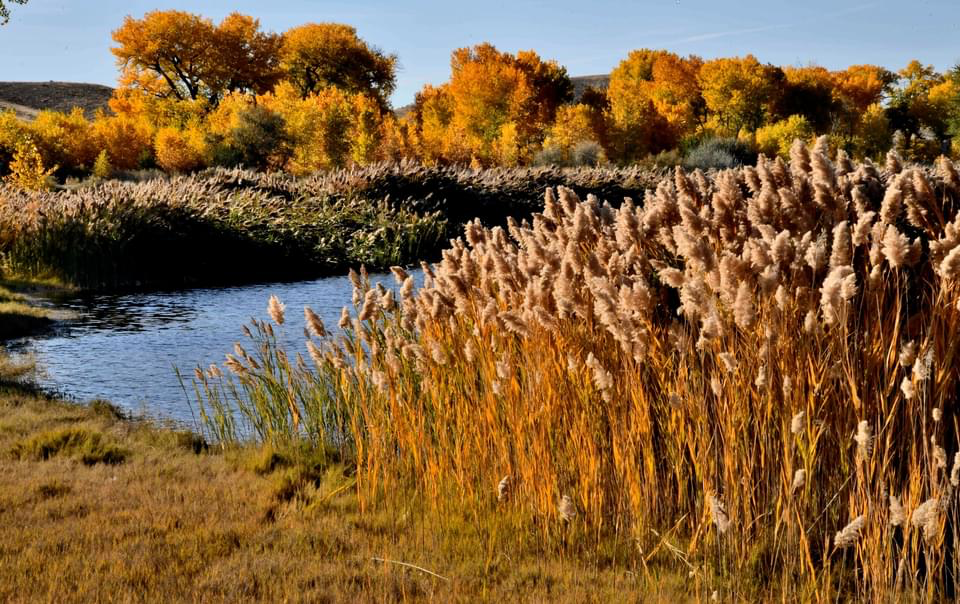 Pond, Horsethief Canyon Wildlife Area, CO – October 2022 photo by Ray Mathis
(There will not be a Sunday Cartoons column tomorrow. Wrongo and Ms. Right are visiting with family.)
Despite not having Sunday cartoons, here's one to focus your mind between now and Tuesday: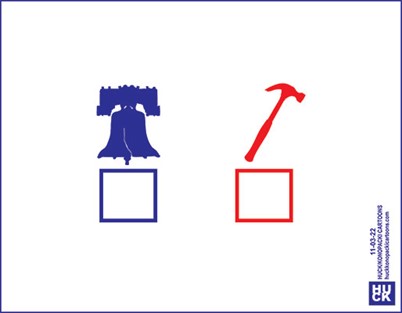 Regarding the midterms and what they might bring, we should do all that we can in these final hours to bring about the result we want. A fatal flaw would be losing control of the House and Senate because some people didn't care enough to vote.
But as with most potentially game-changing events, we will have to wait for the votes to be tallied, all the while hoping we've done enough. It will make for an anxiety-provoking few days.
And Wrongo is worried by the thought that the Dems might lose. But we only truly lose when we cease to resist the autocratic forces on the Right who would tear down democracy. And what about if we win? There can't be complacency with a win either.
As long as there are forces seeking to "tear it all down" there's a need for continued work to energize Democrats. We may have political victories, but we can't become complacent. Sorry to say, but democracy only sustains itself through the efforts of those who commit to its continued defense.
It's also essential that we take the long view of what's happening in our country. We are clearly in a battle between autocrats and (small d) democrats. The Democratic Party wants Americans to live in a democratic country that regulates capitalism and provides a social safety net. The autocrats do not.
This battle is going on throughout the world.
Regardless of what happens on Tuesday, after the election we will regroup and figure out how to go forward.
Here's Wrongo's wish that you have a calm weekend. That means he hopes that our Saturday Soother will help bring some calmness along with coffee.
Last Monday we returned to the Mansion of Wrong and saw evidence that wildlife are our neighbors. The flesh of the pumpkin by our front door was completely gone, and there were tracks in the remaining pumpkin mush that were consistent with that of a racoon, who are known to eat them. Also, a large animal (Bear?) tore open a big ground wasp nest on our lawn. Nothing remains but the new hole in the ground and a few broken honeycombs.
Not sure what message the animal kingdom is sending us. But Wrongo assumes it's a reminder that we live in a large ecosystem that until the last century was dominated by wildlife.
Let's start Saturday's effort to not think about the midterms with a hot steaming mug of Kona Extra Fancy ($45/12oz.) from the Roberts family's San Francisco-based San Francisco Bay Coffee. It seems expensive, but inflation is cruel to coffee drinkers. The roaster says that it has flavors of dark chocolate, persimmon, roasted almond butter, and magnolia. That probably explains the price.
Now, grab a seat in the sun (it will be 72° here today) and watch and listen to Beethoven's "Triple Concerto in C Major, Op. 56 No. 2". Here it is performed live in 2019, by a superstar trio of Anne-Sophie Mutter on violin, Daniel Barenboim conducting and on piano, and Yo-Yo Ma on cello, at Philharmonie, Berlin:
Yo-Yo Ma says:
"For me, in the Triple Concerto, it's the constant invention that always takes me by surprise. You know what I love about the piece? It's so celebratory, so positive."