(There will be no cartoons today. Instead, Sunday cartoon blogging will be tomorrow, Monday 9/12.)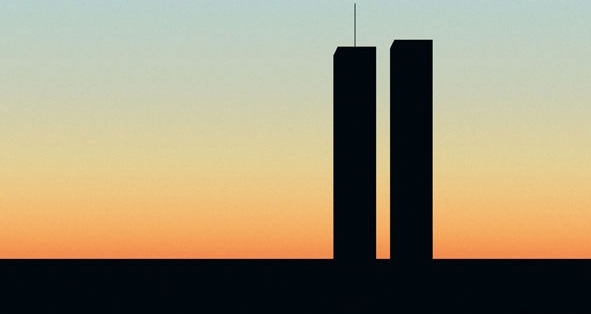 After 15 years, some of the sharp pain of the events of 9/11 have faded, and an idealized view of the towers like this one, is all we need to take us back to that point in time when American invincibility ended. We remember the tragedy, but perhaps we now have enough distance from it to begin to put 9/11/2001 in a context for today.
Tom Englehardt makes the point that on 9/11, al-Qaeda launched a four-plane air force against the US, and now, 15 years later, the air war still has not ended. Englehardt states that the costs have been staggering. Pentagon figures show that just since 2014, the cost of the air war to the taxpayers has been $8.4 billion.
The point behind these numbers is that America's air war in the Greater Middle East and Africa has become institutionalized, and is now a part of our politics. No future president will end our drone programs. In fact, both The Pant Suit and The Pant Load are essentially committed to continuing the US air war for at least their first term in office.
Mohammad Atta, the kingpin hijacker, pursued a master's degree in city planning at the Hamburg University of Technology, where he wrote his thesis on urban planning in Aleppo, Syria. Slate's Daniel Brooks traveled to Hamburg in 2009 to read the thesis and try to get a sense for how Atta saw the world:
The subject of the thesis is a section of Aleppo…Atta describes decades of meddling by Western urban planners, who rammed highways through the neighborhood's historic urban fabric and replaced many of its once ubiquitous courtyard houses with modernist high-rises. Atta calls for rebuilding the area along traditional lines, all tiny shops and odd-angled cul-de-sacs. The highways and high-rises are to be removed —in [Atta's] meticulous color-coded maps, they are all slated for demolition. Traditional courtyard homes and market stalls are to be rebuilt.
We see Atta's commitment to the culture of Islam:
For Atta, the rebuilding of Aleppo's traditional cityscape was part of a larger project to restore the Islamic culture of the neighborhood, a culture he sees as threatened by the West…In Atta's Aleppo, women wouldn't leave the house, and policies would be carefully crafted so as not to "engender emancipatory thoughts of any kind," which he sees as "out of place in Islamic society."
As a student, Atta called for demolishing the western-style high rise buildings in Aleppo. He then got the assignment to crash a plane into America's tallest and most famous high-rise.
The circularity is striking. The decision to attack America led to the US decision to invade Iraq. That led to the Shia takeover of Iraq, which led to a Sunni exodus into Syria. The Sunni exodus, along with the Arab Spring, led to the on-going anti-Assad revolution in Syria, which led in time to the destruction of the rebel-held parts of today's Aleppo.
Atta's demolition plans have been wildly successful.
Finally, we have spent $1 trillion since 9/11 to protect the homeland from terrorists. Are we safer? On the positive side of the ledger, the 9/11 attack killed almost 3,000 people, while the total deaths by jihadists on US soil since 9/11 is 94 people. On the negative side, it remains questionable if we are safe from future terrorist attacks.
We are safer from the 9/11-style orchestrated attack. It's harder for terrorists to get into the country, and harder for them to pull off something spectacular. But, as the Orlando massacre reminds us, the world is populated by lone wolves, and those living among us can easily obtain military-grade weapons. This makes their attacks much more lethal, and harder to detect in advance.
Our defenses are stronger, but we are trying to defend against more and different threats.
Again, focus on the political: We live in an America where one terrorist slipping through the armor is deemed to be total failure politically. Sooner or later, we must accept that we can't continue a "zero terrorist events" policy, and Congress can't use "zero events" as an excuse to make everything a top priority.
Politicians won't prioritize among the programs for anti-terrorist funding, because they fear looking weak on terror. They also want to keep getting PAC funds from defense contractors. That means our political leaders will declare everything a top priority. In fact, 119 Congressional committees or subcommittees assert some kind of jurisdiction over the Department of Homeland Security (DHS).
Everybody has a finger in the pie.
We need to start making better decisions and fewer enemies. Let's start by asking the presidential candidates:
What have you learned from our 15 years of unsuccessful wars in the Middle East, and how would you apply those lessons in your administration?
Do you agree with the Obama administration's plan to spend a trillion dollars modernizing our nuclear weapons?
What is your strategy to protect against cyber warfare?
How will you address the on-the-ground complexities of the Syrian civil war and of the Greater Middle East?
Is China, Russia, or ISIS our greatest threat?
At 15 years post-9/11, these questions should be answerable by ANY prospective US Commander-in-Chief. (Sorry, Gary Johnson)
Insist on better answers.