"The whole aim of practical politics is to keep the populace alarmed (and hence clamorous to be led to safety) by menacing it with an endless series of hobgoblins, all of them imaginary." –HL Mencken
As we head towards the inauguration of Donald J. Trump, it is interesting to look at a recent survey by Ipsos Public Affairs, Which countries are on the right track, according to their citizens? that was cited in an article by the World Economic Forum. The global conclusion was that people think things are getting worse:
Between October and November 2016, the percentage of people who believe things are on the right track in their country dropped by 2 percentage points to 37% globally.
The survey is conducted online monthly in 25 countries by Ipsos. The countries are Argentina, Australia, Belgium, Brazil, Canada, China, France, Great Britain, Germany, Hungary, India, Israel, Italy, Japan, Mexico, Peru, Poland, Russia, Saudi Arabia, South Africa, South Korea, Spain, Sweden, Turkey and the US. Ipsos samples 18,110 adults aged 18-64 in Canada, Israel and the US, and aged 16-64 in all other countries. They were interviewed between October 21st and November 4th 2016, with about 1000 people participating in the US and other Western countries.  The survey has an estimated margin of error of +/-3.1 percentage points.
Here is a chart giving a snapshot of right track/wrong track just prior to the US presidential election: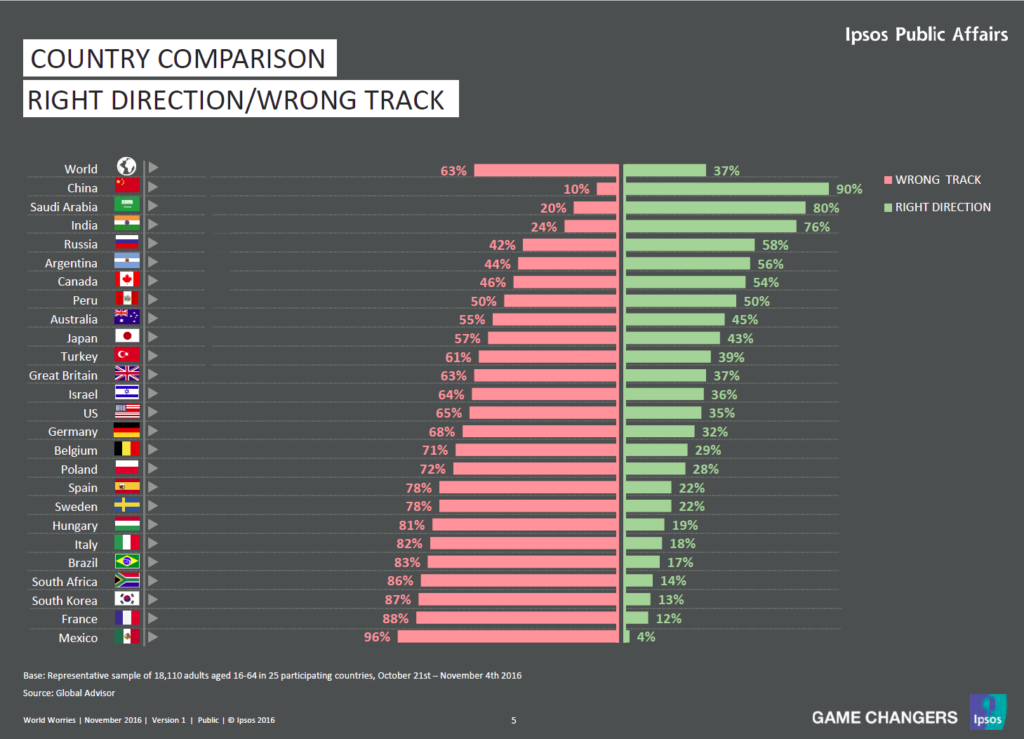 This shows the US in the middle of the pack, with 65% of those surveyed saying we are on the wrong track. That is consistent with other surveys of American sentiment. In China, 90% of people expressed confidence in their country's direction, followed by Saudi Arabia (80%), India (76%) and Russia (58%).
Among Western nations, Canadians are the only people with a predominantly positive outlook (54%).
The US showed a small month-on-month drop in "right track" from 37% to 35%.
France and Mexico bring up the rear as their citizens have the least confidence in their country's direction: 88% and 96% of the populace respectively believe that their country is on the wrong track. Only 4% of Mexicans think their country is on the right track!
Ipsos also surveyed the issues that worry citizens in each country the most. They asked the question: Which three of the following topics do you find the most worrying in your country? In the US, the top three issues were:
Terrorism: 33%
Healthcare: 32%
Financial/Political Corruption: 29%
It is not clear that terrorism is profoundly worrying to Americans, since 67% of those surveyed chose something else to worry about. Remember that the rankings are based on how frequently the item is mentioned as the first in a list of three issues. Here is an Ipsos chart that compares the number one issue people worry about in each country: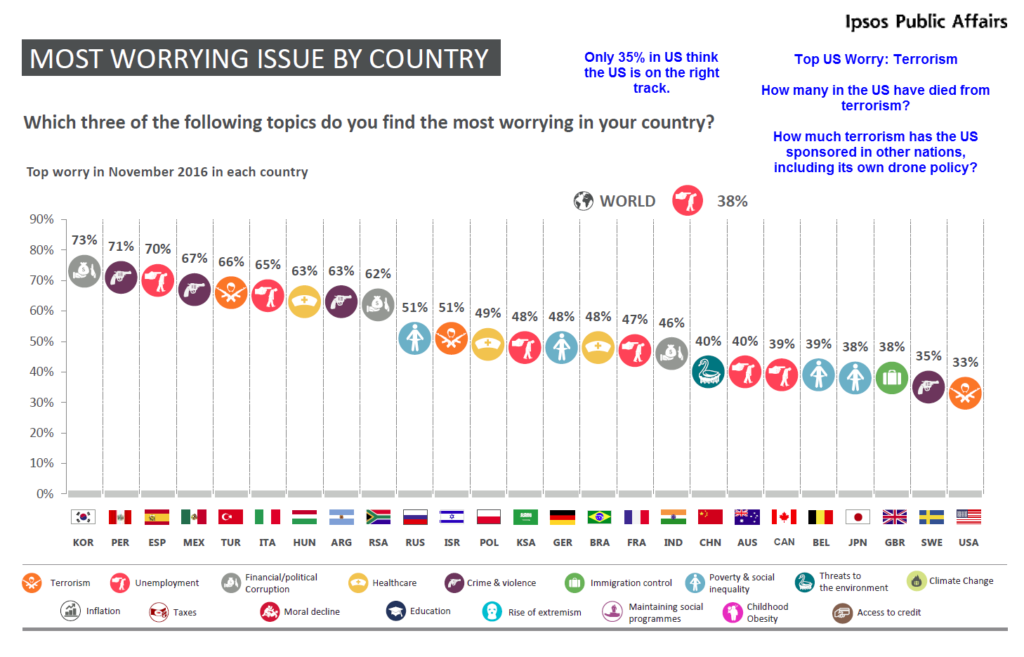 Only Turkey, Israel and the US ranked terrorism first. Americans fear terrorism slightly more than uncertainty with their healthcare (32%). And they worry about corruption slightly more (29%-28%) than they worry about crime and violence. Where are poverty and social equality? Seventh, with 19%. What about education? Ninth, with 15%. Maintaining social programs are 14th tied with inflation at 7%.
Fear is emotional, it is not driven by logic about actual levels of risk. Assessment of risk is (mostly) a logical process, with a tiny element of emotion. Acts of terror are frightening, but the likelihood of one happening to you is infinitesimally small in the US. It is therefore, an irrational fear.
OTOH, do people worry about being mugged when walking through a sketchy part of the city? Most do. How many actually get mugged? Not many. But that fear has a basis in fact.
And terrorism isn't about killing as many people as it can. It is about gaining a political victory through terror. Think about the 9/11 attack in NYC. Millions watched the Towers fall. Those in NYC saw the smoke for weeks. That is the end point of terror, and probably explains why so many rank it as their top worry.
In the survey, six countries worried more about terrorism than the US. They are: Turkey (66%), Israel (51%), France (44%), India (43%), Saudi Arabia (40%) and Germany (34%).  Those countries all have more real-world reasons to worry about terrorism than do Americans.
However, our neo-con politicians in collusion with a number of think tanks, and the military-industrial complex, have made a significant portion of Americans believe it is a rational fear. They do this for financial gain and control.
Control keeps the grift going.
And, like Israel, the more Muslims we kill, the more terrorists we create. Where is the virtue in this for anyone except the Defense Department, Lockheed, Rockwell, Northrup, Raytheon, Honeywell and Wall Street?