The Daily Escape: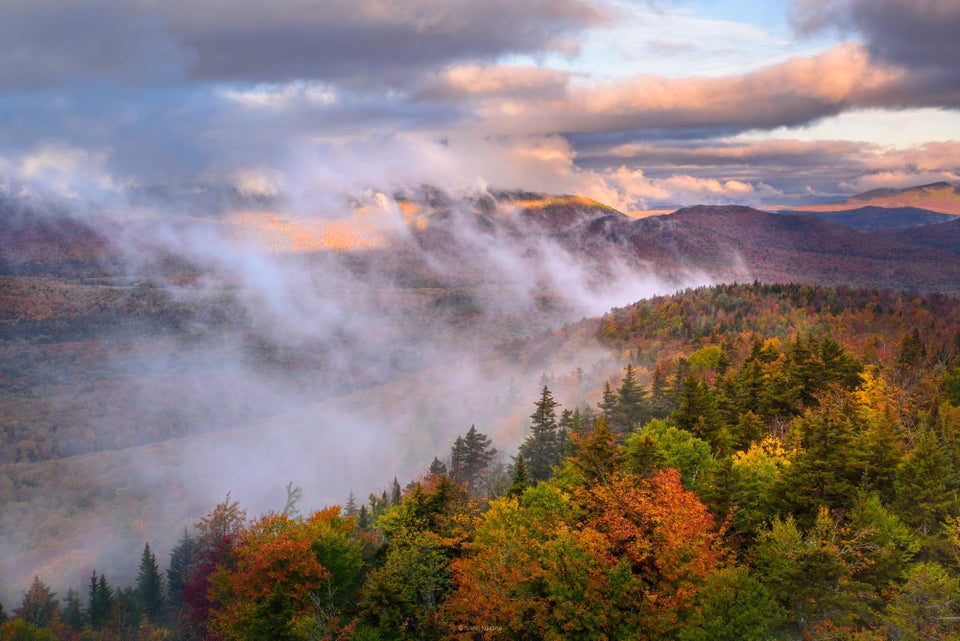 Fall colors, Adirondacks, NY – October, 2019 photo by nikhilnagane
You can be forgiven for not focusing this week on the UAW's strike against GM, which is now in its 19th day. Shares of GM have plunged by double digits since the strike began, mostly because the automobile sector has reported weak sales figures. Wolf Richter reports that:
"New-vehicle deliveries in the US…were…flat, at 4.32 million vehicles in the third quarter. For the nine months, deliveries were down 1.6%. This puts new vehicle sales on track for about 17 million…in 2019, the worst level since 2014, and below 2000…."
So, automobile unit sales are at the same level that they were 20 years ago in 1999-2000. With the strike, GM vehicle production has ceased at nearly all of its North American plants. This hasn't really hurt GM yet, because they had around 90 days' sales worth of vehicles in inventory as the strike started. They typically have more like 60 days on hand. So shutting the plants helps work down their inventory bulge.
Back to the strike: Julianne Malveaux reports in the WaPo about how GM betrayed the UAW after the union made sacrifices when GM nearly folded in 2008:  
"General Motors was on its knees in 2008. Amid a global financial crisis, the company was so financially challenged that it had no choice but to accept a federal government bailout. In 2009, the United Auto Workers joined the feds in saving GM, making concessions on wages and benefits to rescue the beleaguered company."
The partnership paid off for GM. The company has earned $35 billion in profits in the last three years, partly as a result of the concessions the workers made over a decade ago.
But, does GM owe the UAW anything in return? The protracted strike shows that GM feels it doesn't owe them much. Darrell Kennedy, a UAW striking worker said in a video:
"We gave up a cost-of-living increase, a dollar-an-hour wage increase we were due, tuition assistance and more…"
The union wants to include non-union workers who are part of GM's three-tiered wage system. Those hired before 2007 (the union members) are Tier One workers who earn roughly $31 per hour, plus guaranteed pensions. Those hired after 2007 are Tier Two workers, earning about $17 an hour and have the opportunity for 401 (k) participation. The third tier are temporary workers who earn less than Tier Two workers and have no benefits.
The union wants better pay for Tier Two workers, and a path to job security for Tier Three employees. But since GM plans to move toward electric vehicles which use less labor that gas-powered cars, they are uninterested in commitments that reduce their flexibility in the future.
In business, Wrongo learned the hard way that making concessions, and expecting it to create good will that helps a future negotiating position, is usually a bad idea.
But, in this case, it's difficult to work up enthusiasm for either side.
For example, GM spent $10.6 billion since 2015 buying back its own shares, some of which went to the UAW, who originally owned about 17.5% of GM after the bailout. The UAW has now sold over half its GM stock. Since the 1960s, GM has consistently demonstrated poor management. Their share of the automobile market has decreased from about 50% to about 17%. If it wasn't for the government bailout, GM wouldn't be here.
The UAW is rightly trying to grow its membership by advocating for GM's Tier Two and Three employees. OTOH, in 2009, the union didn't agree to cooperate with GM out of any sense of benevolence. They were saving their jobs. Finally, since the bailout, GM's UAW workers have a profit-sharing deal. In 2018, the 46,500 UAW hourly employees earned up to $10,750 each.
Wrongo is very pro-labor, and often pro-union. In this case, it's difficult to get behind the UAW's strike.
Time to move past which State Dept. official in the Ukraine texted what about the Bidens, or how much more blatant Trump's overtures to foreign governments will get. Let's enjoy a Saturday Soother!
Start by thinking about the leaves piling up outside. Friday night brought frost to Mansion of Wrong, so our fall clean-up is in full swing. If it's warmer where you live, enjoy the last of the warm weather.
No coffee today, get outside and do something physical. But before you go out, let's remember the great Jessye Norman who died last Monday. She was a gifted singer with one of the greatest and most beautiful voices ever. She had all the qualities to make a performance both convincing, and memorable. Here she is singing "Ave Maria" by Schubert:
Those who read the Wrongologist in email can view the video here.