The Daily Escape: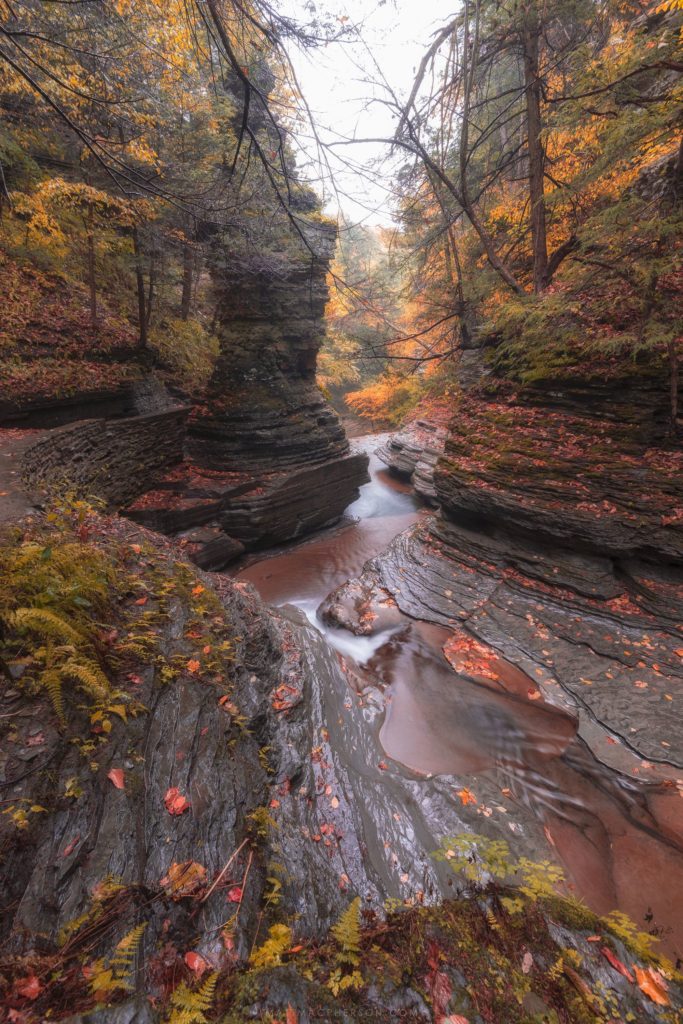 Buttermilk Falls, Ithaca, NY – October 2019 photo by mattmacphersonphoto
Some news was made by pollsters yesterday. The NYT and Siena College are out with a poll of 2020 battleground states that shows Trump is highly competitive in head-to-head matchups with the top Democratic candidates. Even though Trump is by far the most unpopular president in American history, these polls indicate that he could get re-elected.
Here are the top line results. Among registered voters, Biden narrowly leads Trump in four of them, Sanders in three, Warren in one: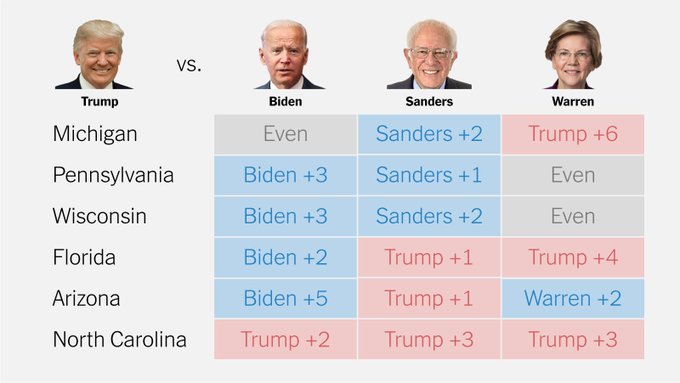 These states were the key contests in 2016 between Hillary and Trump. Trump's approval ratings have long been in the high 30s to low 40s, and he trails Biden by almost nine points in an average of national polls. But as the 2016 race showed, the story in the battleground states can be quite different. Mr. Trump won these six states even while losing the national vote by two percentage points.
In this poll, Trump trails Biden by an average of two points, but that result is within the margin of error in the individual states. And we know how erroneous the polls were in November 2016. You can look at the current poll's cross-tabs here.
Hate to pour cold water on Democrats, but Trump could lose the 2020 popular vote by upwards of ten million, and still win in the Electoral College.
This is reality – it will come down to six states. This is why people get so disengaged from presidential politics. Then, by not voting in election years, the Congress, state houses, and state assemblies stay with the Republicans.
Ten years from now, the demographics will be different. Consider Texas, where Latinos will outnumber non-Hispanic whites by 2022. OTOH, we have a census next year, and some states are deploying multimillion-dollar efforts to ensure their population gets counted correctly. But in the South, only three states have allocated state funding for census outreach, with just eight months to go.
It may take time, but much of the South will again come back into play. Maybe people won't feel like they're overlooked if presidential campaigns actually required the votes of people in most states in order to win.
Just six states. That should infuriate everyone. We remain at the mercy of the Electoral College.
But there's more. Nate Cohn says in the Times article:
"Nearly two-thirds of the Trump voters who said they voted for Democratic congressional candidates in 2018 say that they'll back the president against all three named opponents."
The crossover by Republicans to vote for a Democrat in 2018 was a factor in taking back the House. So, losing two-thirds of them sounds terrible for Dems, until you realize that it means 1/3 of Trump's 2016 voters in those states say they'll stay with the Dems in 2020. And Trump's margin in PA, MI, and WI was just 80,000 in 2016
We're at a point where the Democratic field is narrowing. Four candidates have moved clear of the field, Biden, Warren, Sanders and Buttigieg. Biden and Buttigieg represent middle-of-the-road liberalism, while Warren and Sanders represent a more liberal, anti-corporate philosophy. Only Buttigieg is under 70, but that doesn't matter if the opponent is over 70 himself. The rest of the field barely polls at 2%.
It's likely that the Dem nominee will be one of these four, but it's way too early to be concerned about how they perform vs. Trump's relative strength in the battleground states he won in 2016.
It's smart for Democrats to fight as though every poll has them way behind. And the figures on advertising dollars spent per campaign show that Trump is currently spending as much money as all the Democrats combined.
A year from now, we'll be entering a different world. But since we can't know the future, it could be either wonderful news, or more of the brain-melting hell in which we currently reside.
To make sure it's a new world, we have to do everything we can to ensure that someone new is elected, someone who will oppose with every vote, every fiber of their being, the policies and hate spewed by Trump and his GOP fellow-travelers.
This means we have to work to turn them out not only from the presidency, but from every other elected office, from county commissioner to the House and Senate.
How?  There are a lot of ways, from donating money, to donating time at the local Party office; to writing letters to the editor, or making your voice heard through whatever means you can.
The How is important, but the Why is what should energize every one of us.