The Daily Escape: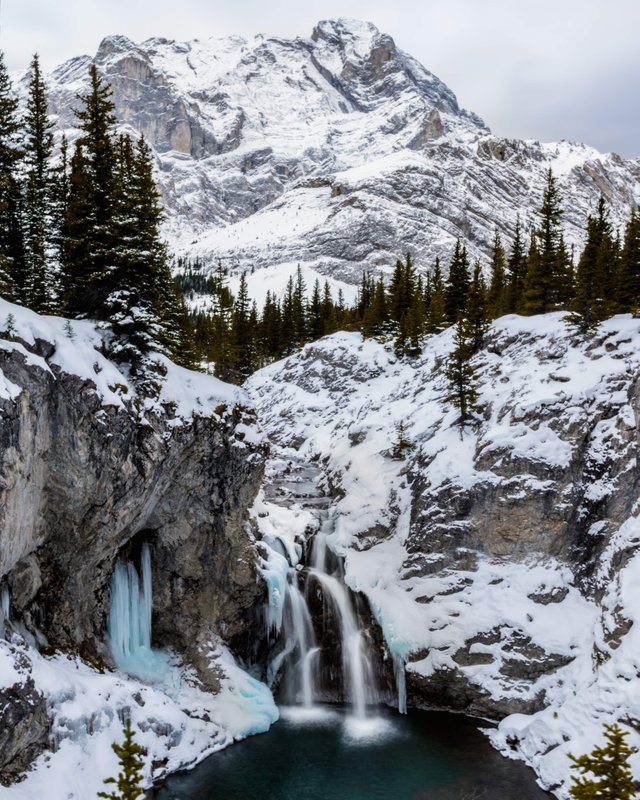 Edworthy Falls, Elbow Pass, Kananaskis, Alberta, CN – 2018 photo by sluis0717
Just when Wrongo was beginning to think we would make it to 2020 alive and in one piece, testimony by the US Intelligence Chiefs had quite a bit to say about how the world could still blow up. This from Booman: (Brackets by Wrongo)
"In a written report and [subsequent] congressional testimony before the Senate Intelligence Committee on Tuesday, the senior members of the United States intelligence community had some interesting things to say. The most important arguments they made directly contradicted their boss, the president."
They said that North Korea is unlikely to give up their nuclear program, and that Iran is not currently pursuing their nuclear program. Trump is holding a second summit with North Korean leader Kim Jong Un in late February. Last week, Trump said that the two sides are making progress in efforts to fully denuclearize the Korean peninsula.
The Intelligence Chiefs assess that Russia will continue to interfere in our politics and our elections. They think that ISIS is far from defeated. They reiterated what a report released to Congress last week by the Pentagon said, that climate change is a national security threat.
Now, the intelligence community doesn't always get it right, but Trump is on the opposite side of each of these assertions. More from Booman:
"We're supposed to have a chief executive and commander in chief who is a customer for this kind of intelligence. Our president is supposed to be the primary customer for these types of assessments.  But that's not the situation we have in this country right now. At the moment, our president has taken public positions contrary to every one of the assessments…and he's simply not interested in contrary evidence. He is certainly not interested in being contradicted."
It's a huge problem when Trump, who makes the final decisions on what we're doing geopolitically, is fact-free when it comes to threats to our security. Fortunately, the Intelligence Chiefs seem willing to provide honest threat assessments, and testify about them before Congress.
But, there are people within the administration who support whatever Trump wants. Some are even willing to slant the information they provide to the press and to Congress if it supports the president's stated position. Trump's position has been that disruption is at the heart of his geopolitics.
In just the past few weeks, we've gotten quite a few things wrong. (h/t Arms Control Wonk)
On December 6th, the United Nations General Assembly rejected a US resolution to condemn the Islamic militant group Hamas for violence against Israel. The embarrassing vote, which required a two-thirds majority, was 87 in favor to 58 opposed, with 32 abstentions.
On December 12th, Secretary of State Pompeo blasted Iran at the UN Security Council and received no support from US allies for walking away from the nuclear deal. In fact, US allies Britain, France and Germany praised Iran for holding up its end of the bargain.
On December 21st, the US barely rounded up more votes than Russia on a Russian resolution at the UN calling for the preservation of the Intermediate-range Nuclear Forces Treaty. The vote was 46 against to 43 in favor, with 78 abstentions.
On January 10th, Pompeo, speaking in Cairo, declared, "Let me be clear, America will not retreat until the terror fight is over." The next day, the front-page headline in the New York Times was "U.S. Begins Syria Withdrawal, Amid Uncertainty Over Strategy."
On January 14th, en route to Saudi Arabia, Pompeo declared he was "confident" and "optimistic" that he was nearing a deal with Turkey on a mutually agreeable exit plan from Syria. Later, Trump tweeted that he would "devastate Turkey economically if they hit Kurds."
On January 22nd Pompeo spoke to the assembled billionaires at Davos:
"Is this pattern of disruption a force for good or not? I'd argue this disruption is a positive development."
Most of us would say that's crazy talk.
The Intelligence Chiefs have done everything except sound an air raid siren about this administration's foreign policy bungling. There's no indication that the Senate Republicans have mustered the gumption to act on their alarm.
And now, John Bolton tells everybody that Trump wants to send 5,000 troops to Columbia as part of its failing Venezuela strategy.
In another ominous sign, Pompeo added Elliott Abrams, a neocon who was an actor in the Iran-Contra mess, as a Trump administration special envoy overseeing policy toward Venezuela. Maybe you remember that Abrams was pardoned for his Iran-Contra role.
Just two more neocons, completely lacking in principle, but flush with Trump's authority to disrupt another part of the world.
Read the report, and then think about how it squares with Trump's policy.
You'll agree that this will all end perfectly.