The Daily Escape: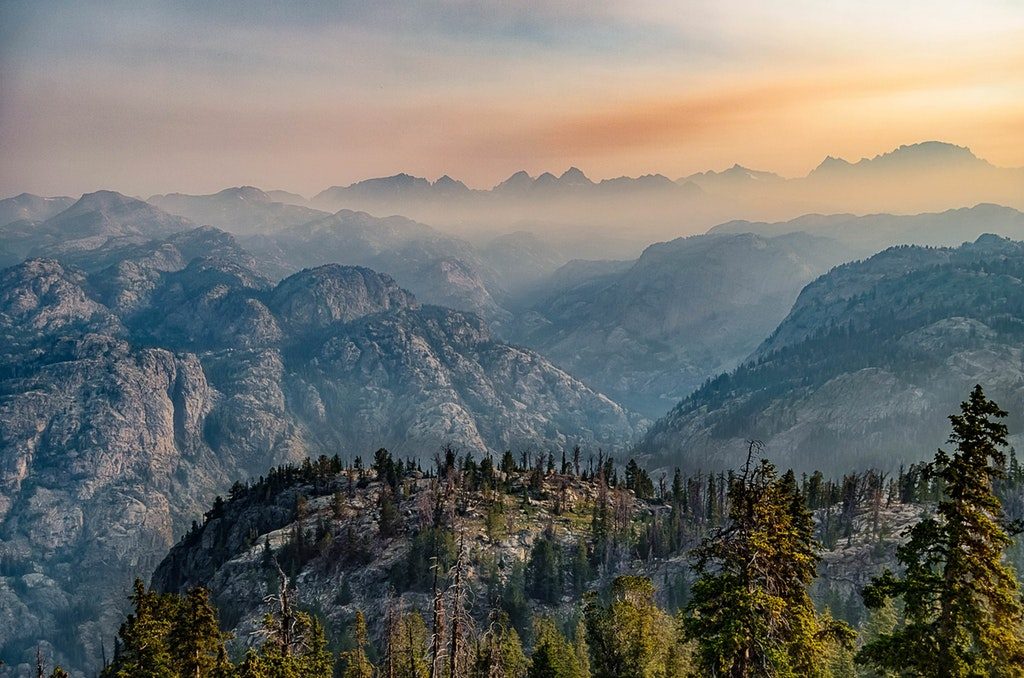 Haze caused by smoke from a wildfire, Wind River Range, WY – 2018 photo by UtahPictures
Their handshake made history. North Korea's leader Kim Jong-un and South Korea's President Moon Jae-in met each other at the border, then walked hand in hand into South Korea for a meeting between countries still technically at war.
Whether they can declare an end to the war will be the subject of more negotiations and trust-building over the next few months, perhaps years. They did sign an accord that commits them to the complete denuclearization of the Korean peninsula.
This is either a huge step forward, or it is another case of false hope for a peace that has eluded the two Koreas for 65 years. Either way, it is an unprecedented diplomatic initiative between the two Koreas that could reduce global tensions.
South Korea's peace offensive with the North has taken the US's threat of military confrontation against North Korea off the table, unless the peace discussions should fail. Their preemptive diplomacy has left the US with no option but to move to the negotiating table without insisting that North Korea relinquish its nuclear weapons as a precondition. Is Trump behind this strategy? Historians will tell us some time in the future.
Strategically, North Korea looks like it is willing to work toward peace. They are in a win-win situation. If sanctions are eased, and peace talks move incrementally to a successful conclusion, a process of socio-economic rebirth in the North (a Kim Jong-un priority) can begin.
If Trump can't agree with Kim Jong-un, we will find ourselves at odds with our South Korean ally. In that case, China might walk away from its sanctions against the North, blaming the US for not making progress in the face of the offer by Kim Jong-un to renounce his nuclear weapons.
South Korea's president, Moon Jae-in needs to find a middle ground between his cunning enemy to the North and his impulsive ally in the US. And no one should expect that Kim will capitulate on Trump's key demand of total and immediate nuclear disarmament.
That's the biggest problem. South Korea's president favors an "action for action" strategy in which the North takes steps to dismantle its nuclear arsenal, and is rewarded for each move with economic benefits and security guarantees.
South Korean officials said that the entire process could take about two years.
But Trump's national security team has insisted that North Korea scrap its weapons programs before any relief from the sanctions can be granted. And they say that "substantial dismantlement" should be completed much more quickly, perhaps in six months.
Moon's position is to offer economic benefits and security guarantees incrementally, based on one small agreement after another, until both sides are comfortable. In short, his plan is: Be sensible. No one needs to be humiliated. No one has to win. No one has to lose. Deal with issues one by one. Don't refuse to talk about anything at all. Talk. That's what sensible people do.
No one knows where this goes. The two Koreas have struck similar agreements in the past. For example, in 1991, Pyongyang and Seoul promised to end the Korean War, but never did. And in 2005, North Korea and five other countries — including the US and South Korea — struck a deal to end Pyongyang's nuclear program in exchange for economic aid. That deal fell through.
President Moon has acknowledged that there is a limit to what the two Koreas can agree on without American involvement:
Peace on the Korean Peninsula cannot be achieved by agreements between South and North Korea alone…It has to have American endorsement.
But, nobody knows how the Trump wild card will play out.
But today's Saturday. For now, let's bask in a little hope. It's spring, and buds and flowers abound. The fields of Wrong have bluebirds in two separate nest boxes sitting on eggs. We've over-seeded the whole 3 acres of grass to keep our world green and weed-free. Time to brew up a cup of Red Rooster Coffee's 4 & 20 French Roast that the roaster says is dark and intense, full of complexity, with lots of spice and chocolate.
Now settle back, and listen to Aaron Copland's "Appalachian Spring", performed here by the Sydney Camerata Chamber Orchestra, conducted by Luke Gilmour, in 2011. Copland was awarded the 1945 Pulitzer Prize for Music for this work. Here it is performed by a 13-piece orchestra, which Copland scored for the eponymous ballet, choreographed by Martha Graham. Wrongo prefers the chamber version to the full orchestra version:
Those who read the Wrongologist in email can view the video here.