The Daily Escape: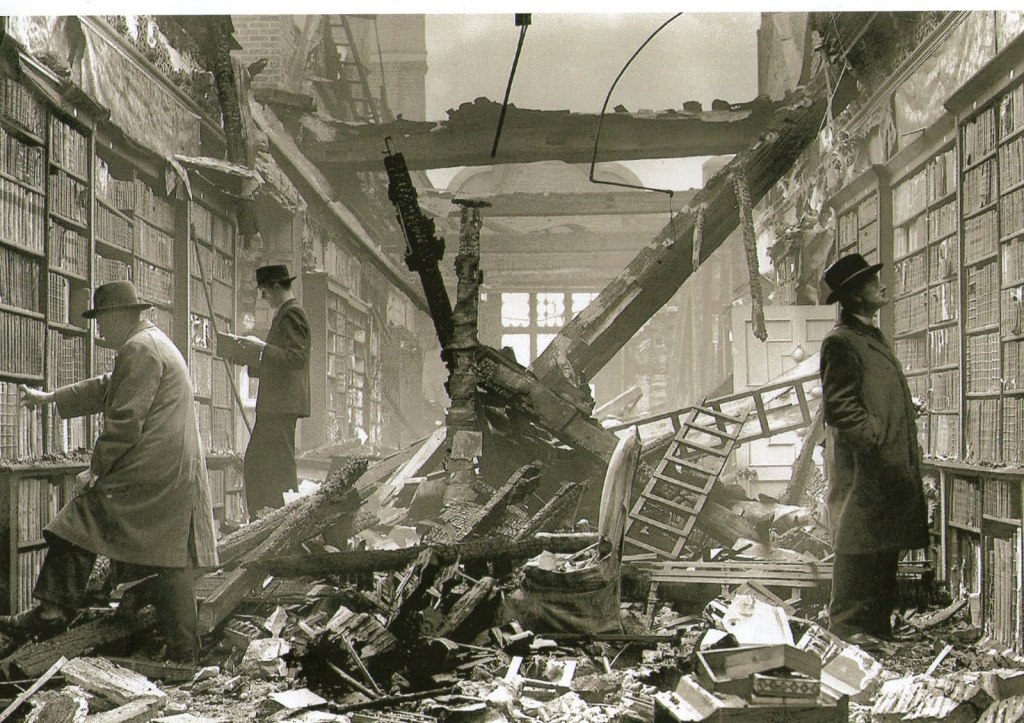 (London library during the Blitz)
Politico reports that President Trump has actually done little since entering office despite White House aide Stephen Miller's bragging on the Sunday Pundits:
We have a president who has done more in three weeks than most presidents have done in an entire administration.
That simply isn't true, but the thrust of the article is that, when you tune out the noise coming from the White House, very little has actually happened. From Politico:
So far, Trump has behaved exactly like he has throughout his previous career: He has generated intense attention and sold himself as a man of action while doing little other than promote an image of himself as someone who gets things done.
Sorry, but this is characteristic of the gleeful DC narrative that Trump is failing, that he's bumping up against the institutional/Constitutional realities of Washington. This meme seems to repeat the same mistakes that smart people made during the campaign — misreading and underestimating Trump. They see him challenged on a few things and assume that since Trump thought he'd show up, wave a wand, and make things happen immediately, and is now stymied, therefore he must be frustrated. They presume that clashes with other branches of government, or with the unfawning press, or the "resistance" from the 52% that didn't vote for him to begin with, has made him cool his jets.
Why should we think it upsets him that his first bolts out of the gate are stymied?
Wrongo thinks that so far, Trump is winning. His fights with what he calls "the Establishment" and the "fake news media" are a win from the perspective of the Trumpets. They figure that's what he was sent to DC to do.
If he's not trying to learn the ropes? That goes in the plus column. And if it's reported that he shows impatience or impulsiveness? Plus column. To his base, the furor in the media makes the infuriated ones, and those who report it, seem like smug elitists, determined to enforce the status quo through the usual DC tactics.
Really, everything Politico says are problems for Trump are the opposite. He's ginned up a national hissy fit over his ill-conceived Executive Order on immigration, while managing to mostly get his cabinet choices confirmed (sorry Mr. Pudzer) − a cabinet more radical and unqualified than any traditional Republican would dare to nominate.
Dems obsess over each offense and announce "resistance" but have no real strategy. They raise money but can do little, while being viewed as unseemly in Trump's flyover country.
When the Republican obstruction to Obama took shape in 2008, they assumed a posture of cooperation, only to be "disappointed" by the "extreme" positions of the President. Rarely in Obama's first term did they announce obstruction in advance of his actions. By his second term, Democrats had lost enough seats that they no longer had the ability to override Republican inertia, and the GOP's naked obstruction was visible.
Now Democrats have fewer votes as a minority party than the GOP had in 2016, and have no way to block anything but the most obnoxious Trump moves, assuming that a few Senate Republicans join in the blockage.
Trump has no need to figure out or to get along with Washington — in fact, that's the opposite of what he wants. He has staked his political fortune on an "own the mob" strategy — which worked just fine in November. He doesn't need to deliver on his election promises. He needs to let Republicans push through the horrifying agenda they've salivated over for decades. And he will.
He needs a riled up Establishment to blame for any stymied efforts. This means the more cartoonish his behavior the better, as the Establishment will be all too happy to jump on his missteps.
Trump won't suffer if he never comes up the learning curve.
The rest of us, the country, the world, will. We actually need things to work.
Here is Robert Cray with "Smoking Gun" recorded in 1986. With all the Trump people who seem to be on the wrong side of the CIA and FBI, it seems appropriate:
Those who read the Wrongologist in email can view the video here.
Sample Lyric:
I'm havin' nasty nasty visions,
And baby you're in every one.