The Daily Escape: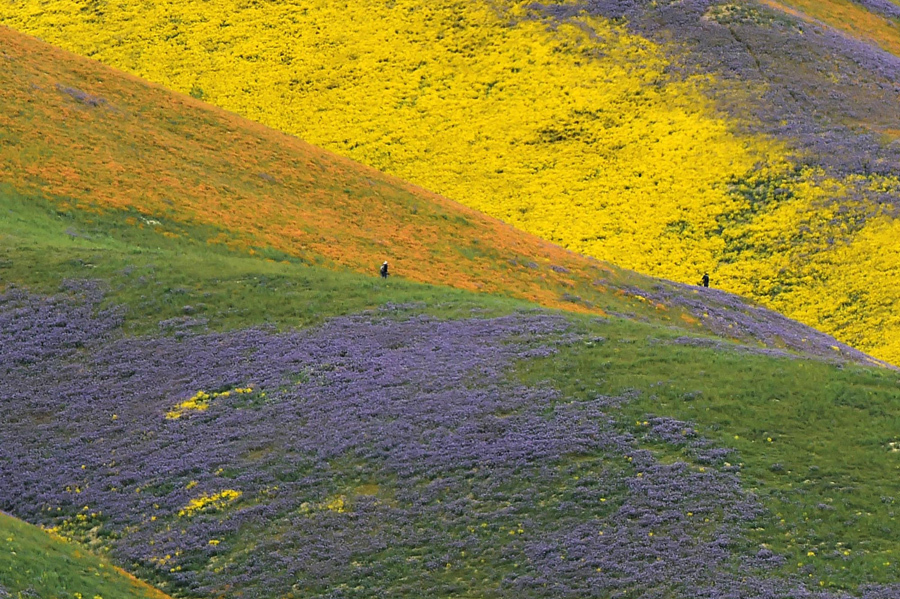 Wildflowers in the Temblor Range, CA. April 2017 photo by Robyn Beck
We still have little hard evidence proving that Syria gassed its own people. Much like Iraq in 2003, we have made a military move that feels great emotionally, but that isn't built on a solid foundation of fact. That the Syrian government deliberately used chemical weapons to bomb its civilians became absolute truth in US media in less than 24 hours.
And once that tidal wave of American war frenzy starts rolling, questioning the casus belli is not permitted. Wanting conclusive evidence before commencing military action will get you vilified, denounced as a sympathizer with America's enemies.
When Trump launched the tomahawks, most in the mainstream media suddenly fawned all over him. Margret Sullivan in the WaPo quoted several, starting with CNN's Fareed Zakaria:
I think Donald Trump became president of the United States last night…
And the NYT's headline:
Sullivan noted that the NYT's piece failed to even mention that Trump is keeping refugees from the Syrian war, even children, out of the US. Victims of chemical weapons were "beautiful babies" to Trump at his news conference, while the children trying to flee such violence require "extreme vetting" and face an indefinite refugee ban. And this from the WSJ's Bret Stephens, previously a Trump critic:
 President Trump has done the right thing and I salute him for it…Now destroy the Assad regime for good.
Perhaps the worst was MSNBC's Brian Williams, who used the word "beautiful" three times when discussing the tomahawk missile launches. He quoted a Leonard Cohen lyric (from First We Take Manhattan): I am guided by the beauty of our weapons — without apparent irony:
We see these beautiful pictures at night from the decks of these two US Navy vessels in the eastern Mediterranean…I am tempted to quote the great Leonard Cohen: 'I am guided by the beauty of our weapons.'…They are beautiful pictures of fearsome armaments making what is for them what is a brief flight over to this airfield…
Williams might have focused on: What did they hit? What are the strategic consequences?
Many of these same media pukes were continuously expressing doubts about Trump's judgment since before his election. But, when he orders the use of force, his judgment needs to be questioned by them more than ever. One reason that the US so easily resorts to the use of force abroad is that the very people that should be the first to question the rationale for a presidential military decision are instead among the first to cheer it and celebrate it.
We see groupthink most of the time when the American news media watches an administration step up to the brink of war. This was true in the run-up to the Iraq invasion in 2003, the start of our longest military disaster.
Journalists and pundits need to keep virtues like skepticism, facts on the ground, and context fixed firmly in their minds. They should not be like Brian Williams, focused on spectacular images in the night sky, without contemplating their deadly effect.
For example, how can the media NOT ask how Trump, a man with little outward empathy, can change in a minute, suddenly becoming a caring individual about beautiful Syrian babies? Or, how in a period of 24 hours, Trump managed to flip-flop 180 degrees on a position about Syria that he's held for years?
Why is the media leading the cheers on Syria, but keeping silent about Yemen?
Why are there never pictures of "beautiful"dead babies after our drone strikes go awry?
Time for the main stream media to wake up and do their jobs in an old school way. To help them wake up, here is Brian Williams's favorite lyricist, Leonard Cohen, with "First We Take Manhattan":
Those who read the Wrongologist in email can view the video here.
Takeaway Lyric:
They sentenced me to twenty years of boredom
For trying to change the system from within
I'm coming now, I'm coming to reward them
First we take Manhattan, then we take Berlin
I'm guided by a signal in the heavens
I'm guided by this birthmark on my skin
I'm guided by the beauty of our weapons
First we take Manhattan, then we take Berlin