The Daily Escape: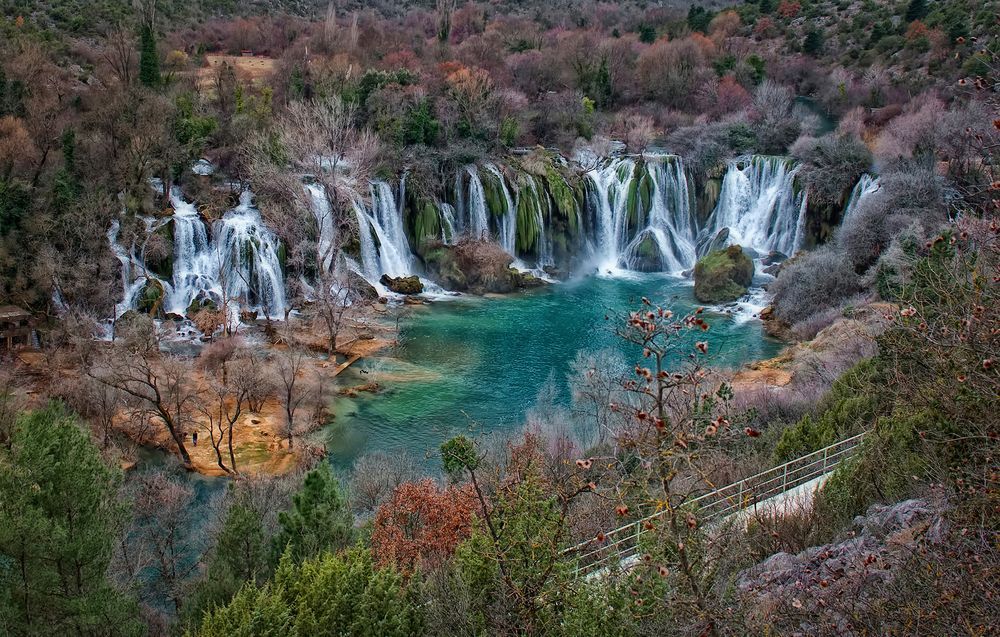 Kravica waterfall in Bosnia Herzegovina -photo by Vedrana Tafra
Wrongo needs to start by saying that he has nearly 800,000 lifetime air miles on United Airlines (UAL) and, after the forcible removal of a paying passenger, he will try to avoid flying them again.
You know the story: United Express in Chicago loads passengers on a plane heading to Louisville. Then four employees arrive, needing seats. United was unwilling to offer enough compensation to induce passengers to give up their seats, and ordered four passengers off of the aircraft. Three left, but one refused, saying he had to be in Louisville in the morning.
United officials called the Department of Chicago Aviation, (part of the City of Chicago), the type of government agency that you never even knew existed, to remove him. Officers grabbed his arms, dragged him screaming across the armrests and along the floor and off of the aircraft, apparently injuring him in the process.
Unusual situations like this test organizations and their leadership. The key information here is that UAL wanted to make space to carry their own staff. The flight was not "overbooked", UAL wanted to take back seats of a few paying passengers to accommodate their own staff. Apparently, UAL had bungled its own logistics, and then looked to its paying customers to solve the problem.
Poor customer service like this exists because of corporate culture, and because the company rarely has to pay a price for it.
In Wrongo's past, he managed 1000 employees who had technical support and/or customer service contact with the public. We had a mantra: Know when to Do The Thing Right, and know when to Do The Right Thing. 95% of the time, the job is to follow established procedures, to guide the customer to a pre-established solution that had been vetted, one that was company policy.
Our staff's job was to "do the thing right" in those cases, to follow our processes.
5% (or less) of the time, our people would see something novel, outside the scope of established policy. Something that called for reaching an equitable solution that wasn't in any manual.
Then, our employees needed to "do the right thing".
These aren't difficult concepts to instill, they are entirely consistent with most people's personal experience, and usually with their views about fairness.
United should try empowering people to do the right thing, when going by the book fails the customer. Whatever it might have cost to compensate volunteers, it would have been far cheaper than what UAL will now pay to this passenger as soon as he gets in touch with a personal injury lawyer and starts to make a case regarding legal processes and compensation going forward.
This also illustrates how America is changing: Large corporations are willing to use the police to enforce their policies. The passenger's choice was to comply with police demands, or face physical intimidation, or worse. And Chicago's sub-contracted police were too eager to jump into the fray.
We should ask: Did the injured passenger break any law by refusing to give up his seat? If that's the case, the plane was filled with lawbreakers. If not, why was an element of the Chicago police doing UAL's dirty work?
The Seventh Amendment of the Constitution guarantees a jury trial for civil cases in the federal courts:
In Suits at common law, where the value in controversy shall exceed twenty dollars, the right of trial by jury shall be preserved
The $20 amount is trivial in today's economy. But that idea of a jury trial has been killed by corporatist judges on the Supreme Court, and other courts, and has been replaced the company's terms of service. When you agree, it takes away most of your rights – disputes are resolved through arbitration that the corporation almost always wins. In this case, UAL's terms of service gives them almost unlimited authority when dealing with its passengers, including a rule regarding "refusal of transport" (Rule 21) and "denial of boarding compensation" (Rule 25).
But that doesn't justify bad corporate behavior. Or violence.
But, thanks to Congress's bipartisan policy of ignoring anti-trust laws for several decades, just four firms now control the vast majority of domestic flights, and they don't really compete with one another. This is from the DOT's report on airline competition:
Less competition means you don't have to worry as much about annoying people with delays or overbooked flights. It also means you can make a lot more money. There's less pressure to cut ticket prices – even when the price of oil, an airline's biggest cost, is plummeting – and it's easier to introduce ever-more obnoxious fees and charges.
UAL isn't worried about you sharing a video of a passenger being dragged off their plane, because you have no real choice when you fly from certain cities.
Ultimately, the responsibility to blunt this trend is ours. Replace Citizens United. Remove corporatist judges. Keep our police on a short leash.
Don't just upload a video, organize your neighbors and vote!