The Daily Escape: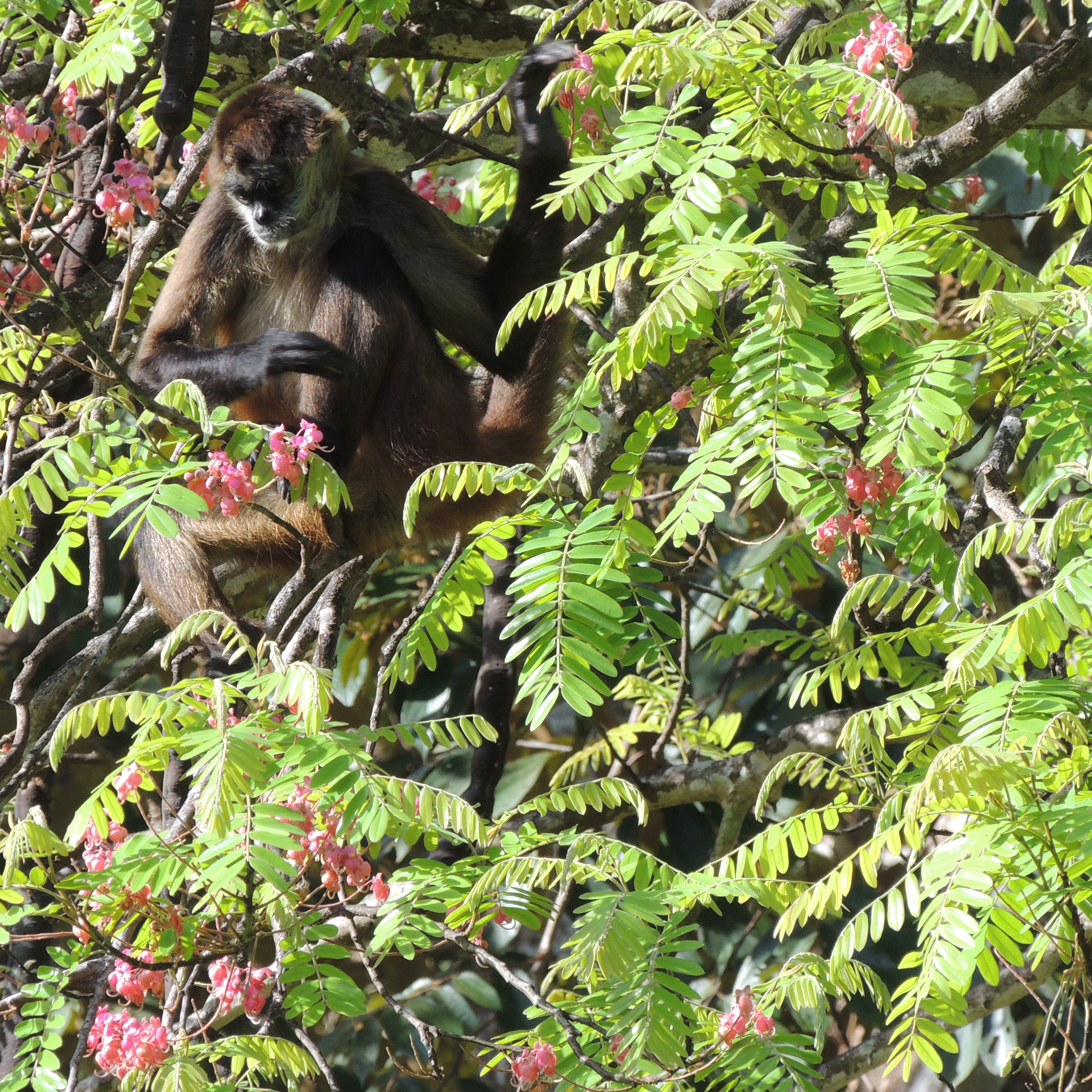 White-Faced (Capuchin) Monkey, Costa Rica, 2015 – photo by Wrongo
The American economy has never been very kind to people at the lower income levels. In most ways, since 2008's Great Recession, the economy has become riskier, and more tension-filled for lower income Americans, those making $30,000 or less per year. Nothing makes this clearer than this Gallup poll conducted March 1-5, 2017. Gallup surveyed 1,018 adults in all 50 US states. From Gallup:
Over the past two years, an average of 67% of lower-income US adults, up from 51% from 2010-2011, have worried "a great deal" about the problem of hunger and homelessness in the country.
More from Gallup:
Concern about hunger and homelessness now ranks as high as, or higher than, concern about most other issues tested in Gallup's annual Environment survey. The only issue with a significantly higher "worried a great deal" percentage in this year's poll is the availability and affordability of healthcare, at 57%.
People's perspectives are based on their experience, so it shouldn't be surprising that Gallup found that people making more than $75k/year had other concerns, and ranked hunger and homelessness much lower, at 37%. Still, even that number is up substantially from 23% in 2001.
The survey asks participants to rank their concern about 13 elements, and the differences between the concerns of the $30k or less cohort and the $75k or more cohort are stark.
Americans making $30k and less rank their top seven worries in this order:
Hunger/homelessness
Crime/violence
Healthcare
Drug use
Terrorism
Social Security
Economy
Americans making $75k or more ranked their top seven in this order:
Healthcare
Budget deficit
Economy
Social Security
Environment
Race relations
Hunger/homelessness
One reality is that the lower income Americans list "terrorism" in their top five, while it does not appear at all as a top worry of higher income Americans. Lower-income Americans worry more in general than those with higher incomes; everything is riskier and tougher for them. But nothing compares to the worries about hunger and homelessness. Gallup:
On average, across the 13 issues, the percentage of lower-income adults who worry a great deal is seven percentage points higher than among middle-income Americans, and 17 points higher than among upper-income Americans.
Here is Gallup's chart showing the relative degree of "worry" by economic group: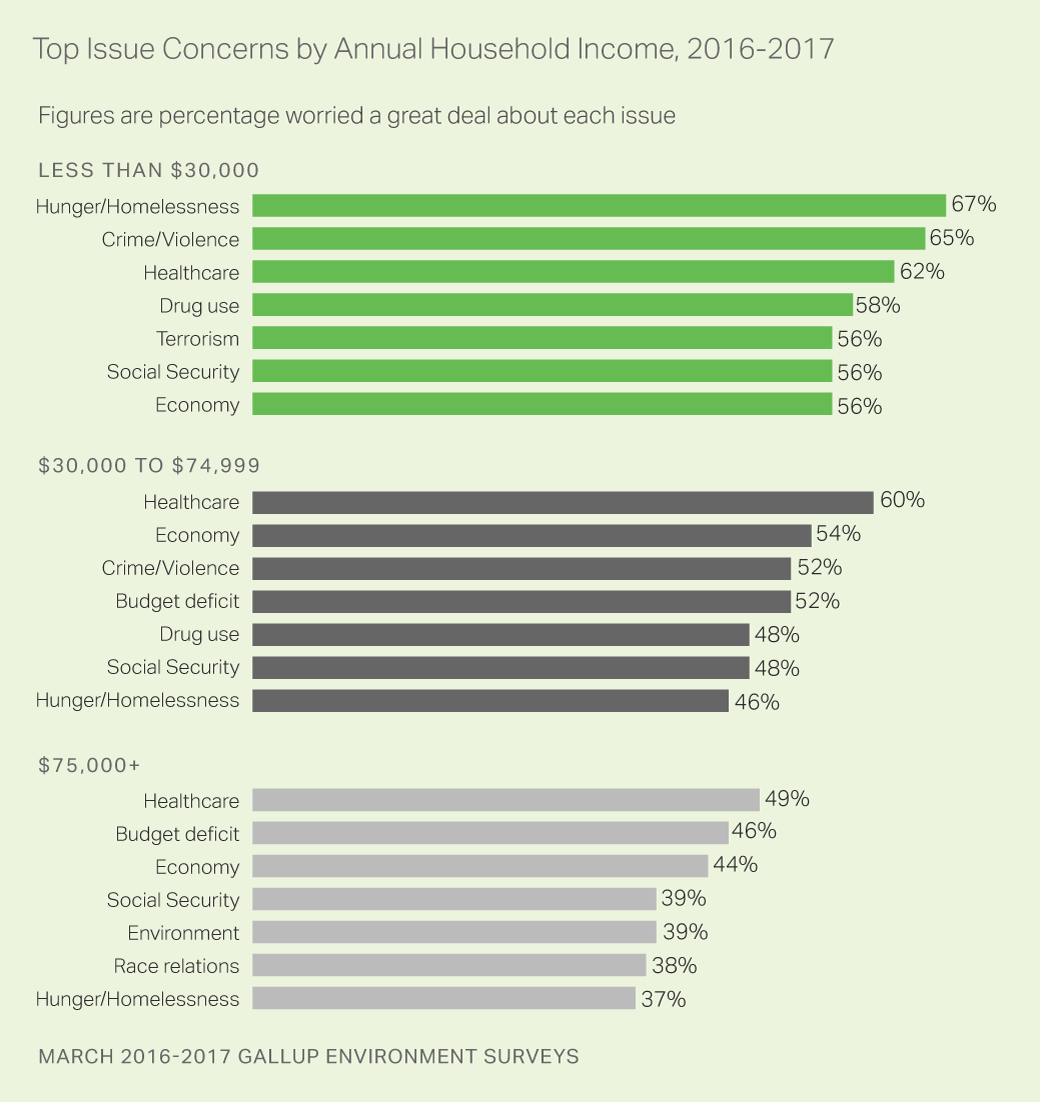 No surprise that more money brings one fewer big worries. No individual worry of the $75k+ cohort was felt by as many people as the seventh-ranking worry by the $30k or less cohort.
In fact, the greater than $75k cohort sees the "budget deficit" as its second-most worried about item. Of course, this dooms any chance for the people making less than $30k to have greater security in life. Congratulations to Pete Peterson and the GOP deficit hawks on a job well done! Their decades of propaganda have made austerity a political obsession for the well-off, because government must tighten its belt, and cut its way to greatness.
Paging Dr. Maslow! Your theory of the hierarchy of needs is again demonstrated in the real world by Gallup. Here it is 2017, near the twilight of the empire. Physiological and safety needs are in the top five of the major worries of a population that is hanging on to our society by their fingernails.
Tighten your belts. Lower your dreams. Ignore the fact WE live in 10,000 sq. ft. mansions. We deserve it, and you don't.
The American dream is a fallacy. Free markets are a fallacy. They are propaganda used to fool those poor Americans who live every day in all-too visible peonage.
Here is a 2005 tune by Coldplay, "Fix You" from their album "X&Y". It gives a few words of empathy:
https://www.youtube.com/watch?v=skUJ-B6oVDQ
Those who read the Wrongologist in email can view the video here.
Takeaway Lyric:
When you try your best, but you don't succeed
When you get what you want, but not what you need
When you feel so tired, but you can't sleep
Stuck in reverse
And the tears come streaming down your face
When you lose something you can't replace
When you love someone, but it goes to waste
Could it be worse?