The Daily Escape: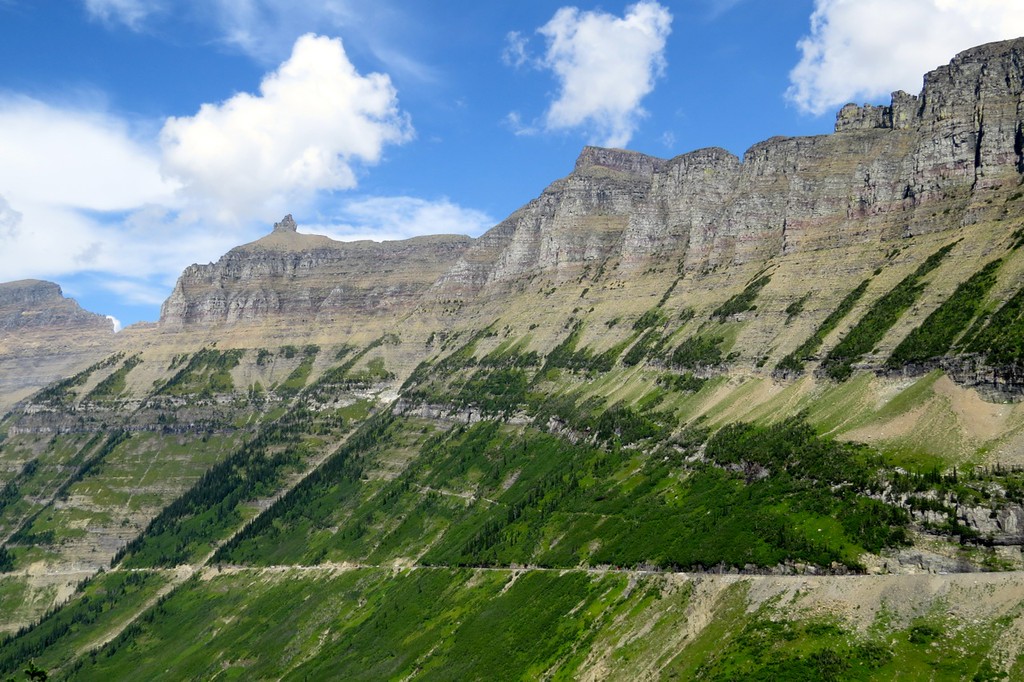 Going to the Sun Road, Glacier National Park, 2016 – photo by Wrongo
They told Wrongo that if he voted for Hillary, we'd be at war in Syria. He voted for Hillary, and sure enough, looks like we could get into a war with Syria! Particularly after this:
A U.S. Navy F/A-18E Super Hornet from Carrier Air Wing 8 on board the USS George Bush shot down a Syrian Air Force Su-22 ground attack aircraft near Raqqa, Syria after the aircraft struck ground troops in Ja-Din, south of Tabqah, near Raqqa.

According to most sources it is the first time a U.S. combat aircraft has shot down a manned enemy aircraft in aerial combat in nine years.

The pro-Assad regime Syrian Su-22 that was downed had attacked Syrian Democratic Forces aligned with the U.S. led coalition and inflicted casualties on the friendly forces as they were driving south of Tabqah before it was intercepted.
Russia was displeased. They announced that they could possibly shoot down any US air craft operating in western Syria:
In the combat mission zones of the Russian aviation in the air space of Syria, all kinds of airborne vehicles, including aircraft and UAVs of the international coalition detected to the west of the Euphrates River will be tracked by the Russian SAM systems as air targets.
Treating US and allied planes as "targets" does not mean the Russians will shoot at them. What they're saying is that they will track the planes as they would track any target, they will send their own planes to observe the targets, and possibly escort the targets out of the area.
This gets tricky: what happens if the "target" refuses to be escorted away? Do the Russians then shoot at the target? They haven't said. But until they do start shooting, we're not in a hot war. We've just moved a step closer to one possibly occurring soon.
And this would be the most dangerous confrontation between the US and Russia since the Cuban Missile Crisis. Wrongo remembers the Cuban Missile Crisis very well. He was in college. We sat around thinking that DC (where we lived) would be taken out by nuclear missiles launched by the Russkies.
This is one outcome of Trump's outsourcing full control of military action on the ground to the generals.
One miscalculation, and Trump's generals are making new foreign policy. Clemenceau was correct when he said that "war is too important to be left to the generals". Who we decide to fight is one of our most important national decisions. From the American Conservative:
There has never been a Congressional vote authorizing US military operations in Syria against anyone, and there has been scant debate over any of the goals that the US claims to be pursuing there. The US launches attacks inside Syria with no legal authority from the UN or Congress, and it strains credulity that any of these operations have anything to do with individual or collective self-defense.
The US says we are in Syria to fight ISIS and evict them from Raqqa. But we have also been arming the Syrian opposition for at least three years. And we have been a party to the Syrian civil war for at least a year before that. But the underlying assumption, that it is in our interest to be fighting in Syria, has not been seriously questioned by most members of Congress.
Americans are so accustomed to fighting wars on foreign soil that we barely notice that the policy has never really been debated or put to a vote. If this Syrian confrontation leads us into a larger conflict with Russia, will it finally be time to notice what's happening?  
Shooting down a Syrian jet shows the dangers that come from conducting a foreign policy unmoored from both the national interest and representative government.
It was shot down because it was threatening rebels opposed to the Syrian government, and the US supports those rebels, apparently up to and including destroying Syrian regime forces that attack them. We say we are there to fight ISIS. That has sufficient support by the people and the Congress. If we are also fighting to oust Assad, we are doing something that requires a full debate.
Without that debate, when we shoot down a Syrian plane inside its own country, we have committed an act of war against another state.
A bit of music. Here is Paramore with "Hard Times":
Those who read the Wrongologist in email can view the video here.
Takeaway Lyric:
All that I want Is to wake up fine
Tell me that I'm alright
That I ain't gonna die
All that I want
Is a hole in the ground
You can tell me when it's alright
For me to come out



Category:
Congress
,
Daily Escape
,
Foreign Quagmires
,
ForeignPolicy
,
Middle East Strategy
,
Military Strategy
,
National Parks
,
Nuclear Weapons
,
Playlist
,
The Presidency
,
US/Russia Relationship