The Daily Escape: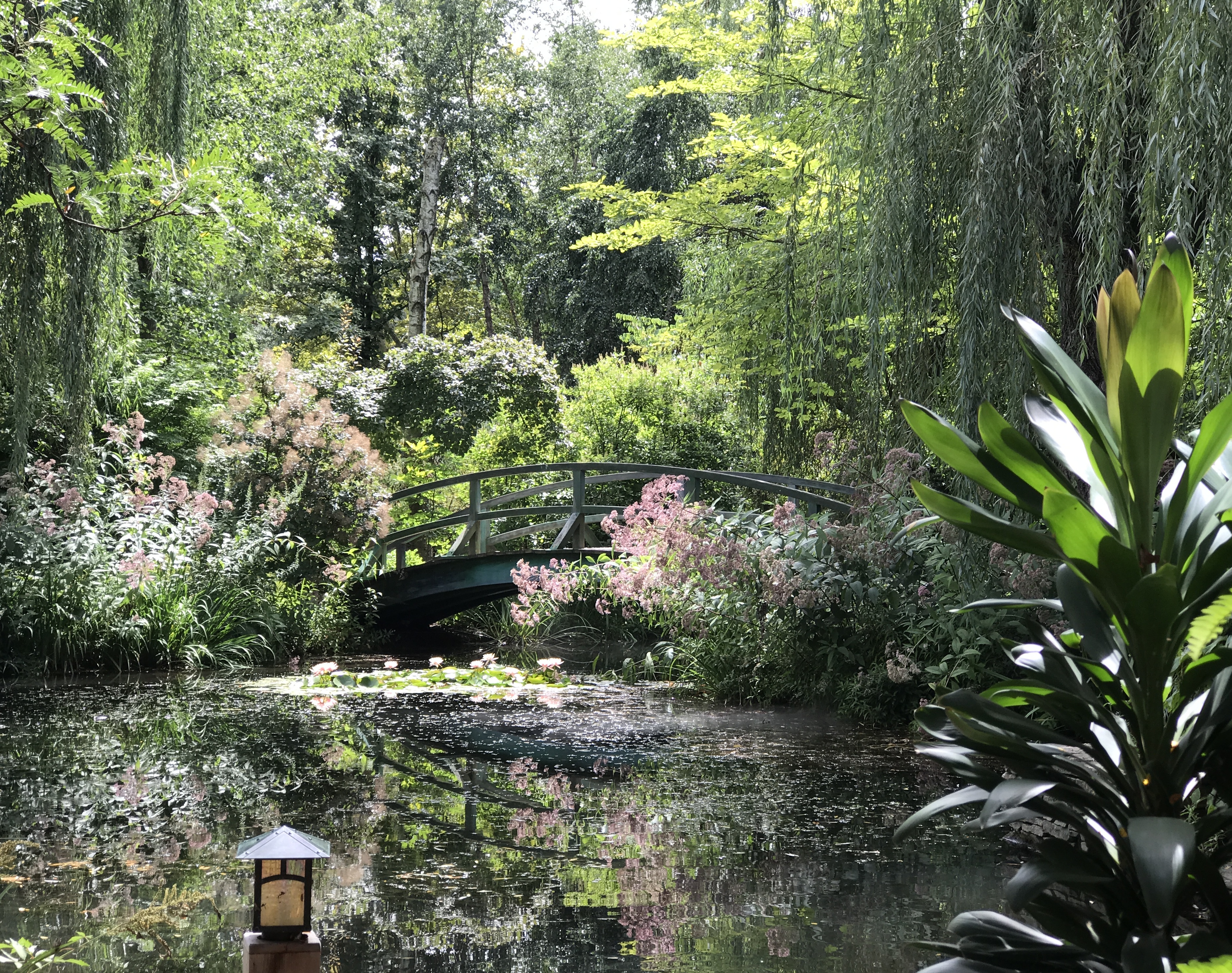 This is the last in a series from the NJ Grounds for Sculpture – 2017 photo by Wrongo
Today, we continue with G. Mark Towhey's idea that our political parties no longer work well enough to be relevant to a large segment of middle class voters. He says that the parties must appeal to the voters he calls pragmatists:
The opening episode of the fourth season of Aaron Sorkin's Emmy-winning TV series The West Wing... [places]…what typical Americans want from government…into perspective for…Toby Zeigler and Josh Lyman, both senior White House staffers in the show. They're…in a hotel bar and strike up a conversation with a middle-aged "typical American" who's spent the day touring the University of Notre Dame with his college-aged daughter.

The man and his wife together earn $80,000 a year and, he laments, 'I never imagined I'd have trouble making ends meet. I spend half the day thinking about what happens if I slip and fall on my front porch. It should be hard. I like that it's hard. Putting your daughter through college…that's a man's job, a man's accomplishment. Putting your kids through college, taking care of your family… [But] it should be easier, just a little easier, because in that difference is…everything.'
That guy doesn't want welfare reform, or tax reform. He wants government to focus some of its resources and brainpower on making his everyday life "just a little easier." The typicals don't want perfection, just small, concrete steps that improve their lives.
They are the pragmatists.
We shouldn't confuse "pragmatists" with centrists who are in the space between the Left and the Right. They are not necessarily moderates. Pragmatism isn't a moderate ideology, but a different prioritization of issues. From Towhey: (emphasis by the Wrongologist)
It's a focus on the concrete, rather than the abstract. It targets immediate, specific problems rather than deep, systemic causes. It prefers clearly defined and implementable solutions rather than aspirational visions…what if, instead of referring to a place on a Venn diagram, the pragmatic-idealistic divide actually functions like a different political axis?
In other words, don't appeal to them with policies, speak about solutions. Towhey thinks we should imagine the traditional Left/Right political spectrum on a horizontal line, the "x-axis," running naturally, from left to right. Now imagine a vertical line that intersects the x-axis at its center. That's the "y-axis." At the top of this vertical line, we'll put people who place a high value on ideals and ideologies that affect society in the abstract. The top end of the y-axis is the "idealist" end. At the opposite end of the y-axis are people who place a high value on practical solutions and actions that help them personally. This is the "pragmatic" end. Here is a representation of Towhey's matrix: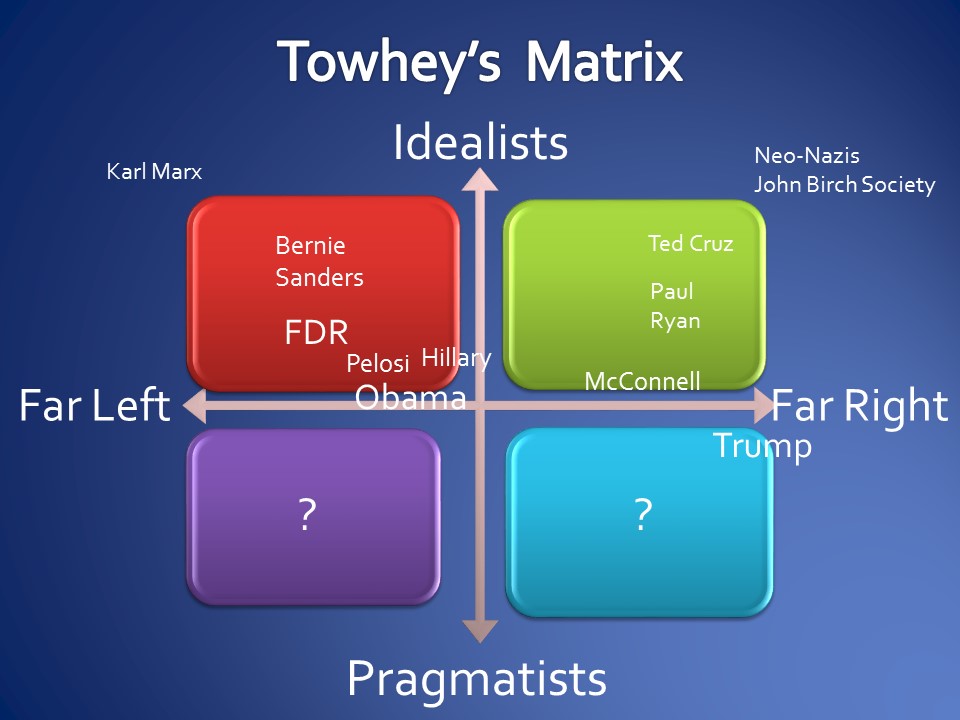 Prepared by Wrongo from Towhey's article. Position of politicians by Wrongo

Towhey thinks that the y-axis (Pragmatists to Idealists) shows how most Americans see the world: how a policy affects the world, versus how it impacts me; people who've succeeded in the current system, versus people who are struggling in it. Those at the pragmatic end struggle to make it under the status quo. They're people who want small, but real improvements, a few practical solutions.
Pragmatists are too busy to worry about the future. Whether they're on the left or right on the x-axis, they share a focus on more immediate needs. And today, voters don't move along the x-axis as easily as they may have in the past.
If Democrats are to compete in this "pragmatic" voter segment, they need to recognize that the typicals comprise many American citizens, enough to have elected a president in 2016.
The lesson for Democrats is to support leaders who will perform the basics of government exceptionally well. Mayors are great examples of this.
On the national level, health insurance is a great example. Pragmatists want action on health insurance, not on health insurance ideology. If Trump can't form a coalition with an ideologue GOP Congress, pragmatists would be happy if he worked with pragmatic Democrats, so long as the new health insurance law makes their lives easier. It doesn't have to be perfect, as it has to be for idealists on the right or the left.
This is the message of pragmatism: less ideology, more action. Small steps, not grand gestures. Results, not principles. And pragmatists are up for grabs. They can, and will vote for Democrats.
They'll follow a politician who unites them behind a few plans that people think will deliver tangible results. That is how Bernie out-polled Hillary, who had 39 positions on her campaign website.
But, if Democrats can't make this shift in thinking and leadership, new candidates and new alliances may form, and pragmatists will vote for them.
It could lead to the end of the Democratic Party as a national political power.