The Daily Escape: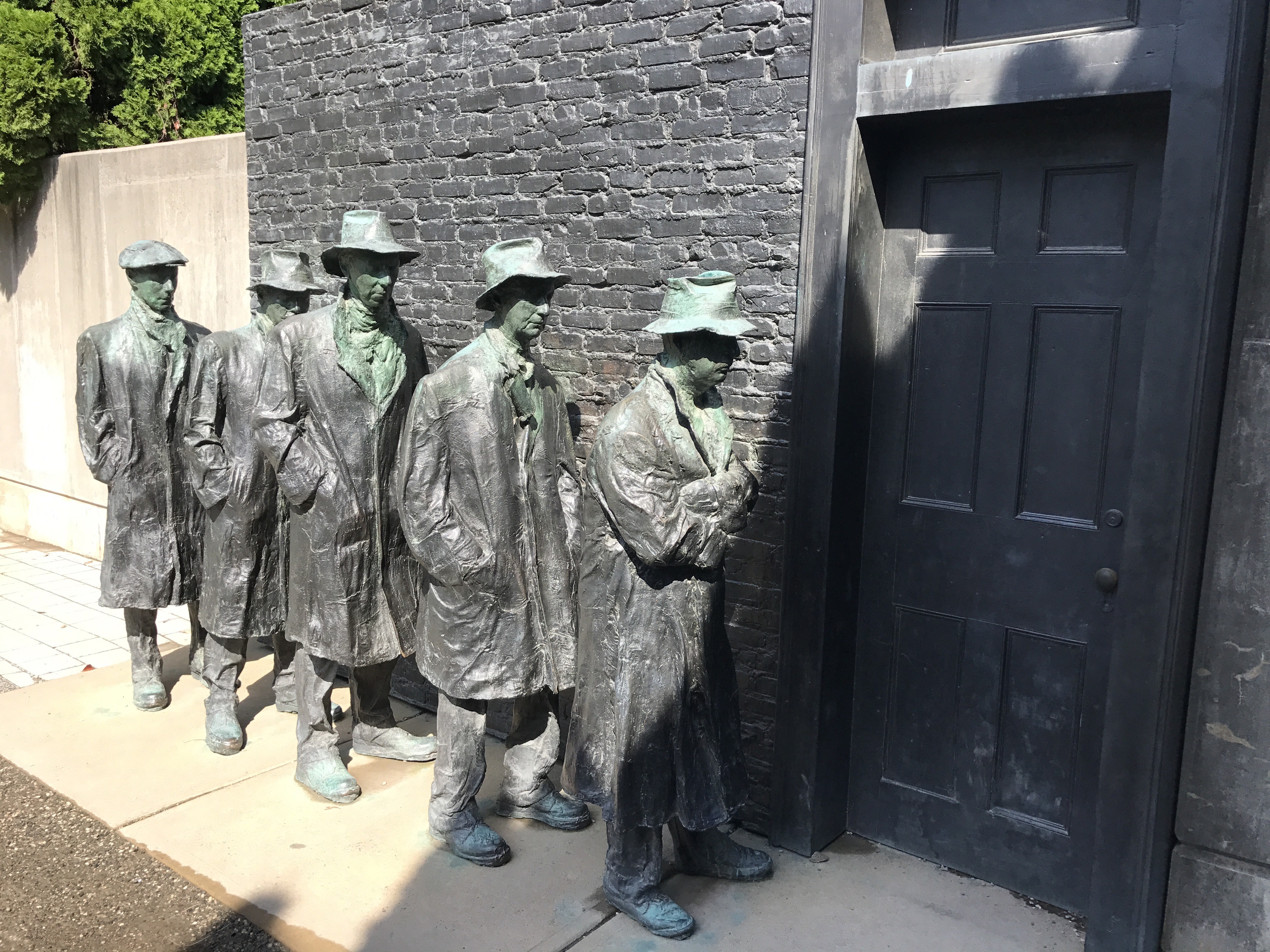 Depression Bread Line by George Segal, 1999, at the NJ Grounds for Sculpture – 2017 photo by Wrongo
There are two political imperatives facing America by the end of September: The House, Senate and the president must extend the Federal borrowing limit, and pass a budget. When Obama was president, extension of the borrowing limit was a dicey thing, as was passing a budget. From 2008-2016, we largely avoided government shutdowns, we passed spending bills, but not an entire budget.
And we never even considered tax reform, but it's the third item on the GOP's 2017 to-do list.
In some sense, everything except increasing the debt ceiling is optional. As of now, there are only twelve days in September when the House and Senate are jointly in session. The Senate has a few more legislative days on their schedule than the House, but it's unclear how they'll use them.
Republicans and Wall Street used to have concerns about the consequences for America if we didn't get our finances under control. They said that the growing federal debt could eventually drag down the economy, burden future generations, and even threaten national security. CEOs of corporations and the biggest banks joined a campaign called Fix the Debt, arguing that the size of our debt was our most pressing issue.
But now these same people are all in on Trump's plan to cut taxes for corporations and high earners, saying it is the way to fuel economic growth. That, despite estimates that Trump's plan could reduce federal revenue by $3.9 trillion over 10 years, thereby increasing the debt that CEOs used to hate. From Bloomberg:
Goldman Sachs Group Inc. CEO Lloyd Blankfein, a Fix the Debt supporter…in 2012 told CNBC he'd be for higher taxes if they helped mend the fiscal gap. After the 2016 election, Blankfein told colleagues…that Trump's proposals, including tax reform, 'will be good for growth and, therefore, will be good for our clients and for our firm.'
Hmmm. Aren't Treasury Secretary Steve Mnuchin and Trump's Economic Adviser Gary Cohn both from Goldman?
Dean Baker, co-director of the Center for Economic and Policy Research sees the policy shift clearly: (brackets by the Wrongologist)
They [CEOs] were yelling, Deficits, deficits, deficits… [and] as soon as George W. Bush gets in the White House? Oh, we'll have a big tax cut.
The same thing is happening now. Bloomberg reports that according to Seth Waugh, chairman of wealth adviser Alex. Brown, many in finance have moved on from the debt: (brackets and emphasis by the Wrongologist)
It's not a fun, sexy thing to talk about…Waugh, another Fix the Debt member, recalls playing golf with a private equity executive…Waugh told his friend it would be nice if Congress addressed deficits… [but]…The private equity executive said nobody was talking about that. It was a dead issue, and they should take the good news: Paying less in taxes, the friend reminded him, means getting richer.
It's probably a distant dream. The GOPs plan for tax reform involves using the budget reconciliation process, which allows them to pass it with just 51 votes, that is, without Democrats. Otherwise, they face a filibuster. Reconciliation starts with passing a budget resolution for the coming fiscal year. In that budget resolution, they need to include special budget directives or instructions:
To start the reconciliation process, the House and Senate must agree on a budget resolution that includes "reconciliation directives" for specified committees. Under the Congressional Budget Act, the House and Senate are supposed to adopt a budget resolution each year to establish an overall budget plan and set guidelines for action on spending and revenue.
So they need to pass a budget, but before that, Republicans need to vote to raise the borrowing authority of the government. That may be impossible without support from Democrats.
We'll know very soon if Dems are willing to get on board with Paul Ryan and Mitch McConnell on any of this.
It's Saturday again, and despite the brief three-minute respite from politics brought by the solar eclipse, Trump had another successful week. (If success is his continued destruction of what remains of America's psyche).
We are now in desperate need of something soothing to kick off next week's war for truth. So grab a couple of Trader Joe's Cold Brew Latte Dessert Bars (40 calories and 7 grams of sugar each), put on your best Bluetooth headphones, and listen to the late guitarist John Abercrombie, who died this week. Here is Abercrombie with Dave Holland on bass, and Jack DeJohnette on drums doing "Homecoming" live in 1995. Let's hope it's not the best few minutes of your week:
Pay attention to Abercrombie's remarkable and airy technique.