The Daily Escape: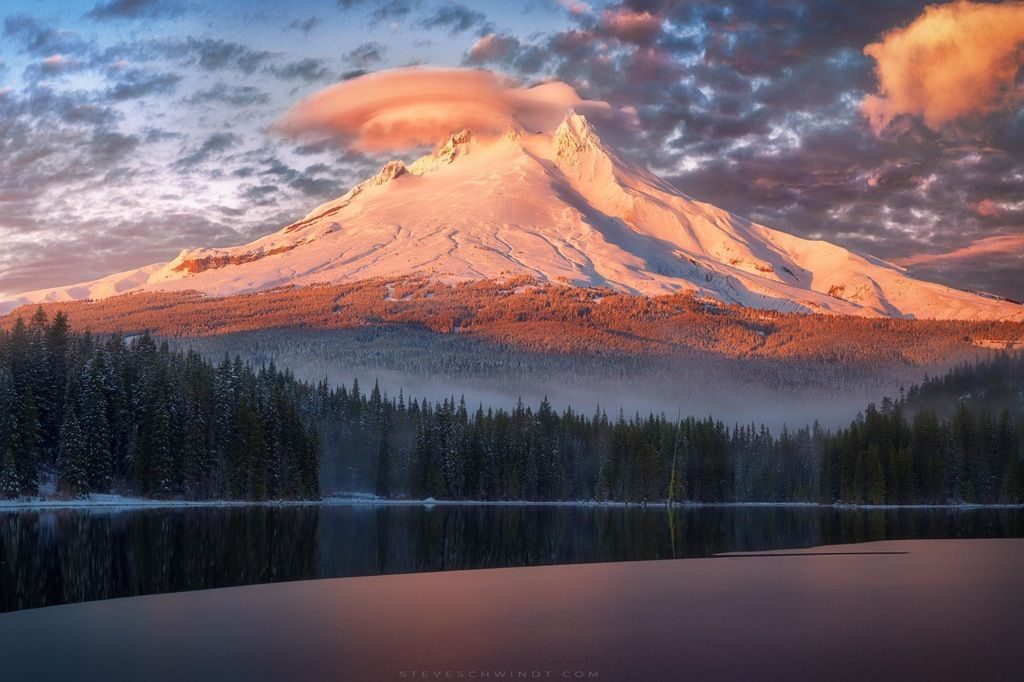 Mt. Hood at sunset as seen from Trillium Lake, OR – photo by Steve Schwindt
We are opening a new front in the Forever War. The WSJ reports:
The Pentagon plans to keep some US forces in Syria indefinitely, even after a war against the Islamic State extremist group formally ends, to take part in what it describes as ongoing counterterrorism operations…
There are approximately 2,000 US troops in Syria, along with an unspecified number of contractors supporting them. Last month, the US withdrew 400 Marines from Syria.
The Pentagon has said the forces will target parts of Syria that aren't fully governed by either Syrian or rebel forces. US defense officials stressed there would be no large, permanent bases in Syria like we maintain in Germany and South Korea. Instead, troops will be assigned to smaller bases and outposts. These small unit forts are usually called Forward Operating Bases (FOB).
The US will now have FOBs in Syria, just like we have in Afghanistan. Anyone familiar with our Afghani FOBs can tell you that this can be a road to defeat. These bases are usually undermanned and difficult to resupply, or defend. We rely on air support to assist when these bases are attacked. That becomes difficult or impossible in bad weather, and if they are attacked with overwhelming force. Time is of the essence, but our jets and helicopters are at best, usually 10-30+ minutes away.
And our decision to remain in Syria is actually worse than that. Turkey, Iran and Russia are already on the ground in Syria, along with Hezbollah and the Syrian army. According to Reuters, CIA Director Pompeo sent a letter to Major General Soleimani of Iran's elite Revolutionary Guards (IRG) warning him not to attack US or Coalition forces in Syria or Iraq. According to Pompeo, Soleimani refused to open the letter.
Elijah J. Magnier, a long-time Middle East analyst, reported that Soleimani replied in a verbal message via Russia to the head of the US forces in Syria, advising him to pull out all US forces, "or the doors of hell will open up":
My message to the US military command: when the battle against ISIS…will end, no American soldier will be tolerated in Syria. I advise you to leave by your own will or you will be forced to it…
Given that many Arabs in the ME are very angry at Trump's Jerusalem declaration, our troops might become tempting targets for pro-Syrian forces on the ground near our FOBs.
As they used to say in English Lit, compare and contrast the Trump administration's message with what Putin is doing in Syria: On Monday, Putin visited Syria to announce that a "significant" number of Russian soldiers are going to be withdrawn.
We are staying indefinitely, and Russia is withdrawing a "significant" portion of their Syrian forces. Everyone knows that Russia will be there indefinitely, but they are staying with the full consent of the Syrian government.
In business, you sign the agreement and put it away. If you have to read it again, generally, you are screwed, and dialing up your lawyers. We had an agreement with the Russians to be in Syria while ISIS was viable. Now, they are largely defeated. We seem to think we can tear up whatever agreement we want, whenever we want to.
We are becoming the party nobody wants to have an agreement with. Here is how our current plan will operate:
We keep our troops in a country where they're not wanted
Since they're not wanted, they will eventually be attacked
Once attacked, we will have to reinforce them, to fight the "terrorists"
Trump is hoping that Iran's reaction to our forces in Syria can be a pretext for an expanded conflict with Iran. Finding common cause with Iran is the key to peace in the Middle East. The US is needlessly fanning the flames of anger and violence. Cooler heads must prevail in Washington to prevent an utter disaster.
We should dismiss General Soleimani's threats, since the last thing Iran wants is war with the US and Israel. If they attack US forces, they risk just that, and they will drag Syria into a new war.
OTOH, our troops will be attacked, and opinions will differ on who conducted the attack.
The Global War on Terror is a fraud that benefits only a few. A lot of money is changing hands. Hundreds of billions of dollars. One group that benefits are the Republicans.
They want to gut Medicare.
But the sacred defense budget must be expanded.