The Daily Escape: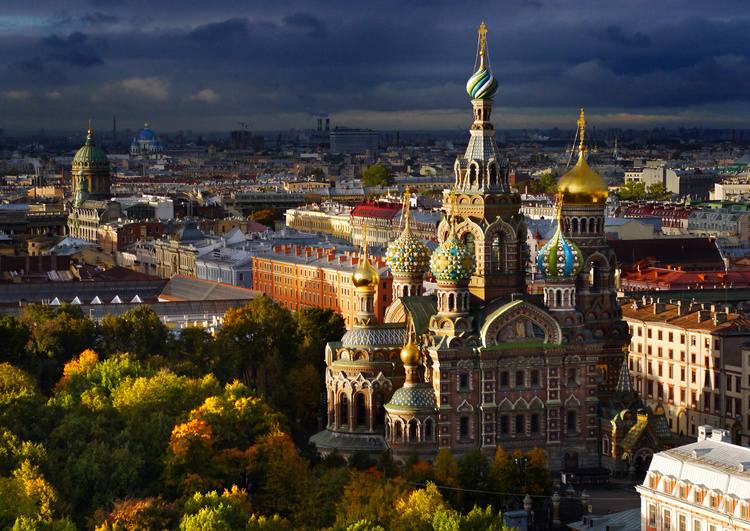 St Petersburg Russia's Church of the Saviour – photo by Amos Chapple
As Wrongo writes this on Friday, it appears that the Senate Republicans have the votes to pass their version of the tax bill. The House passed their version on November 16th. The House Republican's tax bill includes a major shift in tax policy that will mean a hidden tax increase on every American taxpayer over the coming decades. From the Washington Times:
Republican tax-writers have decided to shift the tax code's inflation index from the Consumer Price Index, or CPI, to something known as chained CPI, which is a slower-growing method of calculating cost-of-living increases.
How would this work? The new tax proposal replaces the current CPI, which is based on changes in prices for urban consumers, with the chained CPI. Various estimates show that this method would lower reported inflation by as much as 0.30% a year.
This will create two pocketbook issues for taxpayers. First, using a lower rate of inflation to calculate future tax rates will mean that tax brackets will adjust more slowly than with regular CPI. Therefore, taxpayers will move into higher tax brackets if their income increases faster than chained CPI, paying more in taxes. More from the Washington Times: (emphasis by the Wrongologist)
It works out to taxpayers paying $128 billion more to Uncle Sam than they would otherwise over the next decade, and $500 billion more in the subsequent decade.
Second, chained CPI will change how the government calculates inflation for the purpose of adjusting Social Security payments. CPI is the basis for cost-of-living adjustments that affect many government benefits. If the measure of inflation is reduced, then the increases in Social Security payouts to the public would also be lowered.
This, despite the fact that CPI already tends to under-report price increases. If chained CPI is implemented, Barry Ritholtz says: (emphasis and brackets by the Wrongologist)
It would allow Congress to come up with about half of the funds needed to cover the proposed GOP tax cuts by pushing more people into higher tax brackets and [by]…creating a hidden tax on everyone who will ever get Social Security in the future.
This is based on the long-held Republican idea that "if only we could lower inflation as reported in the consumer price index, we could afford more tax cuts."
And adopting chained CPI will reduce future Social Security payments without America having any sort of honest debate about it. You can compare the two measures of inflation side by side at this Bureau of Labor Statistics page: Chained consumer price index for all urban consumers (C-CPI-U) and the consumer price index.
When Trump was elected, the floodgates were opened. Any old, bad Republican idea is now legitimate.
Assuming that the House and Senate bills are reconciled and a tax bill is passed and signed by Trump, it may well be the worst piece of legislation in a century. It would finally undo the legacy of both FDR and Lyndon Johnson, something that has been a wet dream of the Right for generations. Emboldened by its passage, the GOP will follow it by taking a scythe to much of what remains of the social safety net.  Worse still, since the GOP is doing away with the inheritance tax, Republicans will have ensconced themselves as a permanent, hereditary financial and governing elite.
That will surely make America Great Again.
We have to get up off the couch, and fight for what remains of the New Deal and Great Society programs. This fight will be town-by-town, political office by political office, until progressives can compete in every red state for control of its legislature and governorship.
It's another Saturday, the end of a long week in which it became clear that the country is approaching a cliff. We need some inspiration. So we turn to Meghan Markle.
Wrongo hadn't heard of Meghan Markle until her engagement to the guy who is 6th in the line of succession to the throne in England, splashed across the news. But, it turns out she is an intelligent, independent person with agency. Markle was named the UN's Woman's Advocate for Political Participation and Leadership in 2015. Here she is speaking about advocacy at the 2015 UN Women conference. It's a winning and inspiring performance, and, while it's a sample of one, it shows that Millennials are gonna do a fine job with the planet:
Those who read the Wrongologist in email can view the video here.