The Daily Escape: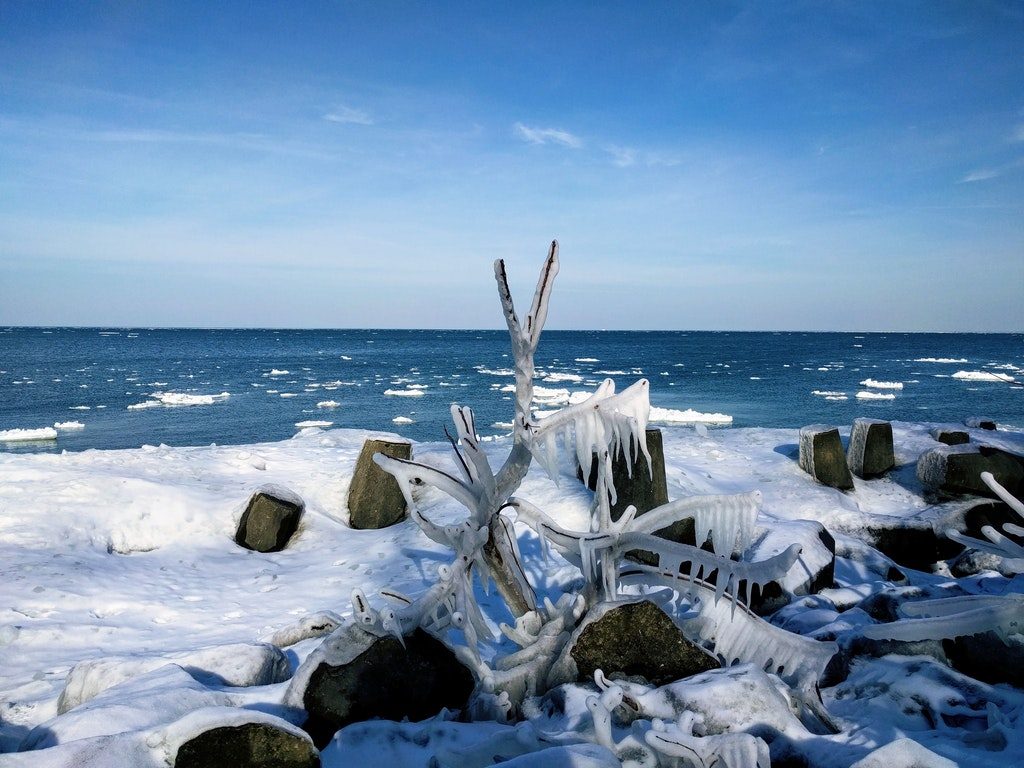 Frozen branch in Lake Erie, Cleveland OH – 2018 photo by Igorius
The Democrats' demand of passage of DACA legislation, or they would block a Continuing Resolution (CR) to keep the government open, lasted 72 hours. No DACA legislation was passed, but Dems are touting a Republican promise of debate about DACA over the next three weeks.
That promise comes from Mitch McConnell, the guy who stole Merrick Garland's Supreme Court seat, and got away with it.
Wrongo believed that dying on DACA hill was a bad political choice for Democrats. After all, there are 700,000 Dreamers, but 320 million Americans would be affected by a government shutdown. Their negotiating position shows how weak the Dems are today.
Those Dems who say that capitulation on the CR was worth it to secure the Children's Health Insurance Program (CHIP) funding for six years, should remember that the CR runs out in three weeks. Then it will be up for discussion again.
So from the Dems viewpoint, if by February 8th, the Republicans have not dealt with DACA, the Dems can shut the government down again, this time using the narrative that Mitch McConnell is a liar, and that they gave Republicans a chance to fix the problem. Unfortunately, McConnell has been called a liar before.
But if February 8 comes, and Democratic Senators back off on another confrontation to protect the Dreamers, that will not only be terrible for Dreamers, it's terrible for Democrats. They have a few weeks to pressure Republicans to get this done.
OTOH, it is difficult to see why Republicans would do anything different. Paul Ryan and Mitch McConnell will use these three weeks to tighten the screws, and finish the job. That would start with McConnell taking the House's already passed Securing America's Future Act (SAF) to a vote.
Once Senate Dems say "no" to that, McConnell can say "Well, we put a DACA bill on the table, and the Dems rejected it. I lived up to my promise." There will be some tinkering by middle-of-the-road Dems around the edges of the SAF bill. Then it will be attached to the CR. How long do you think it will be before 10+ Dems cave, and pass it?
Fault lines exist. A dozen Senate Democrats broke with party leaders to vote against the bill, including a number of potential presidential candidates, a sign they knew exactly where their base is, even if the leadership doesn't.
Democrats need to use their time in the minority to remake the Party. They should pursue and deliver programs that offer real benefits for middle and working class voters. They need a plan to deal with income inequality. Fundamental questions about what being a Democrat means in the 21st Century must be addressed.
FDR provides a great example for today's Democrats. In the 1930s, FDR responded to a financial crisis with bold, creative policies that delivered massive, tangible benefits to working people. Because of what FDR did, the Republicans were forced to go in his direction to stay politically competitive. Republicans began to promise that they could improve the programs they once opposed.
Here is what Roosevelt said in a speech about Republicans at the time:
Let me warn you, and let me warn the nation, against the smooth evasion that says 'Of course we believe these things. We believe in social security. We believe in work for the unemployed. We believe in saving homes. Cross our hearts and hope to die. 'We believe in all these things. But we do not like the way that the present administration is doing them. Just turn them over to us. We will do all of them, we will do more of them, we will do them better and, most important of all, the doing of them will not cost anybody anything'
In the post-war period, the Republican Party looked more like Dwight Eisenhower than like Ronald Reagan.
And today, Democrats must emulate FDR: Move Republicans to the left, not move the Dems further to the right. This isn't about finding someone to create an Obama third term. Democrats shouldn't prioritize getting rid of a bad president, they need to build a serious alternative to Republican ideology.
The Democratic Party has failed many times to produce a political strategy which would force the Republican Party to change direction. And they look like they may fail once again. The Democratic leadership believes that the party needs to unify at all costs to present the strongest possible electoral challenge to Trump in 2020.
It's counter-intuitive, but to secure a future Democratic majority, Dems must first decide to be a party with a plan that addresses income inequality.
They can knock out Trump without moving to the right.



Category:
2016 Election
,
Abandonment of Middle Class
,
Congress
,
Corporate Welfare
,
Daily Escape
,
Democrats Disfunction
,
Economic Policy
,
Employment
,
Health Policy
,
History
,
Immigration Policy
,
Inequality
,
Political Gridlock
,
Political Power of Women
,
Tax Policy
,
The Presidency