The Daily Escape: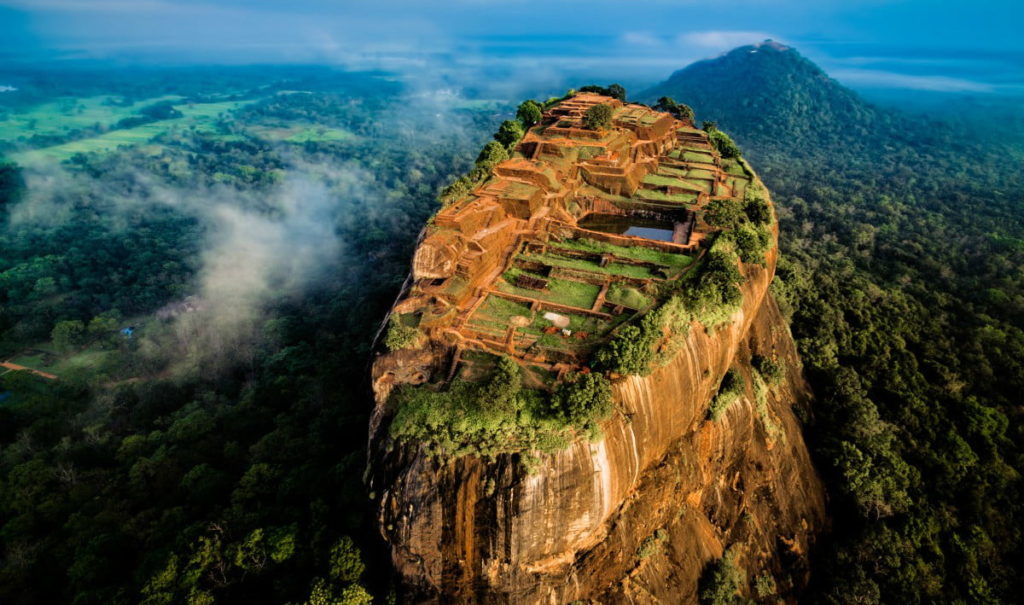 Sigiriya, Sri Lanka – photo by jcourtial for dronestagram. Sigiriya is an ancient rock fortress. The site was the palace for King Kasyapa (477 – 495 BC). It is a UNESCO World Heritage Site.
We live in a seemingly endless loop of outrage. Nothing ever changes, because we waste energy on the "what-about?" arguments from both sides, each attempting to reframe the issue to their side's advantage. These discussions yield nothing, and solutions are never agreed. This adds to a generalized feeling of powerlessness: The view that everything that is important is out of our hands, and insoluble.
So it is with school shootings, with protecting the DACA kids. And with whatever Russiagate is.
At least the Mueller investigation will run its course. We have to hope that the results will be made public. But if they are released, it will only lead to more debate and disagreement. Until then, we'll continue to gleefully argue our respective Russiagate viewpoints in a fact-free vacuum.
We have experienced hysterical political times before, but they tended to be single issue events. Has there ever been a time when so many people in both political parties have been so single-mindedly determined to whip up anger?
When we're looking at just a single issue, one side or the other often simply runs out of steam. Then the issue can be resolved both in Washington and in the mind of the public.
When we experience multiple issues simultaneously, the available energy is expended across the entire spectrum of problems. Thus, there isn't enough energy to direct successfully at a single issue. So nothing is resolved.
This is where we are in February 2018, in a kind of nervous exhaustion: Too many issues and too few resolutions.
Can something, or someone unite us? Will a big event allow a majority to coalesce around a point of view, or a leader?
History shows that when we are in the grip of anxiety, it can be a relief if something we fear actually happens. Think about when Japan bombed Pearl Harbor. It was widely reported that the response of the public, including anti-war activists, was relief. There was a feeling that at last a course had been set, a key decision made. FDR united the disparate groups behind a war.
While the same situation doesn't quite apply today, we crave some sort of decisions, perhaps some sort of decisive act. What would that be? It isn't possible to see from where we are today.
As John Edwards said, there are two Americas. The one that sends their children to private schools, and the second one that sends their children to public schools. The second group has the kids who get shot by the gunmen. And politicians get away with platitudes about their thoughts and prayers.
Unfortunately, they then decide that fixing the problem is not worth their time.
We may have reached a breaking point. Shitty jobs, shitty pay, shitty hours, and little hope of advancement. No easy access to medical care, an uneven social safety net. Wrongo lived through the chaotic 1960's. He endured Reagan's show-no-mercy 1980's. Those were bad times.
But, in a lot of ways, 2018 is worse. Today, there is an immense lack of mutual respect. And there is a ubiquitous atmosphere of a powerless people.
Wow, who said all that??
We desperately need a weekend where we can unplug from the media and focus on other things. In other words, we need a Saturday soother. Start by brewing up a big cuppa Stumptown Coffee's Holler Mountain Blend, ($16/12oz.) The Stumptown people promise flavors of blackberry, citrus and toffee in a creamy, full body. Your mileage may vary.
Now, get in your favorite chair and listen to some, or all of the musical score from the film "Dunkirk". Both the score and the film are Oscar-nominated. The film's director Christopher Nolan suggested to the musical director Hans Zimmer, that they use Elgar's "Nimrod" from the 1898-99 "Enigma Variations" as part of the theme. They decided that the movie's music should be about time, and how for the men on the beaches, time was running out. They picked the "Enigma Variations" because it's part of English culture, less a national anthem than an emotional anthem for the nation. Along the way, consistent with using time, they slowed it down to 6 beats per minute. Listen to their version from the movie:
Those who read the Wrongologist in email can view the video here.



Category:
2016 Election
,
Abandonment of Middle Class
,
Anger in Politics
,
Congress
,
Daily Escape
,
Dickitude
,
Distrust of Government
,
Guns in America
,
Immigration Policy
,
Inequality
,
Infrastructure
,
Playlist
,
Political Gridlock
,
Politics of Fear
,
Russia Investigation
,
Second Amendment Absolutism
,
Social Safety Net
,
Society
,
Trust of Government