Raul Ilargi of The Automatic Earth gets us thinking about truth in journalism:
The two most viral photographs of the 'Trump Separation Scandal' have now been debunked, or at the very least been proven to have been used 'out of context'. This is a dangerous development, as are the reasons to use them the way they have been. Both pictures are of children who had not been separated from their mothers at all. But both were used to depict just that: a child being taken away from its mother.
Here are the two pictures. The first shows a Honduran toddler sobbing. The photo was taken on June 14th.  It was used widely by the media, with the accompanying message that the child was about to be separated from its mother: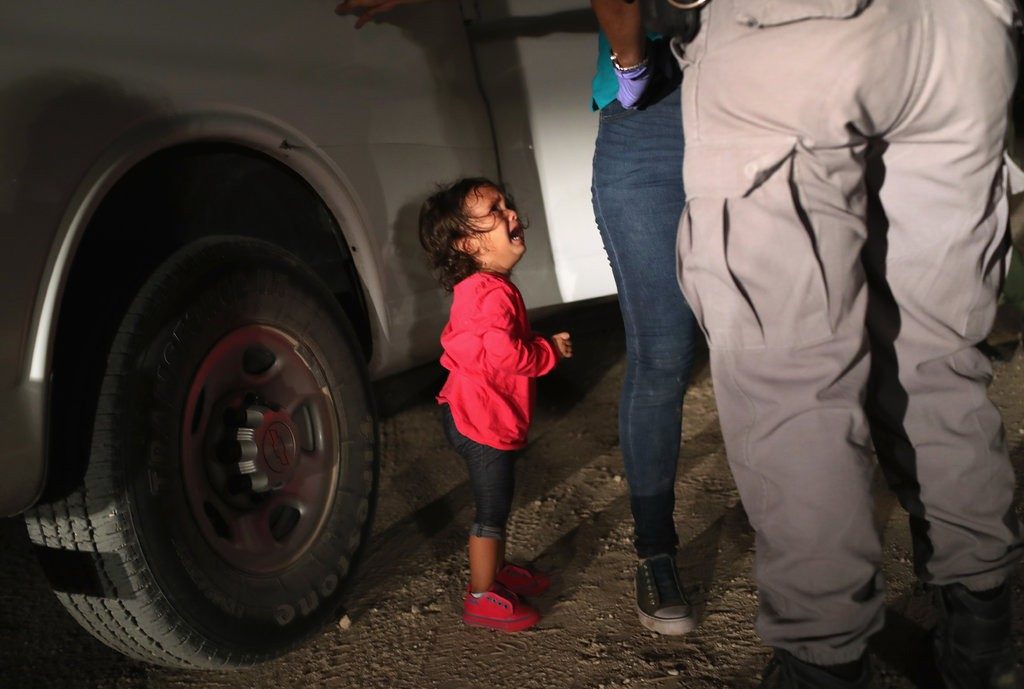 But the NYT reports the child was not separated from her mother. That was reported on June 23rd. Pro-Trump news outlets have had a fine time calling the photo fake news. And the same photo was photoshopped by Time Magazine for a cover that used the little girl juxtaposed with Donald Trump looming over her, with the caption, "Welcome to America":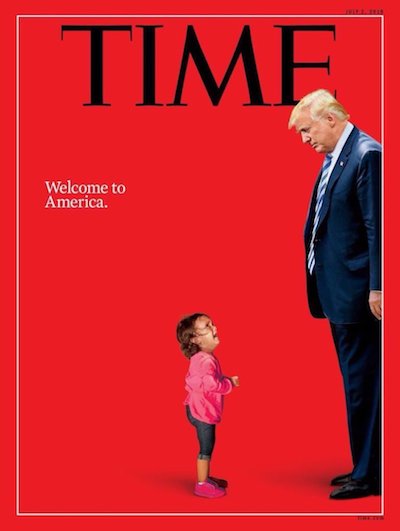 Now, Time may not have known the true status of the child at the time when they made the choice to place her on the cover with Trump, but they're absolutely ok with using it. The NYT quotes them:
Our cover and our reporting capture the stakes of this moment.
But, there is a major difference between illustrating a moment, and reporting. A Facebook funds-raising page using the original photo above inspired hundreds of thousands of people to donate $19 million for a nonprofit legal defense fund for immigrants and refugees.
Is that a good outcome from bad reporting? If people are interested in donating, why trick them into doing it? Back to Ilargi:
That's what is dangerous: seeing a photo of a child in distress makes people halt their critical thinking. That's also why such photos are used. They help build a narrative that doesn't have to be factual to shock people. But at that point TIME becomes a fiction magazine; it's where it leaves journalism behind.
There also was a picture of a caged little boy crying, "Detained by ICE at a border facility" said the caption: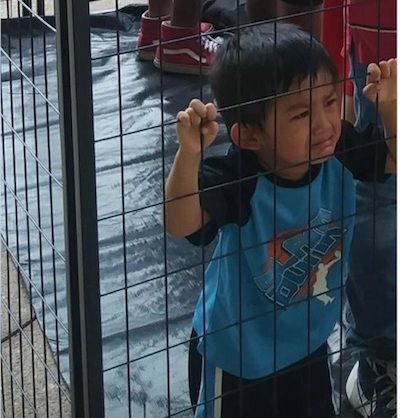 But the image of the crying, caged young boy, which went viral, was actually taken at a demonstration. RT reports that this photo was shared by activist journalist Jose Antonio Vargas as a comment on the Trump administration's immigration crackdown on families. More from RT:
It has since emerged that the picture was in fact not from a detention facility at all, and instead was taken at a protest against Trump's immigration policies held on June 10 outside Dallas City Hall.
Some activists argue that the origin of the photo is irrelevant, that it portrays a true problem, even if this particular image is not a true representation of the facts on the ground.
But we're on a slippery slope with that reasoning. We shouldn't be using any available means to message against even a wrong policy.
What's dangerous about this approach is that if journalists are allowed to spread a narrative that isn't confirmed as true, they may be "reporting" unsourced stories simply to make a point. Then, no one will ever know fact from fiction.
This is the downside of instant, global communications. The narrative can outrun the truth, the myth can become fact. Since social media compensation is often tied to "clicks" on an article, publishers and editors have a conflict of interest: sell the truth, or sell the narrative?
Children are being taken from parents at US borders, and Trump's policy needs a healthy debate. But playing loose with the facts cannot be permitted by the media.
Time for the media to wake up! It helps no one if the charge "Fake News" is true. To help them wake up, here is Billy Bragg doing "It Says Here" from his 1984 album "Brewing Up with Billy Bragg":
Sample Lyrics:
It says here that the Unions will never learn
It says here that the economy is on the upturn
And it says here we should be proud
That we are free
And our free press reflects our democracy
If this does not reflect your view you should understand
That those who own the papers also own this land
Those who read the Wrongologist in email can view the video here.