The Daily Escape: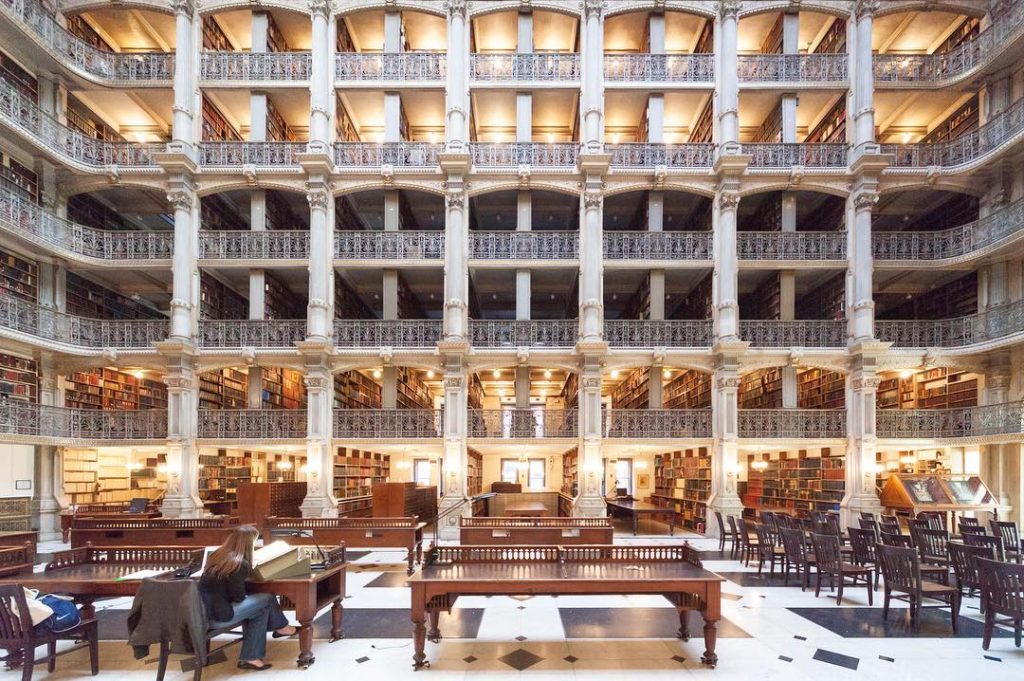 George Peabody Library, Baltimore MD – via themindcircle
The immigration issue confounds all the developed countries. People who yearn for a better life hit the road (trail), and try to resettle in a better place. That's ingrained in human nature, and is unlikely to change. The US has its illegal immigration problems, as does Europe. It is hard to reconcile branding the US as the "shining city on the hill" and then wall America off when people are seduced by the image.
In order to plan for our future, we have to look carefully at forecasts of long term population growth in Central and South America. That's where the pressure by illegal immigration will most likely come. If you would like some professional immigration law help then you may be interested in Frost Law Group, LLC, which can help you with any legal problems you may have.
According to Worldometers, the current population of Central America is 179.5 million, and it is forecasted to reach 231.6 million by 2050. That means it will be growing at an annual rate of less than .5% by then, down from about 1.3% today. The census bureau forecasts that the US population in 2050 will be 388.4 million.
Importantly, the census bureau says that in 2050, the foreign-born Hispanic origin population will be 6.89% of our total population, up from 6.08% in 2016. If they are correct, we are tearing ourselves apart about what will be an increase of Hispanic origin population of about .8%.
For what it's worth, the foreign-born white population will grow from 7.91% in 2016 to 9.28% in 2050. It's growing faster and will be larger than the Hispanic foreign-born population.
All the talk that the majority in the country in 2050 will be minorities is true. However, Whites will still be 47.83% of the population, while Hispanics will be substantially smaller at 25.66%.
We already know that Hispanic immigration isn't driving the Hispanic percentage of the total, so what problem are we trying to solve? Also, arrests of illegal immigrants at the Southern Border are down significantly in the past couple years. From the WaPo: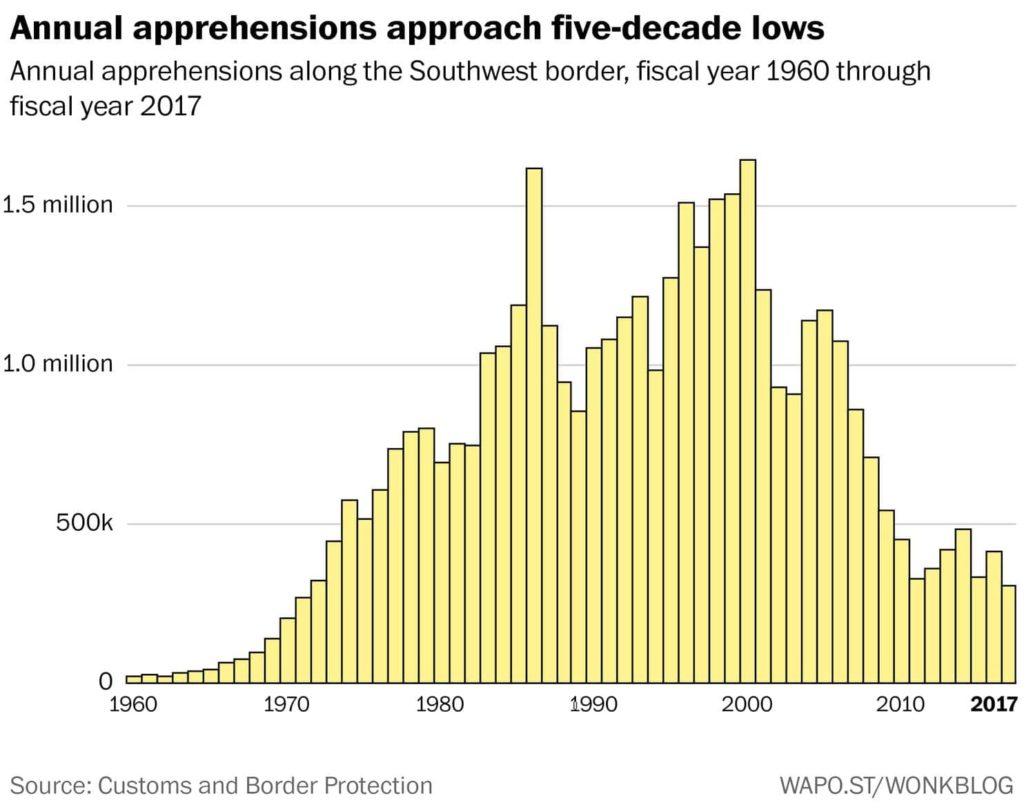 But, it appears that the political fallout in 2018 could be immense. Trump paints a picture of societal disintegration if we allow illegal immigrants into the country. He says that Democrats want open borders:
What we have is very simple: We want strong borders, and we want no crime. Strong borders, we want no crime. The Democrats want open borders, and they don't care about crime, and they don't care about our military. I care about our military. That's what we want, and that's what we're going to get, and we're going to get it sooner than people think.
His message is that outsiders sap our strength, they'll take our jobs, and exploit the freedom and openness of America. Trump is playing politics with people's lives, and that's both cruel and immoral. There should be no doubt about his playing politics. He said so in a White House meeting last Friday, as reported by the NYT: (emphasis by Wrongo)
…One person close to the president said that he told advisers that separating families at the border was the best deterrent to illegal immigration and that he said that "my people love it."
Trump is ginning up the same paranoia about 'the other' that is prevalent all over Europe. So far, the GOP has allowed this to happen because in the background, they're making gains in their overall political agenda, and polls show that the Democrat's 2018 advantage is narrowing.
We need to take a longer view about immigration, both legal and illegal. We can help to make a positive change to someone's life, just like countries from all around the world can do, as this could be considered to be a global crisis. Many people face the trials and tribulations that immigration can bring on a daily basis, but it can be made easier if they decide to find an immigration solicitor here, to offer help and guidance when it comes to overcoming the challenges they could face before being reunited with their family in their chosen country. Congress has to exercise its law-making prerogative over the migrant issue. We need to stop governance by tweet and executive order.
We shouldn't forget that we are a vast country, with vast resources. We have been defined by migration, wave after wave of it. Despite the current chaos on the Southern Border, we have the resources to process migrants efficiently. We simply need lawmakers with the courage to see the problem for what it is.
Let's leave the final word to Bobby Cramer:
Long after we've forgotten about what jacket Melania Trump wore, where Sara Huckabee Sanders ate dinner, and all the little "oh-look-at-the-kitty" distractions have come and gone, we're going to be left with the clean-up that comes after a disaster. No matter where those refugees end up, we will still be confronting not only what was done to them in the real sense, but also the cost to our nation in terms of being able to set an example of morality and democracy for the rest of our civilization.
We are blending chaos with callousness. What's the fix?