The Daily Escape: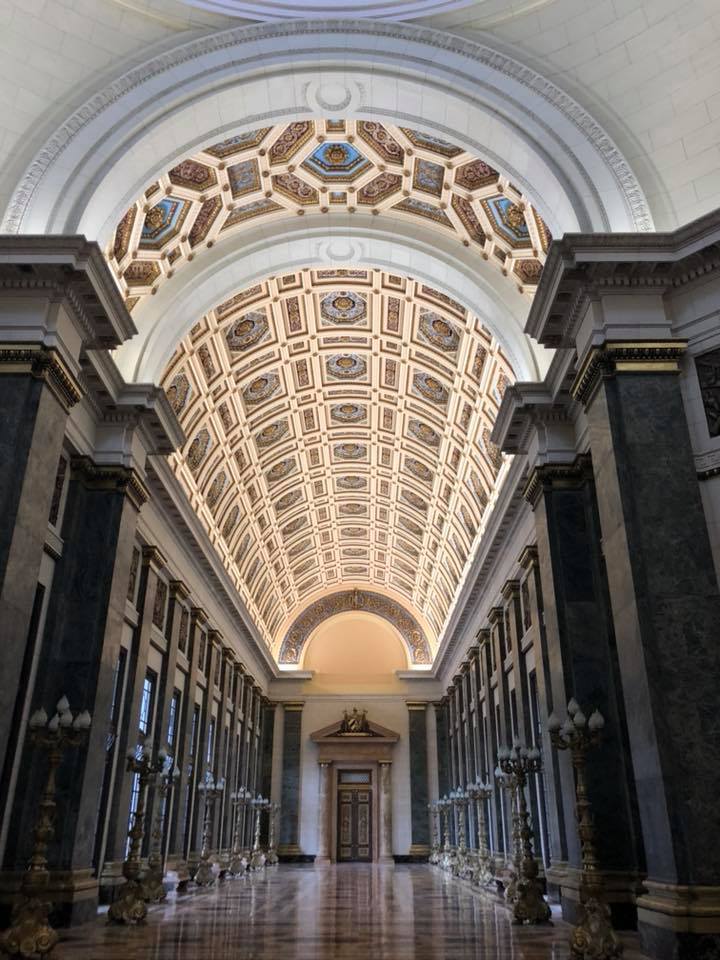 Interior, Cuba's Capitol Building, Havana – 2018 photo by Conor Morrissey
Two things to address on Monday. Take a look inside the program that separates the families of asylum seekers. The WaPo reports that:
A Honduran father separated from his wife and child suffered a breakdown at a Texas jail and killed himself in a padded cell last month, according to Border Patrol agents and an incident report filed by sheriff's deputies.
The death of 39 year-old Marco Antonio Muñoz, had not been publicly disclosed by the DHS, and did not appear in any local news accounts. Muñoz was found on the floor of his cell May 13 in a pool of blood with an item of clothing twisted around his neck:
According to Border Patrol agents…Muñoz crossed the Rio Grande with his wife and three-year-old son on May 12 near the tiny town of Granjeno, Texas. The area is a popular crossing point for Central American families and teenagers who turn themselves in to apply for asylum in the United States.

Soon after Muñoz and his family were taken into custody, they arrived at a processing station in nearby McAllen and said they wanted to apply for asylum. Border Patrol agents told the family they would be separated. That's when Muñoz "lost it," according to one agent…
Unruly detainees are taken to local jails where they can be placed in more secure settings or isolation cells. Border Patrol agents found a vacant cell for Muñoz 40 miles away at the Starr County Jail in Rio Grande City. Muñoz was booked into the jail at 9:40 pm. He remained combative, and was placed in a padded isolation cell. Guards said they checked on Muñoz every 30 minutes, and observed him praying in a corner of his cell the following morning.
A guard who walked by the cell at 9:50 am said he noticed Muñoz laying in the center of the floor, unresponsive and without a pulse. Local sheriff's deputies recorded the incident as a "suicide in custody." But the capper is this remark by an ICE agent: (emphasis by Wrongo)
Another agent familiar with what happened said he couldn't understand why Muñoz "would choose to separate himself from his family forever" by taking his own life.
This asshole's salary is paid by you and me! It's time we see these agents for who they really are.
Second, last week the DOJ filed a brief urging a Texas court to invalidate the Affordable Care Act's crucial insurance reforms, including the prohibition on refusing to cover people with preexisting conditions. In their complaint, states (including Texas and other red states) point out that since Congress has repealed the penalty for going without insurance, the freestanding requirement to get insurance, which is still on the books, is therefore unconstitutional. And because it's unconstitutional, the courts must invalidate the entire ACA. From the Incidental Economist:
There's a strong argument to be made in the ACA's defense. And the Justice Department has had a durable, longstanding, bipartisan commitment to defending the law when non-frivolous arguments can be made in its defense.
If the Justice Department can just throw in the towel whenever a law is challenged in court, it can effectively pick and choose which laws should remain on the books. That's a flagrant violation of the President's constitutional duty to take care that the laws are faithfully executed. More:
The President has a duty to take care that all the laws are executed, not just the ones he likes. And while there are cases in which the Justice Department has deviated from that principle, they are extremely rare.
The Trump administration has just announced that it doesn't care that a law was passed by Congress and signed into law by the President. All that matters is that it hates the law and has a (weak) argument for casting it aside.
Time to wake up America! There is a revolution underway, and we're being fed the elephant of authoritarianism one little slice at a time. This time, the revolution is televised every day, but we're not connecting the dots quickly enough.
To help America wake up, here is Iris DeMent with "Living in the Wasteland of the Free", from her 1996 album, "The Way I Should":
This song is 22 years old, but still rings true. Iris says: "The poor have now become the enemy" and "Let's blame our troubles on the weak ones".
Today, both are true, and are simply sickening.
Those who read the Wrongologist in email can view the video here.