The Daily Escape: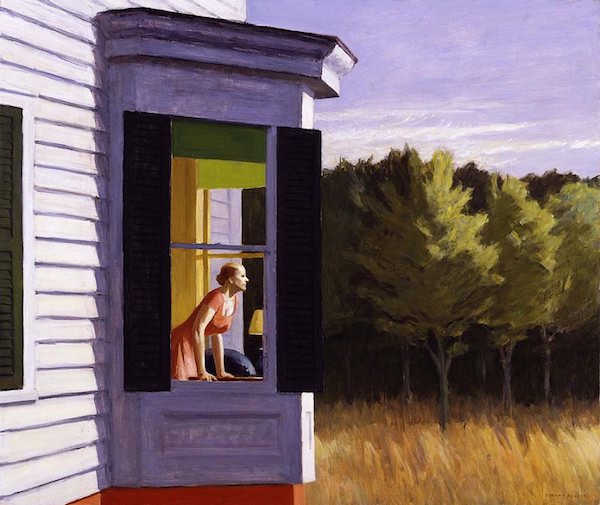 Cape Cod morning – 1950 painting by Edward Hopper
(Today, Wrongo and Ms. Right are on our way to Cape Cod for a few days of bonfires, bicycling, surfcasting, and hanging with kids and grandkids. Blogging will be infrequent, but you can expect a Saturday Soother on, well, Saturday.)
This morning, Wrongo feels the need to bore you with a concept from historian Peter Turchin, taken from his book Ages of Discord, which provides some insight into where America is today. Turchin posits that historical eras are either integrative periods when people find reasons to cooperate, and join forces, or disintegrative periods, when reasons to split apart become dominant.
Turchin identifies three key factors that can create the disintegrative periods:
Competition and conflict among an expanding population of elites
Declining real wage for an expanding population of workers
State financial collapse (unpayable debt)
Does any of that sound familiar? Turchin's theory is that history experiences cycles which, in non-industrialized economies, tend to last between 200-300 years. In America, the cycles from start to finish are much shorter, about 150 years, due to a faster pace of change.
His demonstrates his theory about a positive phase (the integrative phase) and a negative phase (the disintegrative phase) in the first of two American cycles, from 1780 to 1920. The positive phase lasted from about 1780 to about 1840, while the negative phase lasted from about 1840 to about 1920. Turchin contends that the second American cycle began in 1920, and is not yet complete. The positive phase lasted from 1920 to around 1970, and the negative stage has lasted from 1970 to the present.
He contends that the best parts of positive eras typically last only a generation or two, such as 1810 – 1840, and 1940 – 1970 in the US, before elite individuals and groups abandon consensus politics to pursue ever harsher exploitation and competition to enrich themselves.
A cycle begins with an undersupply of labor, such as happened after the American Revolution. This shortage of labor caused a rise in real wages and general economic progress. This positive phase peaked around 1820. It was a time that reflected a sense of national purpose and a desire for unity among Americans in the aftermath of the War of 1812.
But the division between the industrial North and the slaveholding, agrarian South continued, creating rivalry among the elites, along with political polarization, culminating in the Civil War. The negative phase of the cycle continued afterward, with massive strikes, many of them violent, in the late 19th Century. Meanwhile, income inequality peaked during the Gilded Age as elites profited from low worker's wages and poor working conditions.
In modern America, we are largely governed by religious, geographic (local, state and federal), and economic institutions. And many compete with each other for resources, and the separation of powers among them is becoming hazy. Today, our "economic" government is the corporation.
If you think about it, our current political struggles are between geographic governments and both the religious and economic ones. Republicans, and many Democrats, support the efforts of both to increase their influence over the lives of the people, often through the geographic governments.
And this isn't simply a minor change in who is doing the governing, they threaten our democracy.
We're blowing up our institutions, but it's not in reaction to any looming danger. It's because we've been conned into thinking that September 11 was the same as Pearl Harbor. And the threat of immigrants today is the same as the threat of a Japanese invasion was in 1941. And that modern social policies threaten the religions of some people.
Time to wake up America! We cannot surrender to fear, to corporatism, or to forever war. We have entered a disintegrative phase, but there is time to pull out of it.
If you care.
To help you wake up, here is Pink Floyd with "Ordinary Men" from their classic album, "Dark Side of the Moon":
 Those who read the Wrongologist in email can view the video here.



Category:
2016 Election
,
Abandonment of Middle Class
,
Anger in Politics
,
Civil Rights
,
Congress
,
Corporatism
,
Culture Wars
,
Daily Escape
,
Dickitude
,
Domestic Policy
,
First Amendment Freedoms
,
History
,
Immigration
,
Inequality
,
Military Spending
,
Monday Wake Up Call
,
National Debt
,
Neo-Facism
,
Playlist