The Daily Escape: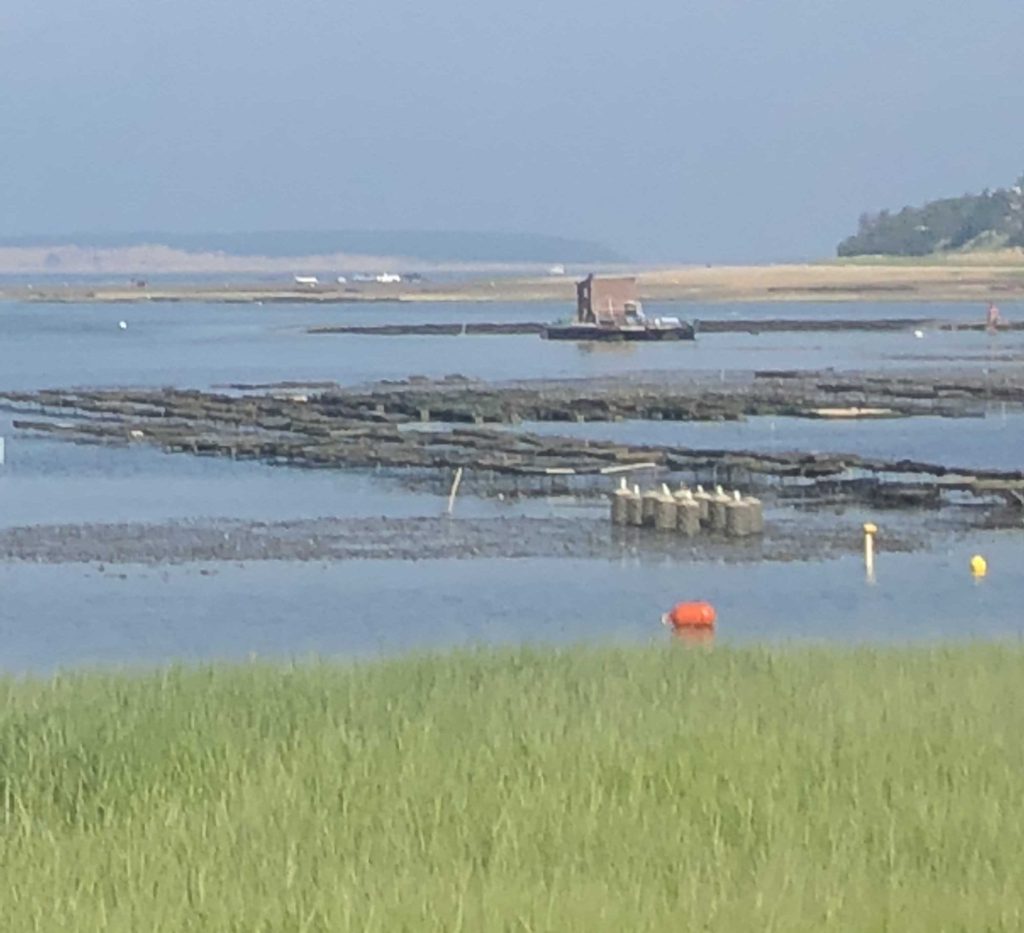 Wellfleet MA Oyster Farm – 2018 photo by Erin O'Shea Oakes
Today, we spent a couple of hours with Bob Wallace, proprietor of Billingsgate Shellfish, an oyster and clam "farm" in Wellfleet. We had a dozen of Bob's oysters at C-Shore restaurant in Wellfleet the night before, and wanted to see his work up close, so Chef Bob introduced us to Oysterman Bob.
Bob leased about 5 acres of tidal salt marsh from the town of Wellfleet in 1983. He was the original farmer of Wellfleet oysters, but now, as the popularity of these tasty bivalves has grown, he has substantial competition, with many others leasing grants all around him.
The enormous tidal flow in Wellfleet Bay is part of what makes its oysters so tasty. We were able to walk out to the farm in very shallow water, which became sand in less than an hour. But we knew that in a few hours, the sand we were standing on would be under five+ feet of water.
Its backbreaking work. The oysters and clams are moved from patch to patch at least annually as they grow. Bob has big clients in NYC, and many on Cape Cod and around New England. On Tuesday, he had to harvest, clean, bag and ship 2,000 oysters, and he had just one person helping, so his time was precious.
Thanks Bob, for spending time educating us!
We should remember that 155 years ago yesterday, the Union won at Gettysburg. On July 3, 1863, the three-day Civil War Battle of Gettysburg, PA ended in a major victory for the North, when Confederate troops failed to breach Union positions during Pickett's Charge, their all-out assault that resulted in horrific losses.
And on July 4th, Ulysses S. Grant crossed the Mississippi River and drove into the Confederate Army's defensive lines surrounding the fortress city of Vicksburg, Mississippi. Vicksburg was the last major Confederate stronghold on the Mississippi, and capturing it significantly degraded the Confederacy's ability to maintain its war effort.
And also on July 3rd, in 1775, 243 years ago, Gen. George Washington took command of the Continental Army at Cambridge, Massachusetts.
That all worked out pretty well for the US. Happy 4th, but have more than a burger, or hot dog and a beer…
Think about our history, and how it makes us who we are today.