The Daily Escape: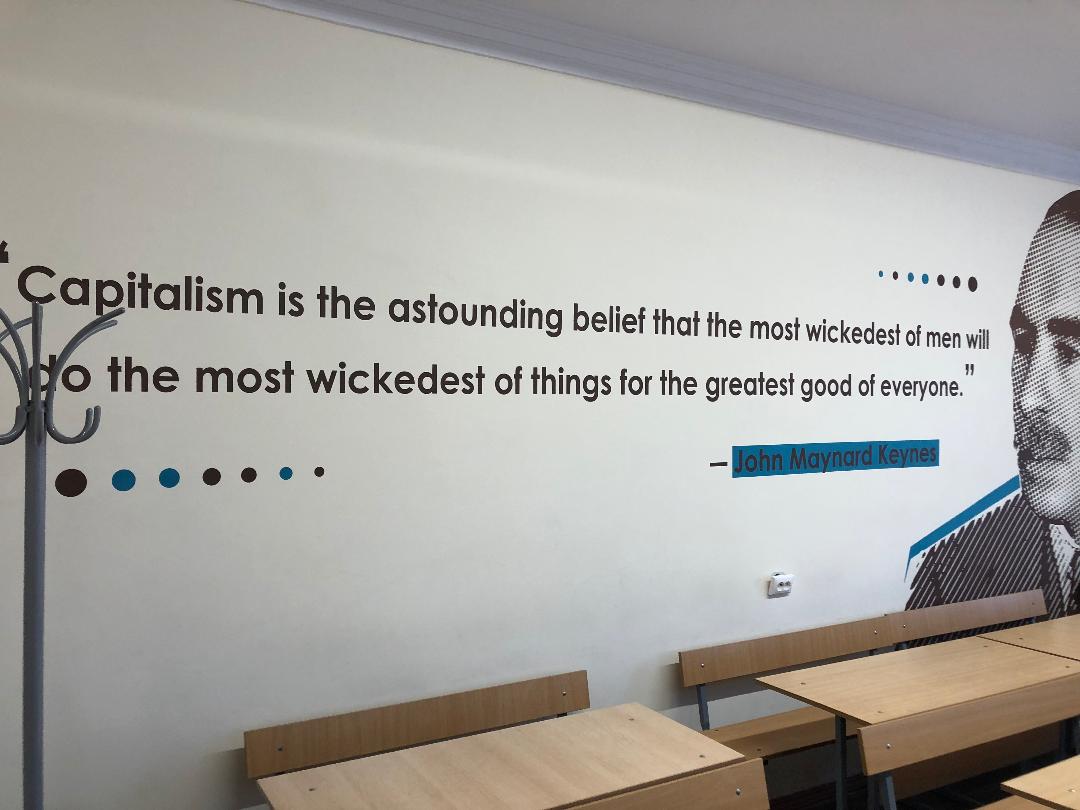 Quote by John Maynard Keynes posted on the wall at the School of Economics, St. Petersburg State University, Russia – 2018 photo by Conor Morrissey
Welcome to the weekend. US GDP hit 4.1% for the second quarter of 2018. Trump was out there on Friday saying that the economic winning has only just begun, and that it's due to the GOP tax cuts, and his moves to impose tariffs on our trading partners. He neglects to mention this year's $1 trillion budget deficit that he and the GOP created. That's what's fueling our current growth, and it won't last.
Speaking of tariffs, NPR reports that US ham and other pork products now face very high Chinese tariffs of between 62% and 70% after retaliatory tariffs by China. What happened next shouldn't be surprising:
In recent weeks, the US Department of Agriculture has reported zero weekly export sales of pork to China….So our exports to the country have pretty much collapsed.
Does this mean cheaper bacon for America? As we have heard, "Trade wars are good and easy to win". Apparently, the Stable Genius can bring home the bacon, but he can't sell it abroad. Thoughts and prayers to all the pork producers who got conned.
US farm subsidies were about $23 billion last year. A year ago, the Trump administration proposed a $4.8 billion cut to that. Now he's increasing the subsidy by a one-time $12 billion to make up for the effects of his tariffs.
OTOH, in the EU, farm subsidies for the 2021-2027 period are scheduled to be reduced by five percent to $420 billion. Maybe there will be some additional winning for our farmers, assuming we can export more to the EU. But the US isn't above criticism: US dairy producers now have a whopping 1.39 billion-pound surplus of cheese; 4.6 pounds per American. Wrongo is doing his part to cut into the surplus, what about the rest of you?
And at the same time there is overproduction, there's growing risk to our health due to overuse of antibiotics on dairy farms. America shouldn't give up its food security and become dependent on other countries, but it's time for clear(er) thinking about our agricultural policy.
The big news on Thursday night was that Trump's former attorney, Michael Cohen, is now saying that Trump knew beforehand about the June 2016 meeting between his top campaign staff, his son and Russians promising dirt on Hillary Clinton. If true, it would add a lot to a case of Trump obstructing justice.
We'll see if Mueller ever makes a case in the court of justice, vs. only in the court of public opinion.
Are you fed up yet with being told "what you're seeing and what you're reading is not what's happening"? Or having Trump say that Putin is a good guy? Or, that North Korea is no longer a threat, that Canada is our enemy? Or, that some black football players hate America? Or, that immigrants are ruining everything? That our allies are out to get us, and there was no collusion!?
This takes Wrongo back to Cohen. Maybe he has the lead-up to the June meeting on tape as well.
In any event, we've closed the book on another hard week. Time to kick back, get soothed, and stare vacantly at all of the yard work we aren't getting around to doing.
To help you relax, let's open a cup of Martinez, California's States Coffee & Mercantile's new Reserve Cold Brew ($12/24oz. bottle). It is brewed from Tanzania beans, and is a ready-to-drink bottled black coffee. The brewer says it is richly sweet, with an umami undercurrent, and that adding whole milk mediates the umami impression, while amplifying the chocolate and spicy floral notes.
Wrongo says, go for it! Add ice and milk, and chug a couple to get your day started.
Now, settle back and listen to Ana Vidovic playing "La Catedral" by Agustín Barrios Mangoré on solo guitar. Mangoré, who died in 1944, was a Paraguayan virtuoso guitarist and composer, regarded as one of the greatest performers on the guitar. "La Catedral" is considered one of the most colorful, and difficult, works in the guitar repertoire. It is Barrios' tribute to Bach:
Those who read the Wrongologist in email can view the video here.