The Daily Escape: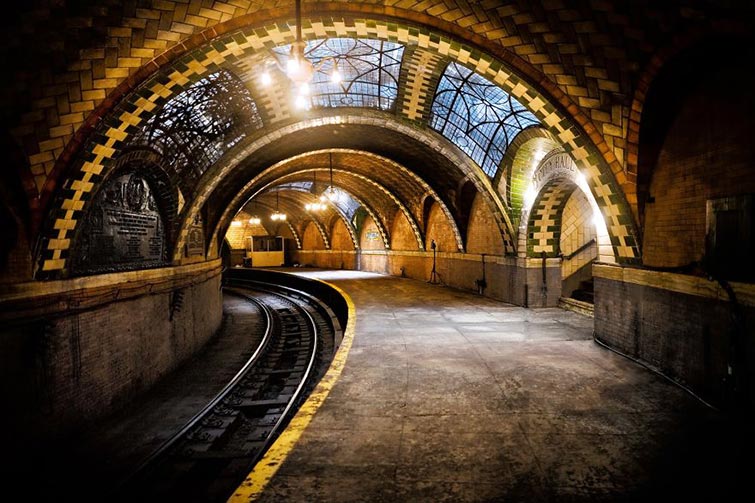 City Hall Subway Station, NYC – via @themindcircle
We live in disorienting times. Disorienting in that our society, and our values, are in motion. We are no longer anchored by social mores, beliefs, or any shared vision of the future. Our politics are evolving as well. We can't simply blame Trump, or those who elected him for taking us to this scary place. The bipartisan consensus that's ruled this country since the 1940s — neoliberal domestic policy, and neoconservative foreign policy ─ no longer produces the same results for our citizens that it has produced since the Eisenhower era.
Establishment Democrats bear some of the blame. And looking forward to the mid-terms and beyond, they have failed to do the simplest work — forming a worldview, then persuading others about their vision, and the steps to achieve it.
We can also blame establishment Republicans, but they have collapsed. The new right is much farther right, more authoritarian, and whiter. And who would have thought they would be the pro-Russia, anti-FBI, anti-DOJ, and (maybe not a complete surprise), the pro-police state party?
History shows that when society turns like this, the establishment parties can disappear, as did the Federalists and the Whig parties. And when one party changes, the other must as well. After Lincoln, neither the Republicans, nor the Democrats, were the same parties.
Perhaps it's time to take these words in the Constitution to heart:
…to secure these rights, Governments are instituted among Men, deriving their just Powers from the Consent of the Governed…
Therefore, if the Dems are to win back the hearts and minds of the people, regardless of what the banks and corporations want to do, Government must be the advocate for the People.
That requires that our political parties confront the banks, corporations, military contractors, and the other oversized creatures that feed at the government trough.
Is that something that the establishment Democrats (Wrongo likes calling them the "Caviar Dems") are willing to do? They used to champion social and economic justice, but not so much today. Today, they follow the same neo-liberal economic policies that Republicans champion.
And with few exceptions, they are as neo-conservative on foreign policy as any Republican.
Republicans have undergone a different mutation. They celebrate the globalized economy, and support the domestic gig economy as a means of growing corporate profits. They still celebrate Christian values, so controlling Supreme Court appointments is their great achievement, along with ruinous tax cuts.
America's corporate tax revenues are going down, while social and infrastructure costs keep rising. So far, under both parties, government has continued to spend money it doesn't have. It borrows, and pretends that everything is under control.
Now, after 10 years of economic expansion, we continue to pile up deficits. What's going to happen in the next recession? The truth is, we are poorer, and weaker, as a country than we think. But few politicians are willing to help us face reality.
We see both Bernie Sanders and Alexandria Ocasio-Cortez, the Democratic nominee for Congress in NY, describe themselves as socialists. But, in fact, that's not what they are. Merriam-Webster defines socialism as:
Any of various economic and political theories advocating collective, or governmental ownership and administration of the means of production and distribution of goods.
Obviously, they hope to take over the corporate-friendly establishment Democratic Party, but if you call yourself a socialist, then, at a minimum, you need to advocate for government ownership of the means of production, i.e., industry. You're only a socialist to the extent that you advocate that.
Will Bernie or Alexandria nationalize General Motors, Apple, or ExxonMobil? No.
Even advocating for "Medicare for all," isn't socialism. Neither Medicare, nor other single-payer programs like Medicaid, are really socialized medicine. No one is advocating for an actual government takeover of hospitals, or turning doctors into government employees. If they really wanted socialized medicine, their cry would be "VA for all," not "Medicare for all."
Sanders and Ocasio-Cortez are social democrats. In a social democracy, individuals and corporations continue to own the capital and the means of production. Wealth remains produced privately.
But taxation, government spending, and regulation of the private sector are much more muscular under social democracy than is the case under today's neo-liberal economic system.
Joel Pett has a great illustration of the difference between Sanders/Ocasio-Cortez and Republicans: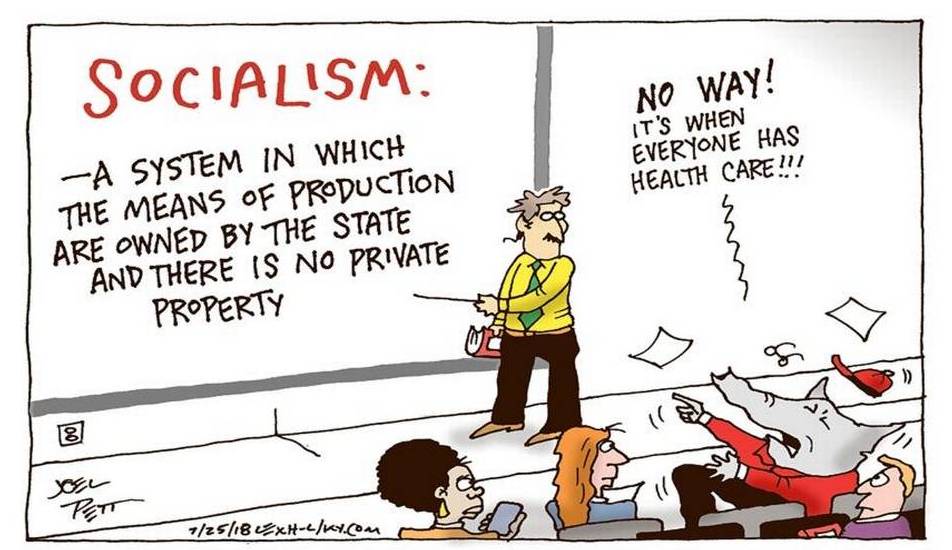 It's time for the Dems to change direction. Carry the "Medicare for all" banner proudly. Work to end income inequality. Work to add jobs for the middle class.
Send the establishment Democrats to the bench.