The Daily Escape: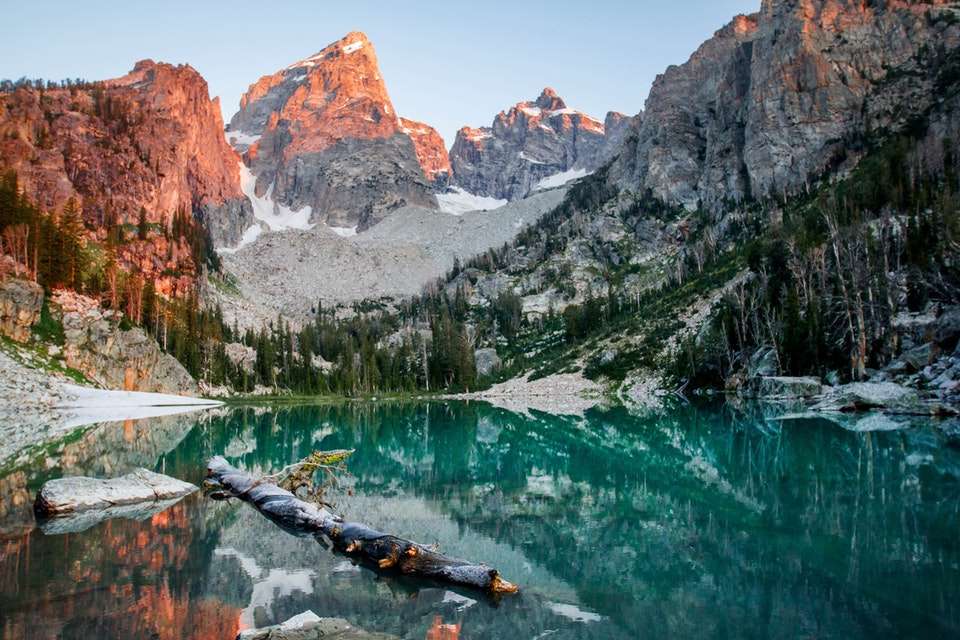 Sunrise, Grand Teton NP – 2018 photo by BrandonUlp
"Believe in something, even if it means sacrificing everything." That's the tag line in a new Nike advertising campaign featuring Colin Kaepernick.
Branding is about identity. Successful branding requires authenticity. The spokesperson must represent the brand authentically, and vice-versa. What Kaepernick and Nike have done is create a truly authentic campaign defined by who Kaepernick is, and what he stands for.
For readers who do not follow either Trump or sports, Colin Kaepernick is the football quarterback who refused to stand for the National Anthem. Trump has used the failure of professional athletes to stand to try to destroy their image, and that of the National Football League, unless/until there is zero expression of dissent during the National Anthem.
There couldn't be a better campaign to elevate Kaepernick's legacy in America's consciousness. Sticking to his beliefs has cost him his job in sports. He hasn't worked as a professional quarterback since 2016. In fact, he has a lawsuit underway accusing the NFL of collusion, since he received no job offers in 2018. That lawsuit will be going forward after the arbitrator appointed by the NFL and NFL Players Association rejected the NFL's attempt to have Kaepernick's case dismissed.
Nike and Kaepernick have taken the essence of a particular player, in this case, his dissent, empowerment, and integrity, and created a brand. It serves as a lesson every athlete needs to learn: You should be more than the game. Professional basketball players already know this, and are on social media celebrating their viewpoints all the time.
Despite not having played in the league in two years, Kaepernick is among the most recognizable names and faces in the NFL. His football jersey is among the top 50 sellers.
The Holy Week of McCain showed us that we remain chronically short of heroes.
We want leaders, we're yearning for inspiration. We don't consider most celebrities who hawk goods to be our heroes; they seem clearly in it for the money. Then, there's Colin Kaepernick. A man of color standing up for what he believes, a straight arrow who has not been featured in the tabloids for mistakes of character. He's a man who's risked his career, and his salary for an idea.
Could he be the hero we're looking for? Highly unlikely, but he's one of the few willing to challenge the system.
We're living in a time when stepping out of line seems very risky. There's groupthink everywhere, and everyone's afraid of negative social media repercussions, especially corporations. While a few giant corporations have stood up to the Orange Overlord, the NFL has zero desire to challenge him. They fear viewer backlash in an already challenged TV ratings environment.
So Nike weighs in. Nike isn't simply calling the NFL's bluff. It's calling Donald Trump's as well.
Change starts with the actions of a few individuals. Kaepernick is trying to change professional football's mentality, which argues that the players are interchangeable, that only the coach, and the owners matter. Their pitch is that you've got to sacrifice your identity for the team. It's certainly creating some interesting waves of all aspects of the sport – with sports betting sites like https://sportsbook.fanduel.com/ reacting and adjusting on a near constant basis.
Trump plays on that. He berates the NFL owners, and re-frames the protest by Kaepernick and others against police brutality, saying its about patriotism and support of "the troops". But, those who refuse to stand for the Anthem will tell you that their message has nothing to do with the flag or the military. Trump's choosing to make it about the flag and the military, and as usual, many Americans are buying Trump's pitch.
The story on Kaepernick's side is of freedom of speech, of fair treatment for African-American men and boys. Which will prevail should be clear, despite the anti-Nike and anti-Kaepernick thoughts on social media today.
We have 62 days until America votes whether to take the House away from the Republicans, or, to leave them in charge. Believe it or not, that fight will be helped by one guy and a company who decided they'd refuse to bend to Trump's rabble-rousing.
The Trumpists say they'll refuse to watch the NFL. They'll say they refuse to buy Nike gear. But, they're sure to do both in massive numbers.
Nike has made a business move, not a social move. Here is what Nike's first ad looks like: