The Daily Escape: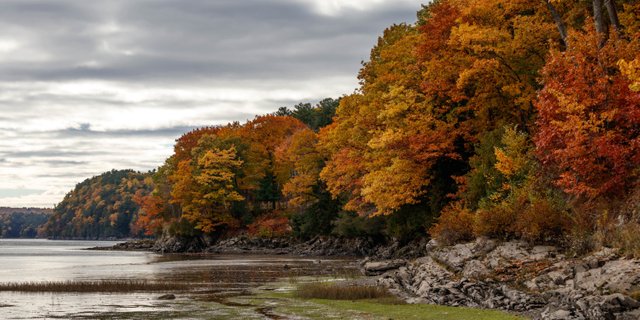 Autumn in Maine -October 2018 photo by toph4er
The short version of Trump's mid-term message is: "Be afraid". Think about their messages: The Caravan. Terrorists crossing the southern border. Socialism. Democrat mobs. Soros.
The Daily Beast says why Republicans think the migrant caravan is a winner:
For Republicans, the sharp turn toward immigration fears, and those related to the caravan in particular, has been viewed a clear political winner, even as some acknowledge that the rhetoric from the president and others – including [that]….George Soros was funding the caravan – has been overblown.
The caravan is politically useful because it resonates with precisely the voters that the GOP needed to turnout in the next two weeks. The Republican worry has been turnout, and illegal immigrants motivate Trump's base.
Trump supporters have seized on an image of Hondurans burning an American flag with a swastika drawn on it, calling them the "caravan protesters", and implying that they were members of the caravan. In reality, those Hondurans were protesting in front of the US Embassy in Honduras.
For Democrats, the past few days have to be reminiscent of 2014. James Poniewozik in the NYT reviewed GOP scare tactics in the 2014 midterms:
In the fall of 2014, with the midterms approaching, Fox and other conservative media went in overdrive on the "border crisis" and ISIS — two issues that Republicans were using to suggest that the Obama administration was failing to protect America from teeming hordes.
According to the GOP, terrorist organizations were poised on the Mexican border to sneak into the US. Representative Duncan Hunter, (R-CA), claimed on Fox that 10 ISIS operatives had been apprehended crossing the border. On Oct. 8th 2014, Donald Trump amplified Hunter's bogus claim, tweeting:
'At least' 10 ISIS have been caught crossing the Mexico border…
So, back to the future. We are weeks away from another midterm election, and immigration and terror are back in heavy rotation by the GOP. On Monday's "Fox & Friends", co-host Pete Hegseth said:
They caught over 100 ISIS fighters in Guatemala trying to use this caravan.
Hegseth was wrong. He mischaracterized a comment by president Morales of Guatemala about past terrorist apprehensions: (emphasis by Wrongo)
Morales told Guatemala's Prensa Libre that his country had cooperated with the security forces of neighboring countries to halt the movement of terrorists. The individuals had been "intercepted, detained, processed and returned to their country of origin," according to Guatemalan security officials. Some of these arrests, including the arrests of several Syrians, occurred in 2016.
Facts don't support GOP fear-mongering on the border. From the NYT:
Of the more than 300,000 people apprehended at the southern border in the last fiscal year, 61, or 0.02 percent, were from countries the State Department deems the Middle East or Near East. Of those, 14 were citizens of the four Middle Eastern countries — Libya, Iran, Syria and Yemen — included in Mr. Trump's travel ban.
What's a political animal to do when you want to win, but you have very few ideas to sell? If you're Trump, you sell what put you in the White House in 2016: Fear, lies, and apocalyptic visions of what America will become if Democrats win.
Selling fear is pathetic and morally vacant, but it works with casual news consumers. They simply hear "caravan" and "border" and "terrorism" and that creates a sense of looming danger.
Today, another fear-mongering Fox News segment about 'left-wing mobs' and 'incivility' toward Mitch McConnell was interrupted by breaking news coverage of a string of bombs sent to Bill and Hillary Clinton and Barack Obama. A bomb treat was issued for the Time Warner building in NYC. An improvised explosive device was found at George Soros's Westchester, NY home.
Other suspicious packages were sent to Sen. Kamala Harris's state office, to Eric Holder, and to Debbie Wasserman Schultz.
There are consequences when the president and his party tout lies, embrace conspiracy theories, demonize political opponents, and applaud violence against reporters. They have been doing this since at least 2014.
We don't know what impact these bomb threats will have on the mid-term election, who will be angered, and therefore more energized to turn out and vote.
We have no idea who is responsible for sending the bombs. Republicans will say it's an attempt to make them look bad. But, it's more likely that they were sent by someone who was radicalized by overheated right-wing rhetoric.
Rhetoric that has been pounded home by Trump.
Finally, we have no idea if there are any more bombs are out there. We can only hope that all will be intercepted.