The Daily Escape: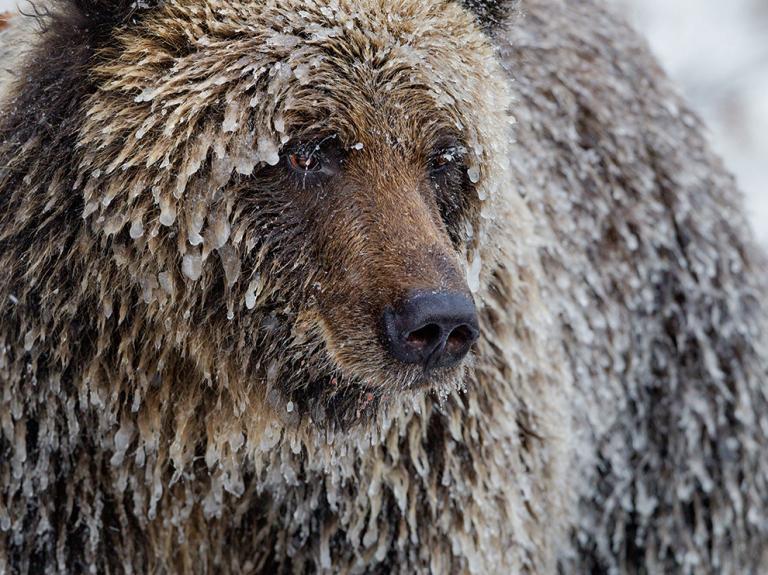 Yukon Grizzly before hibernation – 2014 photo by Paul Nicklen
Quite the week. We had barely digested Thanksgiving dinner when we heard about Russia seizing three Ukrainian Navy vessels in the Azov Sea. We learned that Paul Manafort lied to Robert Mueller, and that his lawyer reported everything that occurred between Manafort and Mueller to the White House. Then, we heard that Trump's former in-house lawyer, Michael Cohen has admitted to lying to Congress, and is now cooperating with Mueller. Who knows what it all means?
But, the big story this week was that we learned that life expectancy in the US fell to 78.6 years, a 0.3 year decline from our peak. From CNN:
Overdose deaths reached a new high in 2017, topping 70,000, while the suicide rate increased by 3.7%, the CDC's National Center for Health Statistics reports.
We are witnessing social decay in America. This is consistent with what Angus Deaton and Ann Case called "deaths of despair" in 2017. The WSJ has a detailed breakdown, and also points out how other countries are continuing to show progress:
Data the Centers for Disease Control and Prevention released on Thursday show life expectancy fell by one-tenth of a percent, to 78.6 years, pushed down by the sharpest annual increase in suicides in nearly a decade and a continued rise in deaths from powerful opioid drugs like fentanyl. Influenza, pneumonia and diabetes also factored into last year's increase.
From Yves Smith:
Americans take antidepressants at a higher rate than any country in the world. The average job tenure is a mere 4.4 years. In my youth, if you changed jobs in less than seven or eight years, you were seen as an opportunist or probably poor performer. The near impossibility of getting a new job if you are over 40 and the fact that outside hot fields, young people can also find it hard to get work commensurate with their education and experience, means that those who do have jobs can be and are exploited by their employers.
The 2017 data paint a dark picture of health and well-being in the US, reflecting the effects of addiction and despair, particularly among young and middle-aged adults. In addition, diseases are plaguing people with limited access to health care.
In the late part of the last century, and the early years of this century, there was a steady decline in heart-disease deaths. That offset a rising number of deaths from drugs and suicide. Now, we're not seeing those heart-related declines, while drug and suicide deaths occur earlier in life, accounting for more years of life lost.
The worst aspect is that it never had to be this way. These drug and suicide deaths are "collateral damage" caused by the social and economic changes in America since the 1970s.
And we made most of those changes by choice.
Wrongo is reminded that last month, he learned that something similar had happened in Russia under Gorbachev. Under Perestroika, millions of Russians lost jobs. The government's budget deficits grew. The death rate exceeded the birth rate. Nearly 700,000 children were abandoned by parents who couldn't afford to take care of them. The average lifespan of men dropped to 59 years.
Are we in a slow motion disaster that could be similar to what Russia went through back in the 1990s?
We've become hardened. These American deaths are largely anonymous. When AIDS was ravishing the gay community in the 1980s, people were able to appreciate the huge number of deaths by seeing, or adding to, the AIDS Memorial Quilt, which eventually weighed more than 50 tons.
There is no equivalent recognition for these deaths of despair.
A traitorous American ruling class has sold out its middle and lower classes. If you doubt that, think about Wal-Mart. The Walton's fortune was made by acting as an agent of Chinese manufacturers, in direct competition with US manufacturers. Doesn't that seem like treason?
Relax, there's nothing you can do about all of this today, the first day of December. Time to get what solace you can from a few minutes having a coffee, and a listen to a piece of soothing music.
Start by brewing a cup of Kona Mele Extra Fancy coffee from Hula Daddy Kona Coffee ($64.94/lb.). It has an aroma of dark chocolate, fruit and flowers. And shipping is free.
Now settle back and listen to a few minutes of George Winston's "December". Here are Part 1: Snow, Part 2: Midnight, and Part 3: Minstrels:
Those who read the Wrongologist in email can view the video here.