The Daily Escape: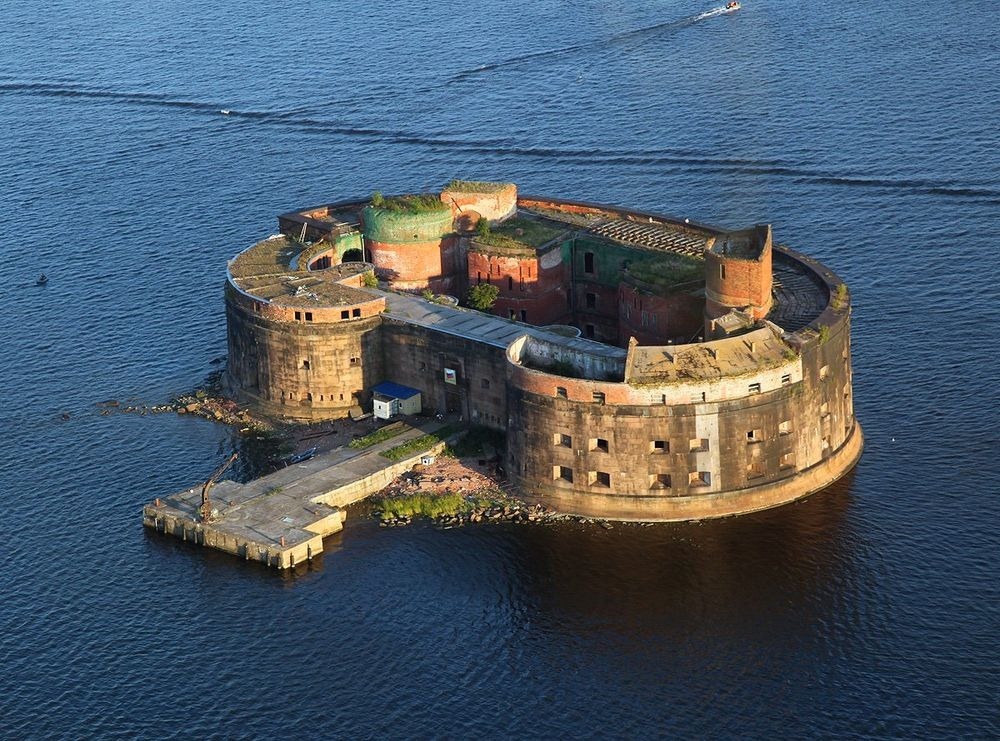 Plague Fort (or Fort Alexander), St. Petersburg, RU. It was built between 1838 and 1845 on an artificial island in the Gulf of Finland. From 1899 to 1917, the fort housed a research lab focused on plague and other bacterial diseases. It was abandoned in 1983.
The Economist has an 8500-word interview with the documentary film maker, Adam Curtis. For 30 years, Curtis has produced documentaries on politics and society. Apparently, he has emerged as a cult-hero to the UK's young thinkers trying to comprehend our chaotic world.
His latest film, "HyperNormalisation" (you can view the trailer here, or watch the entire 2+hour documentary here) argues that governments, financiers, and technological utopians have, since the 1970s, structured a simple "mostly fake world" for us, run by corporations, and kept stable by politicians.
Wrongo was attracted to this in part because Curtis takes the title of his documentary from work by a Russian historian, Alexei Yurchak, now a professor at Berkley. He introduced the word in his book Everything Was Forever, Until It Was No More: The Last Soviet Generation (2006). Yurchak says that in the 1980s, everyone from the top to the bottom of Soviet society knew that it wasn't working. They knew that it was corrupt. They knew that the bosses were looting the system. They knew that the politicians had no vision. And they knew that the Party bosses knew they knew that.
Everyone knew it was fake, and they just accepted the fakeness as normal. Yurchak coined the term "HyperNormalisation" to describe that feeling. When Wrongo was in Russia in October, he heard a few Russians express this exact idea about the end stages of the Soviet Union in the 1980s.
The fall of the Soviet Union didn't stop them from despising Gorbachev, who ended the state economy and replaced it with a less-than-functioning market economy. They longed for the simpler state of affairs, with less to think about, and less to worry about. Where everyone knew that the system didn't work, but they all had jobs, and there was food in the markets.
2018 America is far from being the Soviet Union, but this is exactly the way the US is today. In most ways, everything the government touches, like elections, environment, tax policy, and health policy, could be substantially better for all of our citizens.
We all know everyone is unhappy, but everyone just says, "It's the system. We can't change it."
A quote from Curtis:
There is a sense of everything being slightly unreal; that you fight a war that seems to cost you nothing and it has no consequences at home; that money seems to grow on trees; that goods come from China and don't seem to cost you anything; that phones make you feel liberated, but that maybe they're manipulating you, but you're not quite sure.
He talks about the concept of "risk", and how it entered our discussion, migrating from finance to politics in the 1980s. Today, everything has become about risk analysis, and how to stop bad things happening in the future: (emphasis by Wrongo)
Politics gave up saying that it could change the world for the better and became a wing of management, saying instead that it could stop bad things from happening. The problem with that is that it invites all the politicians to imagine all the bad things that could possibly happen—at which point, you get into a nightmare world where people imagine terrible things, and say that you have to build a system to stop them.
Can the people take power back from corporations and their captured politicians? Maybe, maybe not. People like stability and they fear instability. We saw that with Gorbachev in Russia in the 1980s.
But if we are to move past the collusion of corporations and politicians trying to keep us accepting things we know are unacceptable, we need to have better politicians.
The job of a master persuader is to tell a story that says, "Yes this is risky, but it's also thrilling, and it might lead to something extraordinary". The persuader must say, "Yes, I understand your fears but look, what's happening isn't right. We can do better than this".
People are asking, "What is our future? What is this existence for?"
If you live in West Virginia surrounded by people taking opioids, you surely want to know what all that sorrow is for
If you are a recently laid-off GM worker, you're asking the same thing
If you're a student with $75k in student debt, and a cog job, you're asking the same thing
If you're a plumber with no health insurance and pancreatic cancer, you're asking the same thing
If you've worked hard to elect someone who just lost because of ballot-stuffing, you're asking the same thing
These are the questions that our politicians should be answering.
Do you see someone who can bring people together behind a better vision?